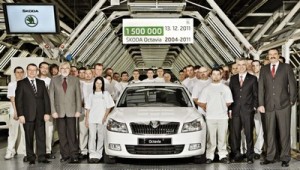 Skoda is celebrating the 1,500,000th Octavia II to roll off its production line.
The landmark car, a white Octavia Combi GreenLine, was built at Skoda's main plant in Mlada Boleslav, in the Czech republic on Tuesday.

The heart of Skoda
This is how Czech company describes the Octavia, which embodies the Skoda ambition to be 'Simply Clever'.
Designed to be a family-friendly, affordable and spacious everyday car, the Skoda Octavia has been essential to Skoda's rise over the last 15 years.
Originally launched in 1996, the overhaul of the car design in 2004 lead to the release of the second generation Skoda Octavia II, described by the manufacturer as a major leap forward for them.
Skoda expect that the Octavia range will continue to play a central role for the brand in coming years, being one of the mainstays of its growth strategy.
The Octavia II
In the UK, the Octavia is available as a hatchback or estate, including the sporty Octavia VRS and the top-of-the range Octavia Scout estate.
The wide range of Skoda Octavia models and flexible options available allows each customer to tailor their choice of car to their needs and budget, no doubt a key to the Octavia's success.
Across the range, Skoda strives to deliver benchmark levels of quality, price-performance and reliability.

Electric Future
Skoda is currently developing the Octavia Green E-Line, its first electric vehicle.
In the New Year, a fleet of eleven of these cars will be put through their paces in real-world tests throughout the Czech Republic.
If you're interested in buying or leasing a new vehicle contact our sales team. Alternatively, visit our website where you will find new and used Skoda's available for sale or on finance.
Keep yourself updated with the latest motoring news by liking us on facebook, following us on twitter or connecting with us on LinkedIn.
Thanks for visiting us today.

Latest posts by Andrew Kirkley
(see all)