After VW launches new Amarok for sale it wins an award
Volkswagen Commercial Vehicles is celebrating again after winning two more awards this year, this time for its Caddy van and the new Amarok pick-up in the British Insurance Vehicle Security Awards.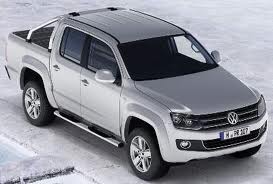 The new VW Amarok, which went on sale last month, beat all its rivals to win the Pick-up category in the British Insurance Vehicle Security Awards.  The new Caddy, won the Light Van category.
Volkswagen UK can add more awards to their accolade as they were also crowned Manufacturer of the Year for the second year running, with awards also for the new Sharan in the Large MPV class, the Tiguan in the Crossover class, and the Phaeton taking the title of best Luxury Car for the fourth time.
The awards recognise and raise the profile of the best in vehicle security on the newest cars and vans on the market, and are judged on criteria identified by the creators of the New Vehicle Security Ratings (BVSR) scheme.  To be shortlisted for the awards, all vehicles had to have a maximum of five stars for 'theft from', had double locking, and an 'E' insurance suffix (indicating they had a feature that exceeds the required standard).
Since the launch of the VW Amarok, OSV have taken alot of orders on this vehicle.  Order yours today by contacting our Sales Team today on 0844 686 4000.  You can finance your new VW Amarok on Contract Hire, Contract Purchase, Hire Purchase, Personal Contract Hire, Personal Contract Purchase and Finance Lease.
Visit our blog showing details of the VW Amarok being launched in the UK and details of Amarok stock.