Review of the Aston Martin DB11 Convertible
The new Aston Martin DB11 Convertible is the drop-top version of the standard DB11. It's an even more glamorous, dramatic and – despite the removal of the roof – elegant proposition.
When you want it to be, it's also formidable, covering the 0-62 dash in  4.1 seconds. And when you need it to, it can also accommodate the whole family.
But it's the new electric roof itself that's going to grab the attention this time around. Composed of 8 layers of fabric, it gives the car a stunning silhouette when up or down – something its predecessor just didn't have.
Aston Martin have an interesting history. Read more about it in our brief history of Aston Martin.
OSV takes a closer look at what it's all about with our 2018 Aston Martin DB11 Convertible review.
Overview of the Aston Martin DB11 Convertible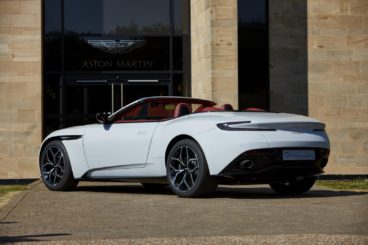 Many of us buy a convertible to take it easy. Perhaps we'll take it for a spin in the city, or go for a stroll along a winding country road on a hot summer's day.
The DB11 Convertible is a different animal altogether though. With a fierce twin-turbocharged 4.0-litre V8 engine under its belt that develops 503bhp, it's going to want more out of life than a lazy Sunday afternoon stroll.
0-62 is taken care of in 4.1 seconds, and the car sounds as bombastic as you'd expect from such an engine. Some enthusiasts might bemoan the lack of a V12 option, but this variant is sharp, fun and loud.
It's a heavy car, however, and you're often aware of its weight. That said, Aston Martin's dedicated team of expert engineers have been hard at work to make sure the car didn't flop about when the roof came off. The metal sills have been stiffened, the structural underlay is entirely new, and it feels more responsive and sharper than the Coupe version.
As always, the driver is set low down in the cockpit, although this isn't necessarily good for visibility as the DB11 is such a long car. To counter this, Aston Martin have made sure its steering is as positive as possible so that you still feel plenty confident.
The ride is smooth for the most part, and the car barely winces, even on coarser road surfaces. There are different driving modes to flick through, including Sport+ mode which makes the exhaust even noisier, and GT mode that sedates the engine while softening the suspension.
Aston Martin DB11 Convertible Interior, Design and Build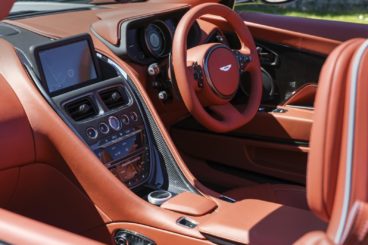 Aston Martin produces genuinely gorgeous interiors that frustrate as much as they hypnotise you.
Why the frustration? Because you know they can do better, and you wonder why they don't. Most of the time, Aston Martin's sport a timeless, handmade design but they lack the modernity of their rivals. Here, the DB11's cabin looks dated in parts, but it's also lacking in quality at times. For example, the air vents are far too basic for a car like this.
This is still a handsome interior – but it's very much fit for James Bond, and not for a king. It's comfortable, well kitted-out and convenient. The likes of sat-nav, a 360-degree camera, keyless entry, an 8" infotainment screen and power adjustable heated seats are all on hand to make your life easier.
Is the Aston Martin DB11 Convertible practical? It's as usable as its Coupe sibling, which is a roundabout way of saying that it's fairly practical for a drop top. The roof can be operated at speeds topping 31mph, and it folds open in 14.0 seconds and closes in 16.0 seconds.
Insulation isn't too great when the roof is down, but when it's up it's only a tad noisier than the Coupe.
It comes with a pair of rear seats that are ideal for small children (and no one else), and both these seats come with ISOFIX mountings. The boot meanwhile, measures a respectable 224-litres. That represents a pretty big increase on its predecessor, and on the whole, the DB11 Convertible can cope with a young family quite well.
Is the Aston Martin DB11 Convertible reliable? Read our honest and unbiased assessment of the luxury marque to find out more.
Equipment and Safety of the Aston Martin DB11 Convertible
There's only one trim level available, and the DB11 comes well kitted-out (as it should at this price point). The likes of cruise control, sat-nav, heated seats, a height adjustable driver's seat, body coloured bumpers, heated mirrors, metallic paint, leather seat trim and sports seats are all standard.
In terms of how safe the car is, it's never been crash tested by Euro NCAP because it just doesn't sell in big enough numbers. Its strong structure should give you some confidence, while its standard safety kit includes adaptive cruise control, lane departure warning and stability control.
Costs of the Aston Martin DB11 Convertible
Prices for the new car start at £159,000. For more information on our leasing deals, you can check out our page here.
In terms of its running costs, a moderate driving session could see you return as much as 28.3mpg. It's unlikely that you'll achieve those figures on a regular basis, of course.
Emissions, meanwhile, are pegged at 230g/km of CO2, which means that the DB11 has the highest BiK rating possible. It also sits in the highest insurance group there is too.
Pros and Cons of the Aston Martin DB11 Convertible
Looks fantastic
Now that it has no fixed roof, the DB11 proves that it's one of the best cars on the planet.
Drives superbly
It can go fast, it can go gentle – it will do what you want.
Loud
Its soundtrack is fiercely addictive and every bit as dramatic as you'd expect.
Expensive
It costs more to buy than the Coupe variant.
Restricted visibility
This could hinder how enthusiastic you are with the car.
Aston Martin DB11 Convertible vs Bentley Continental GT Speed vs Mercedes S Class Coupe
Let's see how the car fares against its rivals in the comparison section of our 2018 Aston Martin DB11 Convertible review.
Aston Martin DB11 Convertible vs Bentley Continental GT Speed
The new Bentley Continental GT Speed is lightning fast, stupendously gorgeous and loaded with advanced tech.
Being powered by a colossal W12 engine that develops a thumping 616bhp means that buyers are always going to be concerned that the car will be too heavy. However, the engineers at Bentley have managed to shave some weight off both the car and the power plant for this new model.
Air suspension is standard, while Bentley have also introduced a new 48V roll control system that boosts handling in bends by stiffening the anti-roll bars.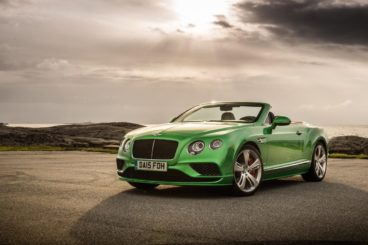 Drivers can flick between different driving modes, including Sport and Comfort. Four-wheel-drive is standard.
In terms of its engine, the GT Speed is once again powered by its iconic 6.0-litre W12 petrol unit that's been extensively reworked for 2018. Twin turbochargers have been added, and because peak torque is delivered at 1,350rpm, the engine bursts with character.
0-62 can be achieved in a smoking 3.6 seconds, and the car maxes out at 208mph.
Running costs? Far from pretty. Bentley have added a new 8-speed twin-clutch automatic transmission to keep costs down, but you'll struggle to match the official figure of 23.2mpg economy on a regular – or even rare – basis.
Inside, if you have impeccable tastes, you'll get along with this car. The quality of the leather (which is everywhere) is enough to make the Royal motorcade jealous, while you can pick your own wooden trim so that it's to your own personal satisfaction.
The central display takes up one side of a rotating triangle, and while there are a lot of buttons in here, they're well-presented.
All controls, switches and dials are unique, and there's a lot more quality in here than there is in the Aston Martin.
Is the Bentley Continental GT Speed practical? It's the roomiest version yet, but it's still aimed at pleasing the driver and their passenger way more than anyone else. However, rear space is a bit better this time around and it can be called a genuine four-seater. Rear headroom is still limited by the sloping roof, however.
The boot, meanwhile, measures 358-litres. That's smaller than last time but still considerably bigger than the Aston Martin.
Price:
Aston Martin – £159,000+
Bentley – £156,699+
Aston Martin DB11 Convertible vs Mercedes S-Class Coupe
The new Mercedes S-Class Coupe is stylish, performative and luxurious.
It's a solid rival to the Aston Martin, with new tech bringing it right up to date with its peers. It handles superbly, even if you're always aware of its enormous size.
As ever with a Mercedes, the S-Class Coupe works better as a relaxed cruiser than an out-and-out sports car, but it's got plenty of cornering ability and won't be fazed by twisting roads. Its steering is precise and well-weighted, and there's minimal body lean. It's also very comfortable.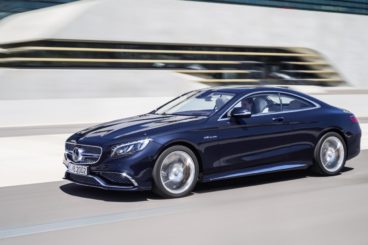 In terms of its engines, a new 4.0-litre petrol engine powers the S560 model, taking 4.6 seconds to get the car from rest to 62mph. The S63 model is powered by a bigger variant of the same engine and has a 0-62 time of 4.2 seconds.
The S65 version, meanwhile, is the Aston Martin's closest rival. Power comes from a massive 6.0-litre V12 engine that develops an astonishing 621bhp. It's loud, chases down 62mph from 0mph in 4.1 seconds and gives the DB11 a huge run for its money.
Running costs? The S560 model can return as much as 34mpg on a good day, which is quite remarkable. It emits 188g/km of CO2, however, which puts it in the highest BiK tax band there is.
The S63 model is good for returns of 31.6mpg at best, while the S 65 model can manage 23.6mpg while emitting 280g/km of CO2.
Inside, one of the things you'll notice the most once you fire the car up is how quiet and smooth it is on the move. The leather chairs are supremely comfortable, insulation is incredible and few cars are able to look after you so well.
Most of the cabin is lifted from the S Class saloon – no bad thing, of course. A pair of 12.3" high-res display screens sit in front of you, voice recognition is standard, and all this tech is complemented by polished aluminium and padded leather surfaces.
Is the Mercedes S-Class Coupe practical? It's a hefty car that's more usable than the DB11. There's lots of space up front, where the seats power-adjust every which way but loose. The buttons are logically arranged and easy to use, while two adults can sit in comfort in the rear.
The boot, meanwhile, measures a whopping 400-litres, and thus blows the DB11 out of the water.
Price:
Mercedes – £103,699 – £189,615
Verdict of our 2018 Aston Martin DB11 Convertible Review
Who says you can't have your cake and eat it?
Aston Martin didn't have to exert themselves for this one because the standard model is itself, a fabulous car. All they really had to do is remove the roof and make sure it looked good while also ensuring it lost none of its drivability.
It actually looks even more striking than the Coupe variant, and it drives just as well. Its loud and proud V8 engine fits it like a glove, and while it's capable of setting new personal speed records for you, the Aston Martin DB11 Convertible is one of those beautiful works of art that's just as comfortable taking it easy on lazy Sunday afternoons.
Get in touch to have a chat about your new car
Give one of our helpful team a call to find your perfect vehicle.
ARE YOU INTERESTED IN GETTING A
Convertible
?
Get in touch with us on 01903 538835 or request a call back. We look forward to hearing from you.