Review Of The Aston Martin V8 Vantage Roadster
The new Aston Martin V8 Vantage Roadster is the cutting edge of design. A beautiful modern sports car if ever there was one, it's fun good ride, and comes powered by an intoxicating V8 engine that delivers performance – and amazing sound.
The Vantage coupe first went on the market ten years ago, at a time when it was easily the class leader. To make sure it keeps pace with the competition, the brand has added revisions that have boosted its performance, and which includes an enlarged engine. If you're on the hunt for a performance-oriented sports car, this one has all the makings to be a success.
OSV takes a closer look at what it's all about with our Aston Martin V8 Vantage Roadster review.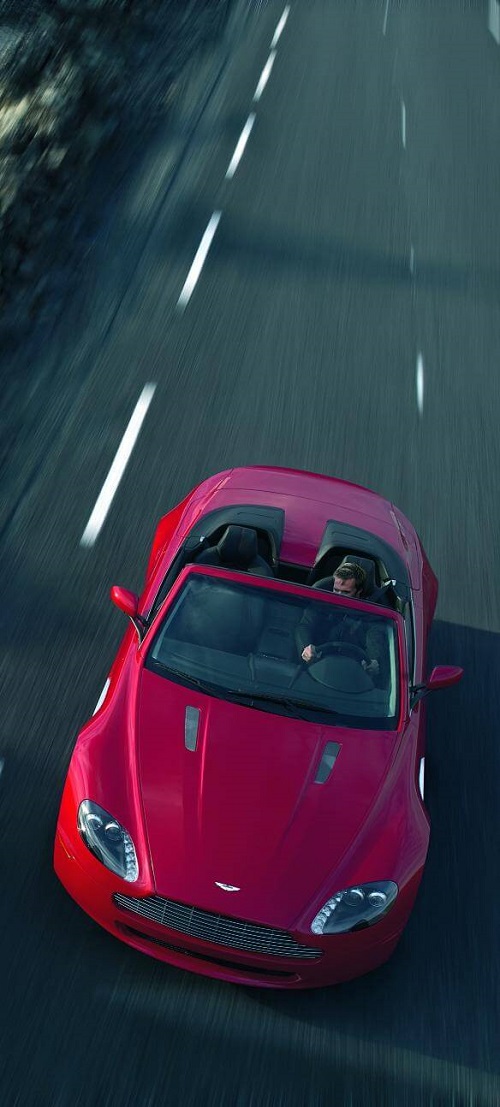 The V8 petrol engine has increased in size from 4.3-litres to 4.7-litres and is good for 420bhp. It covers the 0-62mph dash in a matter of 4.9 seconds, although the even racier Vantage S shaves .3 of a second of this time.
There are better engines found in the likes of the new Audi and Porsche coupes, but none sound as glorious as this. Push it hard, and it's thunderous music to your ears. The performance, meanwhile, is also excellent.
You will need to push the engine hard to get the most out of it. But while this makes for more fun, you may also be putting your driving license at risk! To properly maximise its potential, you would have to take the V8 Vantage Roadster onto a racetrack.
The car still comes with a manual 'box, one of the last of the great sports cars to do so. The purists might argue that this is a good thing, but it feels dated in this era of more sophisticated semi-automatic transmissions. It takes effort to change gear, while the clutch is a bit of a slouch in traffic.
The brand's newest semiautomatic 'box is better than the last one; it's faster, and it's also more responsive. Whether you opt for the manual or the semi-automatic transmission will depend entirely on personal taste. The manual gearbox has always been the sensible choice in the past, thanks to a poor alternative, but the semi-automatic is much improved.
The V8 Vantage does feel slightly firm when you tackle corners, but you get this with a lot of cars of this type. It manages to instil confidence behind the wheel, though, while feedback is plentiful.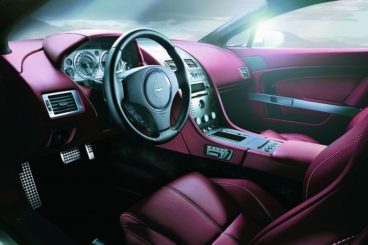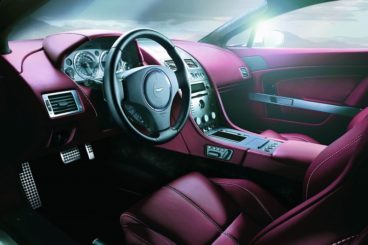 Back in 2006, this car's interior was arguably the best on the market. But in 2016, rivals have trumped it, and the cabin now looks a little bit dated.
One of the reasons for this is that each Vantage Coupe is hand-built. While this ensures that everything is solid, well-assembled and actually works, it also means that the interior has fallen behind rivals who have been making the most of cutting-edge cabin design and quality. Aston Martin has made a few revisions, but it's still found wanting.
But while the cabin lacks contemporary finesse and appeal, it's hard to argue with the quality of the materials. The seats and the dashboard have been treated to stitched leather, and sitting up front or in the back is a pleasurable experience thanks to the plush materials.
Although there are better everyday cars than this one, it's still pretty usable and practical. The steering column is a bit of a disappointment as it really could do with being more adjustable, while the old-fashioned handbrake is a letdown. Comfort is good, though, while the electrically adjustable leather sports seats help you to easily get into your preferred driving position.
Make no mistake; this is not a four-seater. Two people can sit in relative comfort upfront, but space behind serves only as an extra storage area. You may not need it, though, as the 300-litre boot should be big enough for most consumers shopping around for this type of car.
Standard equipment is decent – and fairly luxurious – across the range. Even the base-level interior is composed of full-grain leather, and the model also comes with rear parking sensors, a leather steering wheel, a USB and a tracking device.
Opt for the Vantage S and you get treated to a subtle rear spoiler, wider wheels, satellite navigation, and a rear diffuser.
You can get either model in over 30 different colours, though some will cost more than others. There are also four different alloy designs on offer.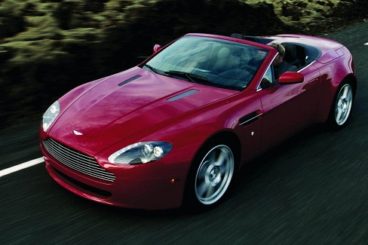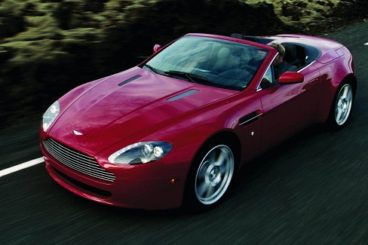 Costs Of The Aston Martin V8 Vantage Roadster
Prices for the new Vantage Roadster start out from £95,000 and rise to £165,000. If you want to contract hire the car, you'd be looking at paying somewhere between £1,500 and £1,800 + VAT per month, however, some form of purchase scheme may well be better with this Aston.
It isn't cheap to keep out on the road, and you will need deep pockets to meet the fuel and tax bills. Business owners will also be landed with huge tax liabilities, while hefty insurance premiums will also do a bit of damage. As such, the V8 Vantage is super exclusive.
Regarding running costs, your basic V8 Vantage can achieve returns of around 20.5mpg off the back of a fairly sensible drive. Take its performance to the limits, and you're probably looking at returning around 15mpg. Add on top of that £505 per year in road tax, and you might start to have a few concerns. You can improve the costs slightly by opting for the automatic gearbox, which bumps up fuel economy to 22.4mpg.
Because the performance and the value of this car are so high, all models are in the most expensive insurance group. A 10,000-mile check-up will set you back £650, while a second 20,000-mile service will cost £680. Once you get to five years of ownership, or the equivalent 50,000 miles mark, you will have to fork out £772.
Pros And Cons Of The Aston Martin V8 Vantage Roadster
Pros:
Timeless Aesthetic
The Vantage Coupe is immediately recognisable and continues to be the industries pin-up. Although ten years have now passed since the Vantage was first launched, you really wouldn't have thought so. The flawless design continues to turn heads and stop traffic.
Its timeless aesthetic is helped by the simplicity of design and application. Clean, precise lines define the profile, while the proportions are as perfect as Michelangelo's David.
Classic Engine Noise
The V8 engine growls and fizzes, and while there are better engines in this sector, none can hold a candle to this one's note. While Audi and Porsche have dumbed down the sound of their power plants, Aston Martin hasn't compromised one iota. If Beethoven was ever going to engineer a car, he'd have made it sound something like this. Thunderous and spine-tingling.
Great Performance
You have to really work the engine to get the most out of it, but the V8 wants you to put it to work. Although it's older than power plants found in new Mercedes and Audi's, it's still got plenty to offer. Peak power is stashed away right at the top of the rev range, but once you get there, you're in dreamland.
Cons:
High Running Costs
Whereas some of its rivals have worked hard to make their engines more efficient, Aston Martin haven't. As such, there'll be plenty of trips to the filling station if you opt to buy one of these.
Not As Cutting Edge As Some Of Its Rivals
The V8 Vantage Coupe is now over a decade old – and it's showing the classic signs of ageing. Although the interior is well-crafted by hand, and although it's clearly a classy product of love, it looks dated compared to other models in this range. While the likes of Porsche are embracing contemporary design language and tech, Aston Martin is rooted in the past.
Aston Martin V8 Vantage Roadster vs Audi R8 Coupe vs Porsche 911 Coupe
The Aston Martin is a classic roadster. But it's also pricey and flawed. Let's see how it measures up against it rivals in the comparison section of our Aston Martin V8 Vantage Roadster review.
Aston Martin V8 Vantage Roadster vs Audi R8 Coupe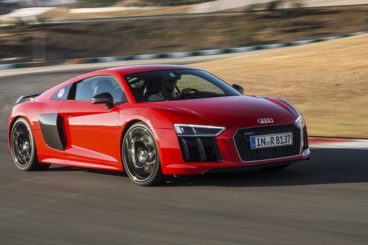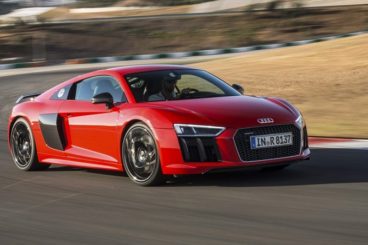 The Audi R8 Coupe is the baby on the block in the sense that it's still young, and only in its second generation – but it's returned very much a grown-up that is ready to compete with the big boys for your affection.
The V10 5.2-litre engine that powers the Audi is dramatic. You can get it in either 533bhp or 602bhp power guise, and neither really disappoints. They're both exceptionally powerful and quick units that leave the Vantage trailing in their wakes, covering the 0-62mph sprint in 3.5 seconds and 3.2 seconds. They each max out at 205mph.
Both come with Audi's usual Quattro 4WD system as standard, as well as a 7-speed dual-clutch automatic transmission. The Quattro system offers plenty of grips when tackling tight bends at speed, inspiring confidence. The chassis is actually shared with the Lamborghini Huracan – but this R8 Coupe boasts better handling. Steering is accurate and light.
It will let you down at the filling station, but that's to be expected. The V10 engine is enormous, and can't achieve better fuel economy than 24.8mpg, although if truth be told it's going to be difficult to achieve even that. For this reason, it's not going to cost you any more or less than the Vantage. Road tax will set you back around £515 per year, and it sits in the same insurance group as the Aston Martin.
The Audi's interior and exterior is stunning and ensures the car looks every inch the supercar superstar. Inside, you're treated to sports seats that seat you low, as well as a dash that wraps around you. Brushed aluminium and carbon-fibre inserts are here, there and everywhere, while the virtual cockpit system is a standout feature.
Neither car is especially practical, and the Audi is very much a two-seater. The boot is found in the car's nose, but you won't get much use out of it.
Price:
Aston Martin – £95,000 – £165,000
Audi – £120,000 – £135,500
Aston Martin V8 Vantage Roadster vs. Porsche 911 Coupe
The new Porsche 911 Coupe is now in its fifth guise and is more polished than ever before. Retaining its classically good looks, it houses lots of updated technology.
After 52 years, the 911 Coupe has finally made the switch to turbochargers. But it's still the one to beat in this sector when it comes to power, performance an agility. The engines are also found in the back of the car, and although you'd be forgiven for pointing out that this should theoretically result in poorer handling, Porsche have done a stellar job at creating a machine that is both agile and well-balanced.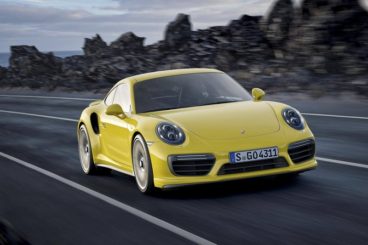 It's quick, too. The fastest Vantage covers the 0-62mph dash in 4.6 seconds – the same figure achieved by the entry-level 911 Coupe. If you want as much thrilling speed as possible, the Turbo S model rockets you from rest to 62mph in just 3.1 seconds.
It's not just about numbers, though; the Porsche handles like a dream, with accurate, responsive steering the order of the day. There is a downside to the introduction of turbochargers, though; the classic noise emitted from the engine has been watered down. Not too much for it to be a deal breaker, but anyone with a trained ear will notice it.
Unlike the V8 Vantage, the Porsche 911 Coupe is more efficient than last time around – a lot more efficient. On a fairly sensible drive, the cheapest engine in the range can return an astonishing 34mpg while costing you just £265 per year to tax. A few years ago, these numbers would have been little more than a pipe dream.
The interior is smart. The build quality is impeccable, the ride quality is very good, and everything feels fresher and more up-to-date than the materials and tech found in the Aston Martin. Standard equipment across the range is good, and includes dual-zone climate control, LED rear lights, 19" alloys, and sports seats.
Price:
Aston Martin – £95,000 – £165,000
Porsche – £76,500 – £146,000
Verdict Of Our Aston Martin V8 Vantage Roadster Review
The new Vantage Coupe costs a heck of a lot of money, but there is a lot of prestige, heritage and badge appeal on offer. And it's really these three things, combined with the raw power and performance, which make this machine so damn lucrative. It's as captivating as ever.
Although there are rivals that are faster and arguably more contemporary, they can't match this car's timeless appeal and timeless aesthetics. The rip-roaring Aston Martin V8 Vantage Roadster might be over ten years old, but it's aged like a fine wine.
Get in touch with a Vehicle Specialist
Fill out the form below with your details, and one of our highly qualified specialists will be in contact within 24 hours.
When you lease a car with OSV there are no hidden costs, request a call back and we'll find you a finance, lease or purchasing deal designed just for you.