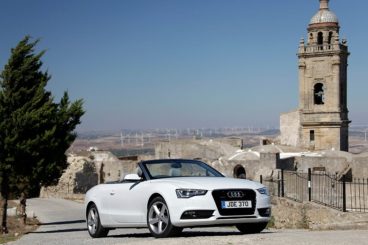 The Audi A5 cabriolet is meant to be something of a desirable menage a trois; it's an Audi alright, but it's got the slick aesthetics of a Mercedes E-Class convertible and the drivability of a BMW 4-Series cabriolet. The perfect convertible machine, then? You'd think so – if dreams could come true.
Indeed, it was Audi's vision to create this self-styled triumvirate of pure fantasy. But have the German's pulled it off? Let's take a closer look with our review.
Audi A5 Cabriolet Test Drive
We like it when cars are easy to drive, and this A5 convertible certainly is that – and then some. The controls are positive and responsive, ensuring that even those arduous trips you don't look forward to are a breeze. Steering, meanwhile, is light as a feather while the useful Drive Select system is offered as an option. It's well worth a look, as it nicely gives you the chance to customise the comfort and steering settings to suit your driving style.
The only slight caveat is that the modes never quite manage to hit the desired sweet spot between ride comfort and control weight. Kinda frustrating.
More frustrating, too, is the fact that this car never feels particularly sporty out on the road.
There are five engines on offer. The base-level 1.8-litre TFSI petrol plant kicks things off; it offers 177PS and can get you from rest to 62mph in 8.7 seconds. The other petrol inn the range is a 2.0-litre 222bhp unit that propels you from rest to 62mph in just 7.2 seconds.
The diesels are good, with only the 2.0-litre 148bhp letting the side down a little by being a teeny bit sluggish. It takes over 10 seconds to get from rest to 62mph, while the 3.0-litre TDI can reach the golden number in just 6.3 seconds. It's the fastest in the range, and it's a beauty.
The Interior, Design And Build Of The Audi A5 Cabriolet
The new Audi A5 convertible looks the part. As mentioned earlier, it's taken its styling cues from the rival E-Class, but it's not a blatant imitator and looks every inch like a sporty Audi should do. It looks upmarket, too – just a shame that its looks don't hint at how it performs on the road!
Step inside, and you'll be reminded that the A5 is actually an old car by now. There was a time when it looked fresh-faced and blessed with all the hopeful nuances of youth, but now it's really beginning to look its age. While there is no beer gut just yet, a paunch is beginning to show in the form of wind, tyre and road noise, while the fact that the special sound-proof acoustic roof is only available as an option is a bit of a gripe.
Still, the interior is still smart if not as impressive of old, while once the roof is folded down you get treated to a decent amount of space. The fabric roof also ensures that the boot is decently sized, with an impressive 380-litres offered with the roof down. That's as much as you'd get in the E-Class.
Overall, leg and headroom is decent if not great, while there are lots of handy storage spaces dotted around the place.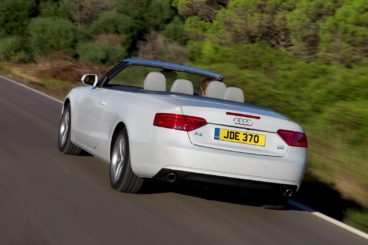 Audi A5 Cabriolet Pricing & Running Costs
Prices for the new Audi cabriolet start out from £35,600 and rise to just over £47,000.
Perhaps one of the reasons the asking price is so high is because there is a decent amount of standard equipment offered throughout the range. The base-level SE model offers 17" alloys, a 10-speaker stereo system, heated leather seats and parking assistance, while the S Line throws in S-line embossed leather sports seats and a 3-spoke steering wheel. The range-topping S line Special Edition Plus variant treats you to 19" alloys and a head-level heating system.
In terms of running costs, this cabriolet from Audi is most definitely cost-effective. The base-level 1.8-litre petrol can return 45.6mpg from a sensible drive, and emits 144g/km of CO2. The 2.0-litre TDI 150PS diesel, meanwhile, returns 57.6mpg and emits 129g/km of CO2. Very respectable, and all helped by the Start/Stop system.
Our Favourite: Audi A5 S-Line Convertible
When you consider that the A5 is both cost effective and desirable, it suddenly makes for an attractive proposition once again. Audi's convertibles have always been successful, not least because of the badge, but also because of the breathtaking engineering, slick interiors and irresistible design language.
The Audi A5 cabriolet is functional too, and there'll be no shortage of takers as usual; but is it better than the E Class and the 4 Series? Something worth considering before you sign on the dotted line.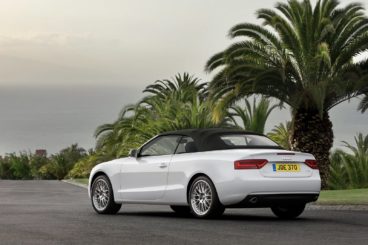 Latest posts by Will Titterington
(see all)