The Audi A5 Coupe arrived in 2007 as Audi began to diversify and add to its line-up, which was – at the time – becoming vastly more successful. Audi's range expansion produced the A5 – a coupe bodied version of its famous A4 saloon, and another sales success was born. With all the good bits from the A4 but in a new sleek body, the Audi A5 has been coveted ever since its birth, and now the new generation has arrived, based once again on the excellent A4.
Overview of the Audi A5 coupe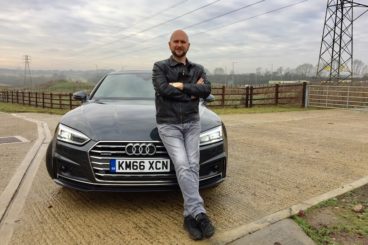 The all-new Audi A5 Coupe really doesn't spring any surprises out on the road, but then again, most Audi's are like that. Predictability is what Audi does, and with an engine line-up that features both petrol and diesel power, the new A5 drives identically to its A4 'twin'. Unusually for a coupe, the best engine is the 3.0-litre V6 turbo diesel unit, an engine that feels far more powerful than its 218PS suggests, largely thanks to the 400Nm of torque on offer. 62mph is hit in just 6.2-seconds, but looking past the power, it's the smooth delivery and unusually pleasant engine note that strikes a chord. If any diesel engine can justify its place in a sultry coupe body, it's this one. Behave yourself, and 60mpg is achievable with this engine as well.
As with all Audis, the S-Tronic automatic gearbox is an option, and once up to speed it works seamlessly to provide a comfortable ride. But it struggles when moving away and manoeuvring, which is awfully frustrating in a car that provides such a luxurious drive and environment inside. This is the new A5's Achilles heel out on the road, and it's a real shame Audi can't sort out the issues with it.
Quattro all-wheel drive is available on the all-new A5 Coupe, as with its stablemates, and it comes highly recommended, providing huge amounts of grip and the extra security of traction come foul weather and off-seasons. It works really well with the more powerful engines.
Interior, Design, and Build
There's very little out there right now that can compete with Audi for the overall quality and feel of interior designs. The new Audi A5 Coupe has yet another beautiful Audi interior, with top notch materials and a clean, unfussy design contributing to a superb driving environment. It feels modern, yet also classic Audi in execution, and it is very difficult to fault. Audi has even managed to provide an impressive 465-litres of boot space, which is really rather good for a coupe.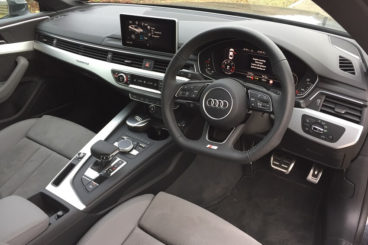 It's far easier to criticise the exterior of the new Audi A5 Coupe, which still looks similar to the original model that appeared in 2007. It's very reserved and very 'safe'; not exactly a step forward in terms of design, and not really all that awesome. It could have – and perhaps should have – been given a more modern appearance. As it is, it looks like it's a little bit behind its rivals, and that's not a good thing in the vanity-heavy world of coupes.
While you can ask questions about the exterior design, you can't doubt the overall build quality of the all-new Audi A5 Coupe. Every switch, panel, and system feels absolutely top-notch, and advances in technology have enhanced the overall feel of quality.
The biggest changes over the last decade since the last generation of Audi A5 appeared have been in the field of technology. Audi has moved with the times and has – as an optional extra – the Virtual Cockpit system, which replaces the dials behind the steering wheel with a configurable high-definition screen. The system allows for great flexibility in terms of information for the driver, and keeps the eyes in line with road, too. It can be configured to display a map and navigation, media player, trip computer, warnings, and the phone connected to Bluetooth. It also upgrades the interior into feeling even more contemporary.
Of course, there's a ton of other equipment on hand too – DAB radio, Audi Drive Select, dynamic suspension, voice control, adaptive cruise control, and much more. As with all Audis, you'll have to pay extra for many of these, but most Audi buyers go into an Audi buying or leasing transaction knowing this. For many, the Sport trim level will provide enough standard equipment to please.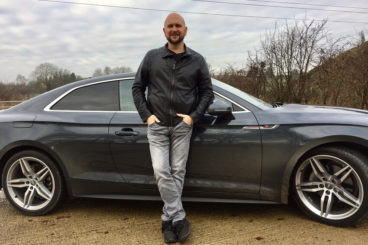 Audi A5 Coupe: Cost, Pricing, and Leasing Rates
Looking around for an Audi A5 Coupe with a 3.0-litre TDI engine, you can find personal lease deals out there for under £400 a month, but you'll need to have a low annual mileage and a decent deposit to get one for this price. With diesel-level miles of around 15,000 a year, expect to look to pay around £450 a month on a personal lease, with six to nine months paid up-front.
Business customers get it a little easier, with a similar deal and mileage rate producing monthly costs of £350-£400.
Pros and cons of the Audi A5 Coupe
Interior
It's about as good as interiors get, comfortable and roomy, and with a modern, classy feel that makes you feel great every time you get into the new Audi A5 Coupe. With the virtual cockpit, it feels very special indeed.
3.0-litre TDI V6 engine
This scandal-dodging V6 diesel is well capable of 60mpg+ and is about as sweet as oil-burners get. As you'd expect, it packs a real punch with plenty of pulling power, but it's the pleasant grumble when pushed that catches you off-guard. This is the best engine for the car, without a doubt.
Handling
This is a bit tricky to explain. Many reviewers write about the rather drab and lifeless handling that Audis have, but we see it another way. Audi's products are superbly well-judged for British roads and British drivers. The German-made cars provide excellent handling on dry and not-so-dry roads – roads that are – let's not forget – in a pretty poor condition. Audi's Quattro all-wheel-drive system, sharp brakes, and precise steering pay off big time over here. It isn't boring, it's very well thought out.
S-Tronic Automatic Gearbox
This transmission is just not up to the high-standards of the rival gearboxes found in BMW and Jaguar products. How Audi manages to develop wonderful technology like the virtual cockpit system but can't make a gearbox that pulls the car away smoothly is hard to comprehend.
Options
They're not cheap, and the price of your Audi A5 Coupe can grow exponentially if you don't manage to restrain yourself from ticking boxes on the options sheet. Technology Pack? £1,100. Vision Pack? £1,150. Bang and Olufsen sound system? £750. Virtual Cockpit? £250. Suddenly you've spent thousands, and you haven't even really started. Be careful.
Audi A5 Coupe vs BMW 4-Series Coupe (430d) vs Mercedes C-Class Coupe
The all-new Audi A5 Coupe is a solid piece of kit. But how does the latest model from the four-ringed automaker measure up to its two main rivals in this coupe category?
Audi A5 Coupe vs BMW 430d Coupe
Ah, the age old tussle between Audi and BMW is back once again. There are almost no areas where these two German powerhouses don't compete, and the 3-door saloon/coupe sector is no different.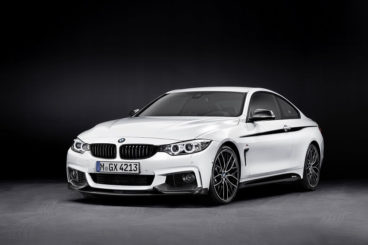 The BMW 4-Series is perhaps the pick of the bunch when it comes to cars of this ilk, but it has been seriously reeled in by the excellent new Audi A5 Coupe. Critics will insist that the BMW 4-Series is the better driver's car, but for many people buying or leasing in this market, it just won't matter. Not many motorists drive flat-out all the time. For everyday A to B trips, the new Audi A5 Coupe is just as competent as its Bavarian nemesis, and comes with a far nicer interior. It is true that the BMW 4-Series is aimed at the more sporting types – you sit slightly lower in the car and its steering is weighted just that little bit more. Small differences that add up to a different feel on the road.
Audi's biggest weakness against its rivals is the S-Tronic gearbox, which falls short of the standard achieved by BMW's offering. It's frustrating at junctions and manoeuvring; whereas the BMW does exactly what you want it to do, when you want to do it.
Prices: Audi A5 Coupe – £30,700 to £46,575. BMW 4-Series – £30,260 to £121,780
Audi A5 Coupe vs Mercedes-Benz C-Class Coupe
The battle between these two cars is much closer to call, as both go for a similar approach to driving – and both differ from the BMW 4-Series because of this.
The Audi A5 Coupe and the Mercedes C-Class Coupe hold themselves back from directly competing with the BMW 4-Series by being a little softer and less sharp in the corners. As mentioned before, this doesn't really matter on a day-to-day basis, and as these cars are going for a more comfort-orientated feel, it's harder to separate them.
The Mercedes C-Class Coupe can also compete with the new Audi A5 Coupe in terms of interior design, too. It's another beautiful environment for drivers and passengers alike, but not quite as modern and as well designed as the Audi's. Goodness me, it is close, though.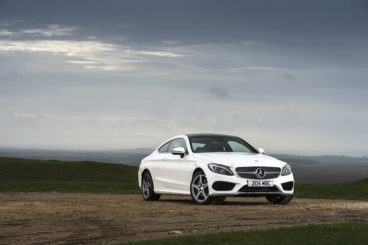 Take some time to get to know these two cars, and you'll eventually notice that the Mercedes-Benz is the more comfortable of the two, proving to be the best cruiser and the laziest car here. That's no bad thing, and might well prove to be more enjoyable for those who like to tootle about.
When it comes to diesel power, Mercedes is well behind in refinement. The diesel units are louder and sound a bit more old-fashioned than the excellent 3.0-litre V6 in the Audi, and they can't match the A5 for that smooth feel.
Prices: Audi A5 Coupe – £30,700 to £46,575. Mercedes-Benz C-Class Coupe – £31,835 to £39,995
It's not easy to separate these three cars, but it all comes down to character and what kind of driver you are at the end of the day. Ask yourself this simple question – how do you like to take corners? The driver with a hint of racer's blood will probably get the most pleasure from exploring the fairly accessible limits of the BMW 4-Series, a car that goes out to try and conquer the curves.
Those people who like a balance of comfort and power need to look no further than the all-new Audi A5 Coupe, a car that treads the lines created by the BMW 4-Series and the Mercedes-Benz C-Class Coupe almost exactly. It has a frustrating gearbox, but the engine is the best in class and the interior is too. On the road, instead of trying to go out and conquer the corners, it goes out to try and tame them. A different approach to that of the BMW.
Lastly, there's the Mercedes-Benz C-Class Coupe. Of the three cars here, this is the most laid-back, going purely for comfort and cruise potential rather than out-and-out performance. Its superb interior rivals that of the Audi, but it just isn't as modern, so falls down at the last hurdle. This is the car that attempts to soften the impact of the curves.
The best overall package is provided by the Audi A5 Coupe, even if the exterior falls well short of exciting and the gearbox can be frustrating. It does everything else brilliantly, and on native roads it is probably just as quick as any of its rivals, but more secure with it.
Want to learn more? Click below to view the review for the competitors in this article…
Looking for a price?
You could be driving away with your new car in no time. Fill in your details below and one of our vehicle experts will be in touch within one working day.

Latest posts by Rachel Richardson
(see all)