Review of the Audi A4 Saloon
The new Audi A4 Saloon might look a bit understated, but if it's space, economy and comfort you want most from a compact executive saloon, it's got the answers.
Competing for your attention (and cash) alongside Mercedes and BMW, the A4 Saloon is arguably the more practical choice. If on the other hand, it's sheer entrainment on the road you're looking for, you'd be better off checking out the BMW 3 Series. But for versatility, interior room and luggage space, it's this one that is worth a closer inspection.
OSV dissects it with our Audi A4 Saloon review.
The new saloon is much better on the road than last time, but it's still predictable.
It seems that nobody can compete with BMW when it comes to drivability in this class, and the A4 Saloon certainly won't be ruffling any feathers this time around, despite it handles better than its predecessor. Numb steering was a common complaint, but this new model is sharper and offers more feedback.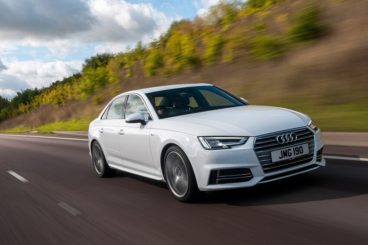 It's also agiler than the car it replaces, but if you want it to feel as natural as possible, you will need to overlook the active steering option. The suspension setup now offers more comfort, and there is minimal body lean. Meanwhile, the brand's trusty Quattro four-wheel-drive system (which isn't offered across the whole range) ensures plenty of grip.
So far, so good, then. The problem is that, for all its improvements, it still doesn't offer much in the way of fun.
However, there is an excellent choice of engines, with Audi adding more petrol units. We like the look of a new 1.4-litre 148bhp turbocharged petrol, while the performative turbocharged 2.0-litre TFSI engine comes in either 187 or 249bhp guise and makes use of clever technology to keep running costs relatively low. They're also pretty quick, with the 249bhp variant capable of getting you from rest to 62mph in just 5.8 seconds.
There is also a rumour doing the rounds that a turbo V6 petrol engine will be added to the ranks, but for now, the S4 is as powerful as things get. And dusting off the 0-62mph sprint in 4.7 seconds isn't bad at all.
There is also a quartet of diesel engines to choose from, which means that you're really spoiled for choice here. The 2.0-litre unit, which is available in either 148 or 187bhp form, will be the most popular. It's smooth, quiet and highly capable. The 3.0-litre V6 diesel is the quickest, though, and can propel you from a standstill to 62mph in just 5.3 seconds.
Interior, Design and Build
The new car gets treated to lots of new advanced technology and gadgets, and standard equipment is good.
Pleasingly, Audi has cleaned up the dashboard so that there is a lot less clutter than last time around. The German brand has gone for a minimalist layout, and for the most part, it's worked out well. Build quality is excellent, and the cabin is classy and sophisticated. It's exactly what you'd expect from an executive saloon vehicle.
Audi has also seen a good reason to transfer over the TT's Virtual Cockpit to the A4 Saloon (though this is only available as an optional extra), which means that you'll now find most of the controls on the centre console. This frees up the dashboard, which you only need to use to operate the driver aids and climate control.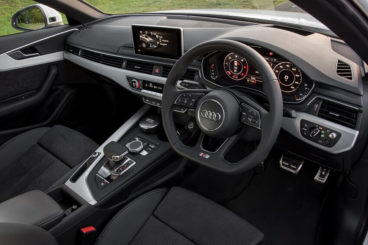 The infotainment system has been revised, and now shows HD graphics. It utilises touchscreen tech and allows you to use your fingers to draw letters. The sat nav system, meanwhile, is now incredibly responsive and loads faster than ever before. It has also integrated Google Maps.
The dimensions are bigger than before, which means you get more leg and headroom. Previously, anyone over six foot found it difficult to get comfortable in the rear, but there will be fewer problems now. ISOFIX mounting points come as standard, while the steering wheel and driver's seat offer plenty of adjustment.
The boot is well-sized and measures 480-litres. You can fold the rear seats for more space, but they only fold 60:40, which is a tad disappointing. The seats will not fold totally flat, either.
Standard equipment across the range is good, and includes Bluetooth phone connectivity, a DAB digital radio, LED headlights, climate control and sat nav.
The list of optional extras is quite extensive and pricey. Among your choices are adaptive dampers, adaptive cruise control, LED Matrix headlights and the Virtual Cockpit.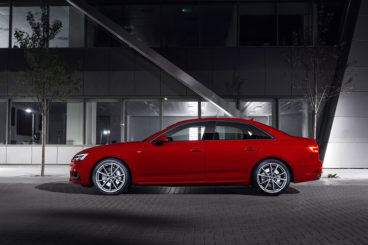 Costs of the Audi A4 Saloon
Prices for the new car start out from £26,300 and rise to £39,500. If you want to lease the car, you can get a deal from as little as £185 + VAT per month.
Audi has made the car a lot more cost efficient this time around. Although it certainly wasn't a known polluter previously, Audi knew that to keep up with the likes of the increasingly frugal 3 Series, they had to make a number of revisions.
The cheapest engine to run is the 2.0-litre Ultra diesel, which returns 74.3mpg on average and is free to tax. The petrol engines won't be as frugal, but returns of 53.3mpg from the 1.4-litre TFSI petrol unit is very reasonable. Meanwhile, the turbocharged 2.0-litre TFSI petrol is good for 55.4mpg.
Insurance groups are unconfirmed, but we're expecting them to be no different to the car's predecessor, which sat in groups which ranged from 19 to 32. As usual, the A4 comes with a typical 3-year/60,000 mile warranty.
Pros and Cons of the Audi A4 Saloon
Wide range of engines to choose from
There is an engine to suit everyone here, including four types of diesel and a handful of petrol. You're really spoilt for choice, and making your decision is going to come down to whether it's power and pace, refinement, or economy that you want.
If you still can't decide, your decision might be swayed by the gearbox. For example, the range-topping 3.0-litre V6 diesel is the only power plant that is paired up with the 8-speed Tiptronic transmission.
It's economical
Audi claims that the engine range is 21% more fuel efficient than last time around. This ensures you get strong performance without having to foot sky-high bills all the time.
Spacious
The car is longer and wider in its new guise, which means you benefit from ample more leg, head and shoulder room. It's now one of the roomiest cars in this sector.
Dull looks
It's not the most stylish Audi around – not even close. It's conservative, safe and inoffensive.
Expensive optional extras
The Virtual Cockpit represents value for money at £240, but once your eyes start to gaze down the list of optional extras, you'll soon realise that this car could end up costing you a lot more than you originally intended. £975 for a Light and Vision Pack is just the start.
Audi A4 Saloon vs BMW 3 Series Saloon vs Mercedes C-Class Saloon
Before making a final decision, it's a good idea to see what other options you have. Let's take a look at how it fares against its rivals in the comparison section of our Audi A4 Saloon review.
Audi A4 Saloon vs BMW 3 Series Saloon
The new BMW 3 Series Saloon has for a long time set the benchmark in the executive saloon market. Are its rivals still playing catch up?
The BMW 3 Series is good fun to drive, regardless of which engine you choose to match it with. There is plenty of grips, the suspension is firm, and the steering is nicely weighted. The only criticism we have is that, at motorway speeds, there is a bit of a dead spot in the steering which, according to BMW, is their reaction to feedback from the Chinese and U.S. markets.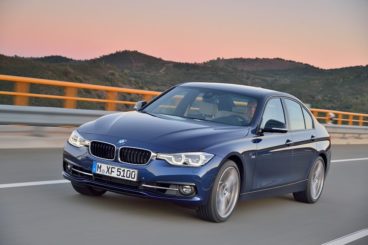 We also recommend that you snap up the adaptive dampers, as they're pretty much a must for this car. Their impact on improving ride quality cannot be understated.
The engines all offer keen performance, with our favourite being the BMW 330i petrol, which covers the 0-62mph sprint in just 5.9 seconds. There is also a hybrid version available, which covers the distance in 6.1 seconds, and a handful of diesel which are no slouches.
Running costs across the range is good, and go some way to offsetting the high listing price. All diesel average returns over 50mpg, with the 320d variant, even being free from tax.
The interior is classy and well-built, and the dashboard is well-laid out, with all the buttons logically arranged. It has a very driver-oriented feel to it, and everything is easy to operate and easy on the eye. We especially like the dash-mounted colour screen, which you use to control various functions, such as the radio and sat nav.
The boot, meanwhile, measures 480-litres, which is the same as the A4.
Price:
Audi – £26,300 – £39,500
BMW – £25,000 – £41,000
Audi A4 Saloon vs Mercedes C-Class Saloon
The new Mercedes C-Class Saloon is comfortable, classy and more economical than ever before. Does it have any flaws, though?
Actually, a noisy diesel is a fleck in the crystal. It's a shame because this 2.1-litre diesel would otherwise be a popular choice among buyers, thanks to good performance and low running costs.
However, if you're prioritising fuel economy, there is a diesel-electric hybrid model available. No slouch, it can get you from rest to 62mph in 6.4 seconds while averaging returns of 78mpg.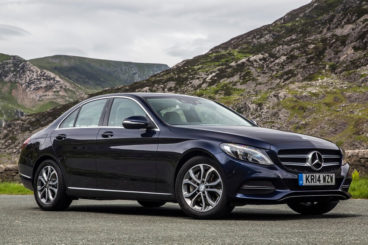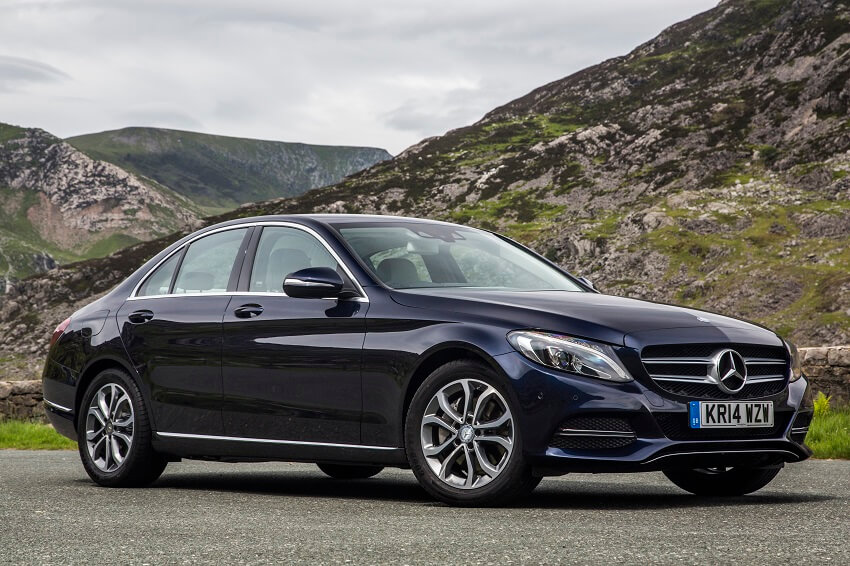 There are a handful of petrol engines to choose from, too. The entry-level C200 petrol unit covers the 0-62mph dash in 7.5 seconds and comes mated to a responsive, smooth 7-speed automatic transmission. If, however, it's pure performance that you want, the AMG 63 model can propel you from rest to 62mph in just 4.1 seconds. It is, however, a lot more expensive than the A4.
The interior is overall a relaxing and serene place to be – unless you opt for the noisy diesel engine, that is. Fit and finish throughout is fantastic, and the design looks as slick as ever.
Comfortable seats are a welcome touch, and the steering wheel and driver's seat are both fully adjustable. The dash, meanwhile, is clutter-free and is every bit as upmarket as you expect a Mercedes dashboard to be.
Like Audi with their A4, Mercedes have extended the C-Class Saloon's dimensions so that it's longer and wider. This has its obvious negative impacts on handling, and the car is certainly no agile city car. But in terms of interior space, there is now more leg, head and shoulder room to be enjoyed by you and your passengers. Even better, Mercedes have brought the pedals closer to your reach.
There is a caveat, though, which is a sloping roofline that impinges on rear head space. However, we think it's only a very slight issue. The boot measures 480-litres, which makes it the same size as both the Audi and the BMW. The entry-level model misses out on a 60:40 split-folding rear seat setup.
Price:
Mercedes – £28,200 – £70,000 (for the high-performance AMG 63)
Verdict of our Audi A4 Saloon review
If you want an executive saloon that looks more measured than standout, this particular one is appealing. An understated exterior is perfect if you just want to travel in style without grabbing all the attention, and it's backed up by a classy interior and plenty of performance. Not much style, but plenty of substance.
Sure, the A4 is not the most fun to drive or the best to look at. But it does a job. If a spacious interior, solid running costs and a good amount of standard equipment are things you expect from an exec car, the Audi A4 Saloon is well worth a test drive.
Get in touch with a Vehicle Specialist
Fill out the form below with your details, and one of our highly qualified specialists will be in contact within 24 hours.
When you lease a car with OSV there are no hidden costs, request a call back and we'll find you a finance, lease or purchasing deal designed just for you.