Review Of The Audi R8 Coupe
Looking for some fun? The new two-seater Audi R8 Coupe is a supercar that handles well at high speed, and which provides the kind of exciting, pure driving experience enthusiasts look for in cars like this.
Outrageous looks and breathtaking abilities, the new R8 also boasts a volcanic, naturally aspirated V10 engine that sounds like it could shake the earth. For anyone intimidated by cars like this, it's easier to drive than most, while for more experienced drivers, there's the option of a – wait for it – 602bhp power plant.
OSV takes a closer look at what it's all about with our 2018 Audi R8 Coupe review.
There isn't really anything to fault about the way the R8 Coupe drives. It's ridiculously quick and easy to drive.
It's also one of the most dramatic cars on earth right now, makes a spine-tingling noise, and feels as special as it looks.
On the point of it being easy to drive, the R8 Coupe is one of those cars that doesn't look as though it would be so easy to live with. But whether you want to put your foot down or whether you want to cruise, it provides a hassle-free experience.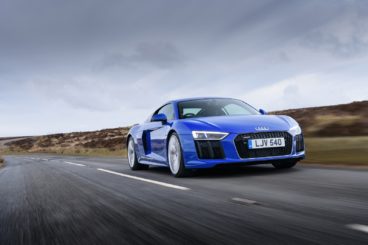 That said, there's no denying that its suspension setup is very stiff and you will feel it whenever you hit a pothole. The steering is precise while Quattro four-wheel-drive combines well with a classy traction control system to ensure that your nerves never get the better of you.
In terms of the engines, there's one available, a 5.2-litre V10 unit that's available in two separate guises. The smaller of the two develops 533bhp while the bigger version produces a crushing 602bhp. Both are capable of causing your heart to flutter, with the 533bhp completing the 0-62 dash in 3.5 seconds.
Naturally, the 602bhp is faster still, and can get you from rest to 62mph in just 5.2 seconds before maxing out at 205mph.
All models get a 7-speed dual-clutch automatic transmission as standard. If you want to take more control, you can do so using the paddles on the steering wheel. Regardless, when left in fully automatic mode, the changes are rapid.
All models also come with Quattro as standard, and the amount of grip on offer is enough to fill even the most inexperienced driver with confidence.
The R8 Coupe makes for a decent cruiser but we all know that cars like this excel at high speeds. Having said that, it's probably the best supercar available at the moment for everyday driving in the towns and cities.
Audi R8 Coupe Interior, Design & Build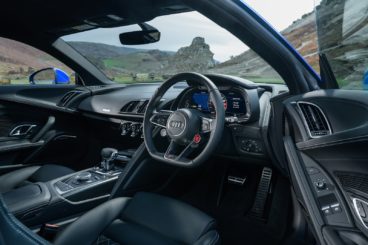 As ever with an Audi, the R8 Coupe's cabin dazzles with its quality. It's a supercar that feels exactly like you'd want and expect a supercar to feel. The sports seats are sat down low and the wraparound dashboard is very driver-focused.
Then there are the brushed aluminium inserts and carbon fibre trim that's literally everywhere.
All models get the brands excellent Virtual Cockpit digital display. This is a 12.2" screen that removes the need for traditional dialogue dials, making the dashboard prettier while providing you with all kinds of useful driver info, such as sat-nav and the speedometer. The infotainment is also included in this system.
However, the Virtual Cockpit also means that a number of controls are now located on the steering wheel, and while this is a safety-first tactic from Audi, it will take you some time to get the hang of things.
In terms of how practical it is, a supercar with two doors is never going to be the most practical machine known to man and because it's a mid-engined vehicle, there's no boot in the back. Instead, the nose accommodates a 112-litre boot, and while that's pretty small it's quite deep and, hey, at least the R8 has a boot!
Other than that, there are just two seats and not much room behind the two seats for your bits and bob, with the exception of a small shelf. For that reason, we recommend adding £250 for the Storage Pack which gets you netting for your shelf.
Equipment & Safety Of The Audi R8 Coupe
Standard kit across the range includes all-round parking sensors, sat-nav, Bluetooth, a digital radio, Nappa leather-clad power adjustable and heated sports seats, as well as LED headlights.
The R8 Plus model, meanwhile, adds bucket style sports seats, super strong carbon ceramic brakes and carbon fibre side blades.
Is the Audi R8 Coupe safe? It boasts a strong body shell and an excellent Quattro four-wheel-drive system, which should prove reassuring. Its standard safety kit includes electronic stability control, traction control and airbags, and we expect the car to be ultra safe.
Costs Of The Audi R8 Coupe
Prices for the new car start out from around £112,450 – £141,130. For more information on our leasing deals, check out our page here.
In terms of its running costs, the spectacular V10 engine requires you to have some pretty deep pockets. It returns 24.8mpg economy at best if you stick to the standard model, while upgrading to the RS Plus means you'll return 23mpg on a 'good day.'
Emissions, meanwhile, top the 287g/km mark.
Insurance? Costly. The R8 Coupe occupies group 50 out of 50.
Pros and Cons Of The Audi R8 Coupe
Sensational Performance
"They don't make supercars like they did in my day." Actually, they do, and with its blistering turn of pace and venomous 602bhp, here's one.
Looks Like A Super Car
It's a born supercar that looks like one from a dying breed.
Neat Handling
It's easier to drive than you'd expect. In fact, it's as easy to live with as a supermini!
Expensive To Run
Running costs are always the sting in the tail with cars like this and you'll struggle to return more than 20mpg.
Impractical
Just in case you wanted to combine a ferocious supercar with usability, you can't really do that here. That said, it's no more impractical than, say, an Audi TT.
Audi R8 Coupe vs Lamborghini Huracan vs Ferrari 488
Let's see how the car fares against its rivals in the comparison section of our 2018 Audi R8 Coupe review.
Audi R8 Coupe vs Lamborghini Huracan
The new Lamborghini Huracan looks intimidating but actually isn't so scary to drive. It's also the most affordable Lamborghini available at the moment.
The Huracan was actually put together in conjunction with the Audi R8 and shares its 5.2-litre V10 petrol engine. Like the Audi, there are two variants available, but whereas the less powerful R8 develops 533bhp, the less powerful Huracan develops an astonishing 572bhp.
However, both the Audi's and the Lamborghini's most powerful models develop 602bhp.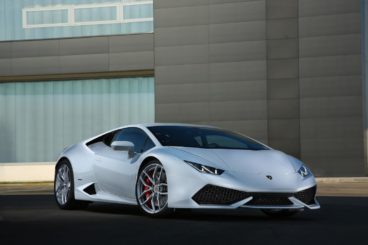 We prefer the smaller Huracan as it benefits from a rear-wheel-drive layout that's lighter than the more powerful model's four-wheel-drive layout. It's also a bit sharper to drive and feels more agile.
It's also still hyper-quick and can cover the 0-62 dash in around 3.4 seconds. That said, it's easy to justify spending extra on the bigger variant as the extra grip provided by the four-wheel-drive system is certainly useful for a car as powerful as this. However, we recommend that you avoid the optional LDS variable steering system as it makes the driving dynamics feel too artificial.
Running costs? It was never going to be cheap to run but we think returns of 23.7mpg from the rear-wheel-drive model is decent. The four-wheel-drive model, meanwhile, returns 22.6mpg economy at best.
Inside, the Huracan is as ostentatious as you might expect. There are all kinds of supercar quirks on offer, from a start button that's tucked away beneath a jet fighter-like red flap to windscreen wipers and indicators that you control via the steering wheel.
All models get a 12.3" digital dashboard display as standard, as well as a reversing camera. The materials used, meanwhile, are all top notch and build quality is excellent.
Is the Lamborghini Huracan practical? Not especially and adults over six foot might struggle for head and legroom. The windscreen is set very low and the boot measures just 150-litres. That makes it competitive with the Audi, but that isn't saying a lot.
Still, we buy cars like this for pleasure anyway, right?
Price:
Audi – £112,450 – £141,130
Lamborghini – £155,400 – £185,466
Audi R8 Coupe vs Ferrari 488
Few cars can deliver a sense of occasion quite like a Ferrari and the new Ferrari 488 is destined to be one of the most special cars money can buy.
Unlike the Audi and the Lamborghini, the Ferrari's engine gets turbochargers – two of them, in fact it's a 3.9-litre V8 engine that's available in two guises. The least powerful variant develops 552bhp, while the bigger model develops a crushing 661bhp. 0-62 in the latter is done away within 3.0 seconds, which makes it the fastest car in this review.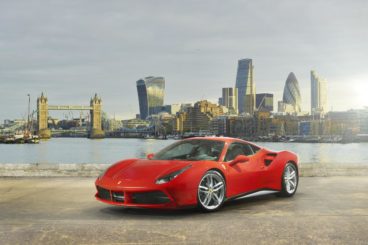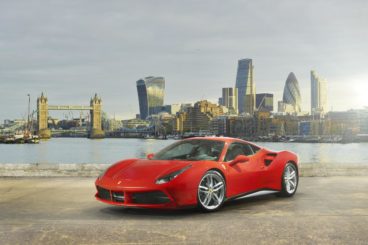 The engine is paired up with a 7-speed twin-clutch transmission, while a steering rack, adaptive dampers and powerful brakes all add up to a thrilling driving experience.
Ride quality is good, and as well as ensuring you and your passengers remain nice and comfortable, this also means you get to focus on driving. Owing to its 0-62 time, it's easy to cover ground fast, but what's most noticeable is just how focused the car is. And despite its size, it doesn't feel all that bulky.
The steering, meanwhile, is so rapid that it's as though it moves before you make it move!
Running costs are to be expected, with the twin-turbo V8 engine – which emits a terrific roar – returns just over 24mpg at best while emissions stand at 260g/km of CO2.
Inside, Ferrari has put together a very driver-focused cabin. All the controls are centred around the steering wheel, with a lot of them on it. All models get an advanced trip computer, which displays all kinds of useful driving information, including vehicle status, G-meter and a lap timer. It also lets you know when parts of the car might be overheating.
Rotary dials control different pods, and while it will take some getting used to, it's really user-friendly once you're up and running.
Is the Ferrari 488 practical? Its 230-litre boot, which is located at the front of the car, is significantly bigger than the Audi and it comes fully carpeted. However, its shape is awkward and it won't be easy to cram much in there.
Storage space is fine, with the 488 getting a few useful door pockets, a decent-sized glovebox, one cup holder and a few nets behind the two seats. The single cup holder will frustrate but there you are.
On a final note, despite its extraordinary speeds and power, the 488 will feel reassuringly safe. It gets powerful carbon ceramic brakes as standard, while a host of advanced electronics provide a safety net when things get nervy.
Price:
Ferrari – £182,809 +
Verdict Of Our 2018 Audi R8 Coupe Review
Big, loud and dangerous, the new R8 Coupe is a super car at its finest. One of a dying breed, it looks the part, feels the part and sounds the part. Naturally aspirated, it's a joyous celebration of everything we love about cars like this. Fast and fun, it's glamorous, powerful and surprisingly easy to live with.
They do still make cars like the Audi R8 Coupe – but not for long, so grab it while you can.
When you lease a car with OSV there are no hidden costs, request a call back and we'll find you a finance, lease or purchasing deal designed just for you.