Review Of The Audi R8 Spyder
The new Audi R8 Spyder is one of the world's most breathtaking cars. Powered by a bad boy V10 engine, it's got brawn, a keen sense of naughtiness and an electric roof that's gorgeously engineered.
It's a car designed to make you feel good, and while it's expensive, the phrase money can sometimes buy you happiness springs to mind here.
OSV takes a closer look at what it's all about with our 2018 Audi R8 Spyder review.
This is the convertible version of the Audi R8 Coupe and it shares its engine with its sibling. This means it's powered by a 5.2-litre V10 petrol engine that develops as much as 532bhp, which is enough to get you from rest to 62mph in a science-defying 3.6 seconds.
And while the engine sounds and feels good enough in the Coupe, it's even better in the Spyder version. There's easily enough drama to get addicted to in the standard model, but if you want more theatrics, there's the option of an R8 Plus model that develops 602bhp, and which covers the 0-62 sprint in a matter of 3.3 seconds.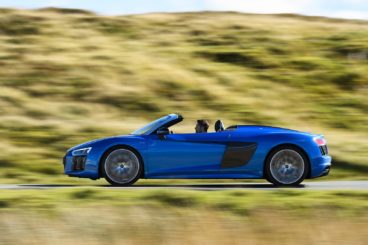 Faintly ridiculous? Perhaps, but who cares!? In terms of the exhilarating noise it makes, there's no match on the road at the moment.
In terms of the way it drives, the new R8 Spyder weighs less than last time. Combined with a stiffer suspension setup and chassis, its lighter self-performs better than its predecessor. The R8 comes with a dual-clutch auto 'box as standard, but if you want the ultimate in driving pleasure and outright performance, the R8 Plus is lighter still.
Both the standard and the Plus models can boast a very accurate dynamic steering system. There isn't a great deal of feedback but you can still drive it at speed without losing your nerve.
And because the Spyder's suspension setup is softer than the Coupe's, it's even possible to cruise and have a nice, chilled time.
Audi R8 Spyder Interior, Design & Build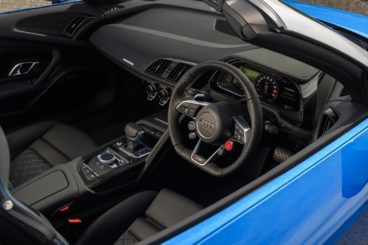 There's rarely a bad word to say about Audi interiors and we have mostly praise for this one, too. As ever, the interior glistens with luxurious, top-notch materials while the design is minimal, tasteful and modern.
There's carbon trim lines, tactile metal and leather in the cabin, and it feels and looks exactly like a car at this price point should.
The R8 Spyder gets the brands much-praised Virtual Cockpit digital display, a system that frees the dashboard from traditional controls and dials, replacing them with a 12.3" TFT display. The car also benefits from a useful wind-breaker that you can raise or lower, and when it's up there's barely any buffeting.
The fully electric roof, meanwhile, takes 20 seconds to go up or down and can be operated at up to 31mph.
Is the Audi R8 Spyder practical? It's got just the two seats and was designed primarily for pure indulgence, so it's impossible to claim that it's practical. The boot – which is located in the nose – measures 112-litres, which means you might get away with a weekend bag or two, and it is very little by the way of storage space.
Still, that's not why we buy cars like this, is it?
Equipment & Safety Of The Audi R8 Spyder
There's a strong showing from Audi on the standard kit front, with the R8 Spyder getting the likes of Quattro four-wheel-drive, sports suspension, Audi Drive Select, 19" alloys, heated Nappa leather sports seats, a multifunction steering wheel and climate control included in the purchase price.
Optional extras include exclusive paint finishes and a £4,900 gloss carbon styling pack. If you want the bigger 20" alloys, you'll need to fork out an extra £2,350, while a further £7,700 will get you some powerful ceramic brakes.
A lot of the extras are expensive but the one we recommend is the £1,600 Magnetic Ride adaptive dampers, which will help the car settle down on bumpy roads.
In terms of how safe it is, there's always a worry with fast cars like this because Euro NCAP rarely crash test them. However, it boasts a strong and sturdy shell and we can't foresee any glaring safety issues. Ceramic brakes will be a great addition if you can afford them, but apart from that its standard safety kit includes a first aid kit, an integrated head restraint system, as well as airbags.
Costs Of The Audi R8 Spyder
Prices for the new car start out from £121,140 and rise to £149,820. For more information on our leasing deals, check out our page here.
In terms of its running costs, if you buy the Spyder you'll be burning tarmac – and burning a hole in your wallet. Its 5.2-litre V10 engine returns 24.1mpg at best, and while this is an improvement on last time, it's hardly going to be a deal breaker anyway. The R8 Plus model, meanwhile, is good for a 22.6mpg economy.
That said, it'll be difficult to average either of those figures in the real world, while the standard Spyder emits 277g/km of CO2 and the R8 Plus emits 292g/km.
Pros and Cons Of The Audi R8 Spyder
Sensational
Everything about the car is sensational, from the way it looks to its 0-62 time of 3.6 seconds.
Loud
Its engine is loud – but in a good way. It screams just like you want an animal like this to scream.
Feels Sharp
Audi's aren't always noted for their sharp handling but this is as close to a thoroughbred sports car as the brand has got.
Expensive
It's costly to both buy and run.
Not Practical
If you're just looking for kicks, the Spyder is fine. If you also need a bit of day-to-day usability, it comes up a bit short.
Audi R8 Spyder vs Porsche 911 Turbo vs Jaguar XKR
Let's see how the car fares against its rivals in the comparison section of our 2018 Audi R8 Spyder review.
Audi R8 Spyder vs Porsche 911 Turbo
The new Porsche 911 Turbo is stunningly designed, superbly refined and fantastic fun to drive.
When the chips are down, you can always count on Porsche to put together an excellent drop-top. Whether the roof is up or down, its six-cylinder engines make themselves heard, and while the brand has added turbochargers, the thrilling driving experience remains.
True, the Cabriolet version has never been able to match the Coupe in terms of handling, but this is the sharpest one yet. There are four-wheel-drive versions available and the steering is sharp and precise whichever model you choose.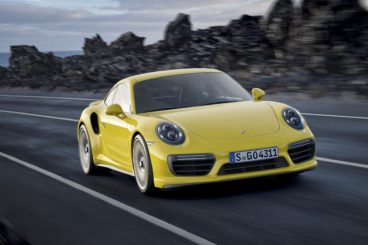 The refinement, as mentioned, is excellent when the roof is up. With the roof down, it will be harder to hold a conversation on the motorway but it's par for the course with a car like this.
Is the 911 Turbo fast? Powerful? Naturally. The standard version develops 365bhp, which is enough to cover the 0-62 sprint in 4.6 seconds, but the 911 Turbo – which is the focus of this comparison – is a lot, LOT faster. Its powered by a crackling 3.8-litre petrol engine that develops 533bhp. It's 0-62 time? 3.1 seconds.
Let that sink in.
However, it's worth pointing out that this is hardly an accessible car and it will intimidate some drivers.
Running costs aren't pretty but they're to be expected, with the 911 Turbo returning 30.4mpg economy at best while emitting 216g/km of CO2.
Inside, we've already covered the excellent refinement, while an electronic wind deflector that comes standard on all models does a great job of keeping buffeting down. All models get a 7" touchscreen infotainment system, as well as leather, Bluetooth and sat-nav.
In terms of practicality, it boasts rear seats but it's probably better to think of them as extra luggage space as even kids will struggle to get comfy in them. The actual boot, meanwhile, is in the front and it measures just 145-litres if you stick to two-wheel-drive. Specify four-wheel-drive and you'll lose another 20-litres of space.
On the other hand, because the Porsche is so small it's easy to drive and park around town.
Is the Porsche 911 Turbo safe? It hasn't – and won't be – crash tested by Euro NCAP, but all models get rollover protection, traction control, strong brakes and the brands Active Suspension Management system.
Price:
Audi – £121,140 – £149,820
Porsche – £86,732 – £156,381
Audi R8 Spyder vs Jaguar XKR
The new Jaguar XKR is fast, fun and sporty, but when it wants to be, it can also be comfortable and even a bit civilised.
However, while this is certainly a fast car that feels even faster, it can't compete with the Audi or the Porsche's 0-62 time. It covers the same sprint in 4.6 seconds, which is quick but way off the times clocked by the Spyder and the 911 Turbo.
That said, its power comes from a sensational supercharged 5.0-litre petrol engine that develops 503bhp, and which sounds glorious.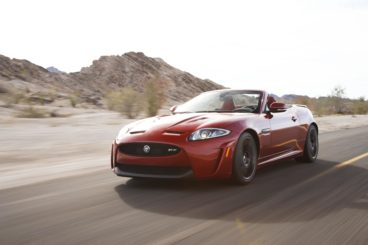 Active dampers come as standard on all models, and these help the car to take bends like a true sports car. Meanwhile, a 6-speed automatic 'box makes it easy to get the most out of the car's abundant performance.
Topping the range is a Dynamic R model that gets a Speed Pack included as standard which boosts the XKR's maximum speed up to 174mph. It also gets an enhanced exhaust that sounds even more sensational.
Running costs, however, are not great and the Jaguar XKR returns 23mpg economy at the very best. It's unlikely that you'll actually return those figures, at least not on a regular basis, while emissions stand toweringly high at 292g/km of CO2. Servicing will also be expensive, though no more expensive than the Audi R8.
Outside, XKR badging, sporty alloys and bonnet vents give the Jaguar a sporty but elegant look and there's no denying that this is a stylish car. Move up to the Dynamic R model and you also get an aero pack, lower suspension, side skirts, a rear spoiler and a bigger front splitter.
Inside, its cabin looks and feels great too, with all models getting sporty trims, leather trims, figure-hugging sports seats and electric seats. The Dynamic R model, meanwhile, adds piano black veneers, a suede headliner and diamond-quilted performance seats.
Is the Jaguar XKR practical? It's certainly got a bit more usability to it than either the Audi or the Porsche. Its boot measures 330-litres but, like its rivals, its rear seats are too small to squeeze anyone else in except children. Most buyers will probably just use them as extra luggage space.
In terms of safety, Jaguar has included a few features as part of its standard kit, including a pop-up pedestrian-protecting bonnet, stability and traction control, as well as plenty of airbags. The likes of adaptive cruise control is an optional extra.
Verdict Of Our 2018 Audi R8 Spyder Review
It takes guts to proclaim something the world's greatest of anything, but it takes a genius to put a car like this together. And genius deserves recognition. So while it's impossible to say whether this is the world's best performance car at the moment, it's right up there. The new Audi RS Spyder is a sensation that's tailor-made for anyone who can afford it.
Get in touch to have a chat about your new car
Give one of our helpful team a call to find your perfect vehicle.
ARE YOU INTERESTED IN GETTING A
Convertible
?
Get in touch with us on 01903 538835 or request a call back. We look forward to hearing from you.