Review Of The Audi R8 Spyder
The new Audi R8 Spyder is one of the world's most breathtaking cars. Powered by a bad boy V10 engine, it's got brawn, a keen sense of naughtiness and an electric roof that's gorgeously engineered.
It's a car designed to make you feel good, and while it's expensive, the phrase money can sometimes buy you happiness springs to mind here.
OSV takes a closer look at what it's all about with our 2018 Audi R8 Spyder review.
This is the convertible version of the Audi R8 Coupe and it shares its engine with its sibling. This means it's powered by a 5.2-litre V10 petrol engine that develops as much as 532bhp, which is enough to get you from rest to 62mph in a science-defying 3.6 seconds.
And while the engine sounds and feels good enough in the Coupe, it's even better in the Spyder version. There's easily enough drama to get addicted to in the standard model, but if you want more theatrics, there's the option of an R8 Plus model that develops 602bhp, and which covers the 0-62 sprint in a matter of 3.3 seconds.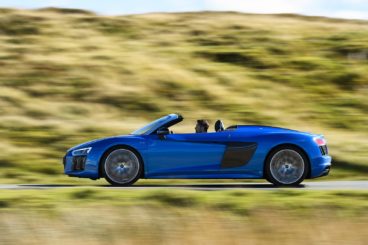 Faintly ridiculous? Perhaps, but who cares!? In terms of the exhilarating noise it makes, there's no match on the road at the moment.
In terms of the way it drives, the new R8 Spyder weighs less than last time. Combined with a stiffer suspension setup and chassis, its lighter self-performs better than its predecessor. The R8 comes with a dual-clutch auto 'box as standard, but if you want the ultimate in driving pleasure and outright performance, the R8 Plus is lighter still.
Both the standard and the Plus models can boast a very accurate dynamic steering system. There isn't a great deal of feedback but you can still drive it at speed without losing your nerve.
And because the Spyder's suspension setup is softer than the Coupe's, it's even possible to cruise and have a nice, chilled time.
Audi R8 Spyder Interior, Design & Build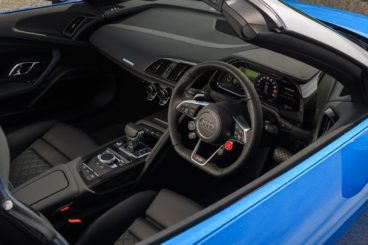 There's rarely a bad word to say about Audi interiors and we have mostly praise for this one, too. As ever, the interior glistens with luxurious, top-notch materials while the design is minimal, tasteful and modern.
There's carbon trim lines, tactile metal and leather in the cabin, and it feels and looks exactly like a car at this price point should.
The R8 Spyder gets the brands much-praised Virtual Cockpit digital display, a system that frees the dashboard from traditional controls and dials, replacing them with a 12.3" TFT display. The car also benefits from a useful wind-breaker that you can raise or lower, and when it's up there's barely any buffeting.
The fully electric roof, meanwhile, takes 20 seconds to go up or down and can be operated at up to 31mph.
Is the Audi R8 Spyder practical? It's got just the two seats and was designed primarily for pure indulgence, so it's impossible to claim that it's practical. The boot – which is located in the nose – measures 112-litres, which means you might get away with a weekend bag or two, and it is very little by the way of storage space.
Still, that's not why we buy cars like this, is it?
Equipment & Safety Of The Audi R8 Spyder
There's a strong showing from Audi on the standard kit front, with the R8 Spyder getting the likes of Quattro four-wheel-drive, sports suspension, Audi Drive Select, 19" alloys, heated Nappa leather sports seats, a multifunction steering wheel and climate control included in the purchase price.
Optional extras include exclusive paint finishes and a £4,900 gloss carbon styling pack. If you want the bigger 20" alloys, you'll need to fork out an extra £2,350, while a further £7,700 will get you some powerful ceramic brakes.
A lot of the extras are expensive but the one we recommend is the £1,600 Magnetic Ride adaptive dampers, which will help the car settle down on bumpy roads.
In terms of how safe it is, there's always a worry with fast cars like this because Euro NCAP rarely crash test them. However, it boasts a strong and sturdy shell and we can't foresee any glaring safety issues. Ceramic brakes will be a great addition if you can afford them, but apart from that its standard safety kit includes a first aid kit, an integrated head restraint system, as well as airbags.
Costs Of The Audi R8 Spyder
Prices for the new car start out from £121,140 and rise to £149,820. For more information on our leasing deals, check out our page here.
In terms of its running costs, if you buy the Spyder you'll be burning tarmac – and burning a hole in your wallet. Its 5.2-litre V10 engine returns 24.1mpg at best, and while this is an improvement on last time, it's hardly going to be a deal breaker anyway. The R8 Plus model, meanwhile, is good for a 22.6mpg economy.
That said, it'll be difficult to average either of those figures in the real world, while the standard Spyder emits 277g/km of CO2 and the R8 Plus emits 292g/km.
Pros and Cons Of The Audi R8 Spyder
Sensational
Everything about the car is sensational, from the way it looks to its 0-62 time of 3.6 seconds.
Loud
Its engine is loud – but in a good way. It screams just like you want an animal like this to scream.
Feels Sharp
Audi's aren't always noted for their sharp handling but this is as close to a thoroughbred sports car as the brand has got.
Expensive
It's costly to both buy and run.
Not Practical
If you're just looking for kicks, the Spyder is fine. If you also need a bit of day-to-day usability, it comes up a bit short.
Verdict Of Our 2018 Audi R8 Spyder Review
It takes guts to proclaim something the world's greatest of anything, but it takes a genius to put a car like this together. And genius deserves recognition. So while it's impossible to say whether this is the world's best performance car at the moment, it's right up there. The new Audi RS Spyder is a sensation that's tailor-made for anyone who can afford it.
When you lease a car with OSV there are no hidden costs, request a call back and we'll find you a finance, lease or purchasing deal designed just for you.