Review Of The Audi RS7 Sportback
If you're looking for an out and out driver's car, the new Audi RS7 Sportback might not be for you. If, however, you're looking for a slick-looking luxury hatchback that's powered by an incredible engine that it combines with everyday practicality, it's well worth a place on your shortlist.
0-62 is dusted off in just 3.9 seconds, the interior is gorgeous and comfort is good.
OSV takes a closer look at what it's all about with our 2018 Audi RS7 Sportback review.
Make no mistake, the RS7 Sportback is a big car. It's heavy, too. Despite this, its twin-turbo 4.0-litre V8 petrol engine has no problem hauling you from a standstill to 62mph in 3.9 seconds. In its standard guise it develops 552bhp, while adding the Performance Pack tops it up to 597bhp while slashing its 0-62 time to 3.7 seconds.
Bear in mind that extra pace and performance will set you back £6,500, but a few of you will definitely think it's worth it. And what all enthusiasts will appreciate is the fact that the Audi is backed by a V8 engine, which is becoming more and more of a rarity in cars like this. It sounds awesome.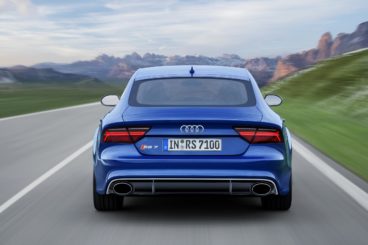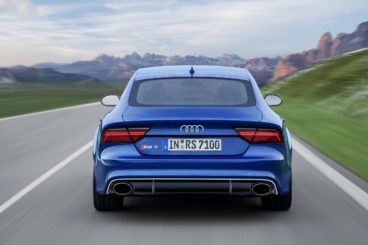 As well as being incredibly quick, the RS7 has lots of pulling power from down low in its rev range, too. This makes both cruising and overtaking easy.
However, as fast, noisy and powerful as the car undoubtedly is, we have criticisms regarding its drivability. It's not the most engaging fast car you'll ever drive and its steering feels both disconnected and lacks feel.
Drive Select comes as standard and this lets you adjust a few settings, including the air suspension, but it doesn't really boost driver involvement, nor does it improve ride quality, which can be super twitchy.
If you fork out a further £10,000 for the Dynamic Package Plus, the car is boosted by the addition of dynamic ride control, sports suspension, dynamic steering and ceramic brakes.
Audi RS7 Sportback Interior, Design & Build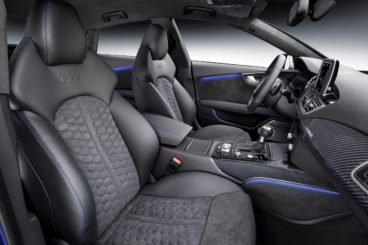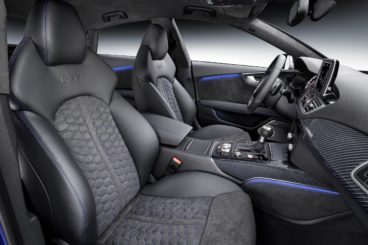 On the outside, the RS7 looks classy in the showroom and on the road. A retractable spoiler and tapered tail give its rear a very distinctive look, while side sills give it a pronounced muscular look.
Inside, the car is typical Audi fare: Well-built from top-notch materials and luxurious throughout. It gets racier RS detailing here and there, the dashboard is tidily arranged and the fit and finish are excellent. A perforated leather-stitched flat-bottomed steering wheel is a highlight.
A minor criticism is that the standard navigation screen is on the small side, and to really set this RS variant apart from regular Audi models you'd really need to indulge yourself in the list of optional extras, among which is a Bang & Olufsen sound system for £6,300.
Is the Audi RS7 Sportback practical? It's strictly a four-seater, with Audi removing the middle seat to ensure rear seated passengers have more elbow room. Legroom is fine and comfort shouldn't be an issue in the back.
Visibility will be a bit awkward for the driver, and we'd recommend that you snap up the rear view camera for £400. The boot, meanwhile, measures 535-litres and can be extended to 1,390-litres by folding the rear seats. That's quite an impressive size but if you feel that the RS7 isn't quite useful enough for you and you want an Audi, the RS6 Avant is more versatile.
Equipment & Safety Of The Audi RS7 Sportback
Standard kit is good across the range and includes partial leather seat trim, sat nav, sports seats, parking sensors, metallic paint, traction control, alloys, electric mirrors, folding rear seats, heated seats, heated mirrors and cruise control.
The list of optional extras is quite tasty and enthusiasts will be tempted by the Dynamic and Dynamic Plus packages, both of which improve the car's performance. A pair of exterior trim packages in either carbon or matt aluminium are available, while you can replace the sports seats with Comfort seats if you wish.
In terms of how safe it is, Euro NCAP won't be crash-testing the Audi simply because it doesn't sell enough numbers. And because the A7 also hasn't been crash-tested, it's impossible to base it on anything. However, given Audi's track record, we would expect the RS7 to be awarded all five stars.
Its standard safety kit is good too and includes adaptive cruise control, night vision assistant, active lane assist and side assist.
Costs Of The Audi RS7 Sportback
Prices for the new car start out from £87,610. For information on our leasing deals, check out our page here.
In terms of its running costs, the fact that the RS7 weight 2.5 tonnes and is powered by a huge petrol engine means it was never going to be affordable to run. It returns around 29.7mpg economy at best but this is the official figure and it's unlikely you'll ever manage that.
In fact, you might be looking at returns of just 10mpg.
Emissions aren't up for debate and they stand at 221g/km of CO2, which means as well as the flat rate of £140, you'll also be paying a surcharge of £310 each year for the first five years.
Pros and Cons Of The Audi RS7 Sportback
Powerful V8 Engine
The fact that the Audi is powered by a V8 engine – an increasingly rare sight on Britain's roads – will attract a number of potential buyers.
Looks Good
It's got an aggressive stance that suits its character well.
Great Interior
There's no shortage of luxury indoors.
Expensive
It commands a huge price tag and it won't be cheap to run.
Lacks of Involvement
Drive Select was meant to improve driver involvement but it doesn't.
Audi RS7 Sportback vs BMW M6 Gran Coupe vs Porsche Panamera Turbo
Let's see how the car fares against its rivals in the comparison section of our 2018 Audi RS7 Sportback review.
Audi RS7 Sportback vs BMW M6 Gran Coupe
The new BMW M6 Gran Coupe is the most luxurious BMW on the road at the moment but make no mistake as that means it comes with a very high price tag.
It's powered by a 4.4-litre twin-turbo V8 engine that develops 552bhp which is enough to cover the 0-62 sprint in 4.2 seconds. Its speed and power are addictive and it'll be hard to drive it slowly!
The engine is paired up with a 7-speed automatic 'box that complements the smooth engine well and it allows you to alter the shift action to suit the way you're driving. The suspension setup, steering weight and throttle response can also be altered.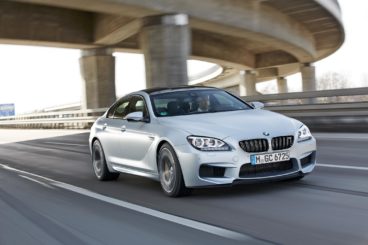 Despite both the car and the engine is so heavy, the car handles well. There's little body lean, the car responds fast to steering inputs and there's more driver involvement than there is with the Audi.
And like the Audi, its power can be topped up from 552bhp to 592bhp if you pay an extra £5,500 for the Competition Pack. However, we'd ignore that and add the £7,395 ceramic brakes instead.
Running costs? A 4.4-litre twin-turbo V8 engine was never going to be cheap to run but returns of 28.5mpg don't seem that bad. Emissions stand at 231g/km of CO2, which means you'll be paying £490 a year in road tax.
The car is also incredibly expensive to insure and sits in the highest insurance group.
Inside, Merino leather is now standard whereas previously it was an expensive optional extra. It puts the BMW's cabin on par with the Audi in terms of plushness as does the soft-touch leather on the dashboard, the electric sports seats and the carbon fibre weave.
The M6 Gran Coupe also gets BMW's impressive iDrive infotainment screen, while its retro steering wheel should please enthusiasts.
Refinement is good when you switch the car to "Comfort" mode and insulation is fine.
Is the BMW M6 Gran Coupe practical? It's a hefty car but its 460-litre boot is significantly smaller than the Audi. Fold the rear seats and you can extend it to 1,235-litres. There's more legroom in the rear than last time thanks to the increased wheelbase while headroom isn't impacted by a sloping roofline.
However, the likes of a 360-degree camera and reversing monitor are optional extras and without them the BMW lacks a few useful touches.
Price:
Audi – £87,610
BMW – £100,095
Audi RS7 Sportback vs Porsche Panamera Turbo
The new Porsche Panamera Turbo is pricey but if you can get past that bit, it's a sensational car that's fast, great to drive and impeccably put together.
Porsche built a car to go fast – and go fast it indeed does. Despite its pace and power, however, it's fairly easy to drive and needn't intimidate you. Parking will be the biggest challenge but take it out onto twisting country roads and you'll have a ball.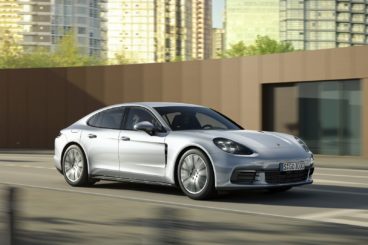 The Turbo model tops the range. Its 4.0-litre petrol engine develops as much as 542bhp, which is enough to launch you from a standstill to 62mph in 3.8 seconds. If you want to be launched even faster, you can pay extra for the Sports Chrono package which shaves 0.2 seconds off that 0-62 time.
The Turbo model comes with four-wheel-drive as standard and the amount of grip on offer is enormous, and while there's no option of a manual gearbox the 8-speed dual-clutch PDK auto 'box should be satisfying enough.
Running costs? The Turbo is the most expensive engine to run in the Panamera range and returns 30.1mpg at best. Like its siblings, it costs £140 a year to tax but a £310 surcharge is added for years 2 – 6.
Inside, the Panamera's interior is gorgeous and lovingly put together. The seats are comfortable, the design is timeless and the layout is logical. It's also more comfortable than last time.
There are one or two nods to tradition inside the cabin, such as the rev counter analogue. And while purists might raise an eyebrow that it's sandwiched between two high-res digital dials, these relay all kinds of useful info to the driver, including efficiency readings and cruise control info.
One criticism we have about the Panamera's interior is that some of the dials are fiddly and hard to get to grips with.
Is the Porsche Panamera Turbo practical? It might be a supercar in one sense but it's also usable. If you've ever fancied taking a trip to the dump in a Porsche, now's your chance. However, its 495-litre boot is beaten by the Audi.
Other than that, head and legroom are both good and the Panamera offers more room than its predecessor. All-round ventilated massaging seats cost £3,039 but they're well worth adding if you really care about your rear-seated passengers and if you want your Porsche to be a tower, you'll need to pay an extra £138.
Price:
Porsche – £70,924 – £124,505
Verdict Of Our 2018 Audi RS7 Sportback Review
Was there any space in the market for the RS7? Who really cares?! The main thing is that it's here now and, while there were already lots of huge four-door high-performance cars like this on the road, the RS7 is pretty spectacular. Its V8 engine is a massive USP, as is its Quattro four-wheel-drive system. Throw in everyday practicality and a gorgeous interior and the Audi RS7 Sportback is hard to ignore.
When you lease a car with OSV there are no hidden costs, request a call back and we'll find you a finance, lease or purchasing deal designed just for you.