Author Archives for Ashley Scannell
About Ashley Scannell
Ashley is a new starter here at OSV and has already proven himself to be friendly, passionate and great fun to be around.
He loves playing football, golf and spending time in London
The Qashqai vs. the Sportage; Which is better?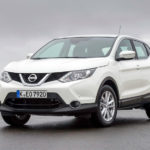 The Nissan Qashqai was one of the first cars to popularise the 'crossover' genre. The genre, along with the Qashqai, has since become a huge success.It wasn't long before the Qashqai had rivals, and strong ones at that. One of its main competitors is the Kia Sportage, the car that put the South Korean brand back on the map. While the Sportage and the Qashqai have both stolen the hearts of many, including ours, there can only be one winner. And, for me, it's the Qashqai.Let's take a look at the reasons why I think the Nissan Qashqai is better than the Kia Sportage. When I found out that the Qashqai had scored highly (or low) on its CO2 emissions, I knew we were onto a winner. The two-wheel-drive 1.5 litre diesel holds the lowest CO2 rating at just 99g/km...