Author Archives for Ben Murphy
About Ben Murphy
Ben enjoys: Spending time with his daughter, football, socialising and the gym.
Ben is very laid back and calm when it comes to work, and he gets huge results with it. He's got one of the highest recommendation rates in the office and always knows the best deal for every situation.
Thinking about getting a convertible? Here's what you need to know...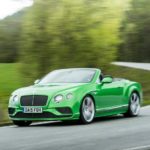 You want a new car. And you thought that maybe you would treat yourself to a new convertible. But, which one do you get? Contrary to popular belief, there aren't actually that many convertibles on the market. But out of the ones that are, which ones are the best? In this article we look at our best convertibles, and which one would be right for you. Before we start, should you actually get a convertible? As you are aware, convertibles are different to your standard car. So there are some things that you should consider before you make the decision to get one. For example...