Author Archives for Debbie Kirkley
About Debbie Kirkley
Debbie enjoys: Spending time with her family and dogs, travelling and her work.
Debbie has had exposure to every aspect of the business, ensuring a tight ship at every stage of the process. She thrives on achieving great results, all the while being a great person to laugh and joke about with.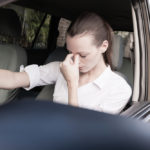 Several years ago we reported that men got more stressed than women when stuck in a traffic jam. A study found that women's stress levels increased by 8.7% whereas men's stress levels increased by 60% when faced with a traffic jam. Regardless of who gets more stressed, getting stuck in traffic is tedious, stressful and can ruin a perfectly good journey. It can put you in a bad mood before or after work and can ruin your day if you let it. However, getting stressed isn't the way forward when getting stuck in traffic. Stress can put pressure on your heart and cause dizziness and breathing problems and can make you do reckless or irresponsible things...