Author Archives for Holly Martin
About Holly Martin
Holly enjoys: Reading, music and spending time with friends.
Within a week of Holly starting work at OSV she became an indispensable part of the marketing team. She's very intuitive and gets on with the whole office effortlessly.
Looking for a van that lowers your carbon footprint? We look at the top electric vans...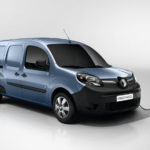 An electric van might be a bit of an odd concept for some, but they are becoming increasingly popular. While electric cars are becoming ever popular, 100% electric vans are also becoming more appealing for business owners and employers alike. But, which ones are the best? In this article, we take a look at the advantages and disadvantages of an electric van, and which ones are the best...