Author Archives for Martin Mitton
About Martin Mitton
Martin enjoys: Meals with friends and family, swimming, films, sports and playing his guitar.
Martin loves to challenge the team to make sure every aspect of the leasing process is clear and fully compliant, but that doesn't mean he doesn't love to joke around as well. He's always smiling, even on the busiest days in the office.
Your no-panic guide to lease car accidents...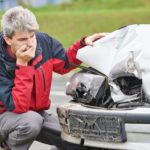 Accidents happen. And sometimes, accidents happen in lease cars.It's a huge inconvenience, we know that, but sometimes it does happen. Therefore, it's important to know exactly what happens if your lease car is an accident. We don't deal with this directly. This is because we aren't owners of the vehicle and once the agreement is activated we have limited power over what can be done. However, we do advise people on what they should do, and what tends to happen. So we're going to talk you through what you should do if your lease car is an accident. If you are involved in an accident then there are obviously different severities. So the first thing to do would be to contact the finance house to find out whether your car can be repaired or whether it's a write-off...