Author Archives for Matt Measor
About Matt Measor
Matt enjoys: Family time, fishing and football.
Matt is known for being the joker around the office, but he also takes his job seriously. He's got a knack for knowing the best ways to get people approved on credit and works directly with OSV's key accounts across the UK.
We take a look at the history of the world's oldest continuously manufactured marque...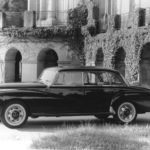 Alternately referred to as Benz, Mercedes or Merc, Mercedes-Benz is about as much of a household name as is possible within the automotive industry. The mere mention of Mercedes conjures far more than just cars. Such brand recognition and identity – arguably associated as much with reliability as it is with luxury – is not easily earned. However, as the world's oldest continuously manufactured marque, Mercedes has had a lot of time to establish its reputation. We take a look at the rich history of Mercedes-Benz. Mercedes' beginnings stretch back to 1886 and the invention of the internal combustion vehicle. This occurred in two separate, independent locations in Southwestern Germany only 60 miles apart. Karl Benz produced a petrol-powered car (a 3-wheeler) and Gottlieb Daimler, together with Wilhelm Maybach, produced a petrol-powered converted stagecoach. Both parties were unaware of each other's work...