Author Archives for Rachel Richardson
About Rachel Richardson
Rachel has been writing for as long as she can remember. She loves the written word and likes nothing more than to research something until she knows all she can about it.
What can I do to make sure I get car finance?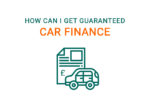 If we're being honest, there isn't actually any way you can 100% guarantee car finance. However, this isn't an article filled with doom and gloom because there are ways that you can increase your chances of getting a car finance application approved. In this article we look at the ways you can improve your chances, if you are a student, on benefits or have a low income.