Author Archives for Rachel Richardson
About Rachel Richardson
Rachel has been writing for as long as she can remember. She loves the written word and likes nothing more than to research something until she knows all she can about it.
What factors affect delivery time?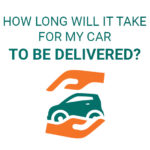 So you've ordered your car, now you just have to wait for it to be delivered. The thing is, your vehicle supplier hasn't actually given you a specific date. We understand that this can be frustrating, you've bought something and now you want to know exactly when it will be in your possession; it's fair enough.Maybe you have to plan the sale of your current car, or perhaps your existing vehicle may be due to be handed back. Whatever your reasons, it is understandable that you want to have a clear understanding of timeframes. At OSV, we have had years of experience working with all manufacturers and we understand the complexities and difficulties that can cause delays. Therefore, we have written this article to help you to fully understand how long your car might take to show up, which will enable you to be fully educated and put the right plans in place.