Author Archives for Tim Barnes-Clay
About Tim Barnes-Clay
Tim qualified as a journalist in 1994 and since has gone on to write for the Mirror Group's L!ve TV cable network, and has worked as a presenter, reporter and producer at ITV Central in Birmingham.
He's a member the Midland Group of Motoring Writers and is now focusing on what he loves – test driving the latest vehicle releases and writing about them.
The 2017 Subaru BRZ is now on the scene, but is it a sports car you should get all excited about? Motoring journalist, Tim Barnes-Clay, got behind the wheel of the latest model to find out.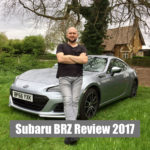 Subaru rolled back the years in co-producing the BRZ sports car. Harking back to the 1980's and possessing a front engined, rear-wheel drive layout, the BRZ is something that really stands out in the motoring world. This version of the Subaru BRZ is an update on the model that first appeared in 2012 and was developed alongside Toyota, which has its own version of the same car, dubbed the 'GT86'. It's a traditional sports car in a modern world, so can the little Japanese machine still cut it? Why buy one over some more powerful alternatives? There are a lot of questions that need to be answered, but fear not, we're on the case.