Author Archives for Will Titterington
About Will Titterington
Will Titterington is a freelance writer, video editor and all-round content creator based in Manchester, UK.
He believes that words can take on a transformative aspect and wants to help people make better decisions today.
His influences as a writer include Hunter S Thompson and Jack Kerouac, while among his interests outside writing are music, art, foreign films and football.
He'd one day like to own a Tesla, and still holds a candle for the Ford Capri.
We take a look at how reliable DS Cars are...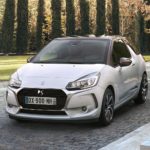 DS Cars are a fairly new brand in their own right. The premium brand of the Groupe PSA, which is Peugeot, Citroen, Opel and Vauxhall, was announced by Citroen in just 2009. It was only in 2015 that the Citroen branding was dropped and DS became a standalone brand. That said, in the short time they have been on the market, DS cars have become extremely popular and are now quite a common sight on our roads. But, how reliable are DS cars? In this article, we look at how reliable DS cars are, and how this compares to their rivals.