Author Archives for Will Titterington
About Will Titterington
Will Titterington is a freelance writer, video editor and all-round content creator based in Manchester, UK.
He believes that words can take on a transformative aspect and wants to help people make better decisions today.
His influences as a writer include Hunter S Thompson and Jack Kerouac, while among his interests outside writing are music, art, foreign films and football.
He'd one day like to own a Tesla, and still holds a candle for the Ford Capri.
Interested in an Electric vehicle? Explore in this article what we think of the Ford Focus Electric and how it compares to other similar cars in the market...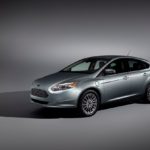 The new Ford Focus Electric is distinguishable from the standard Focus in a few ways: Naturally, it's cheaper to run, but it's also more expensive to buy. And while it's got more standard kit, it doesn't handle as well.Lots of pro and cons for buyers to assess, then.