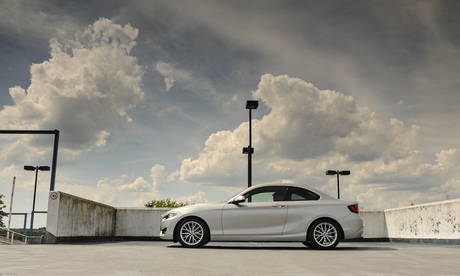 Perfect to go to the yacht club in says Sam Wollaston of the Guardian…
Hang on, BMW 2 Series? What the hell is one of them? I've only just got my head round the 1 Series. Is this one better? Or even twice as good?

Actually, it's the replacement for – and looks very similar to – the 1 Series coupe, though it's a little bigger. It's based on the 1 Series hatchback, an awkward-looking car, I've always thought. But, being a coupe, it has no frames on the doors, it's lower and sexier and more coupe-ish. Harder to get a baby seat into the back, but hey, get a babysitter – you can afford it. Babies aren't good on a yacht, either (I imagine. I haven't brought one, anyway).
To drive, it's lovely, as you'd imagine a 26-grand BMW to be. Although, when you start adding extras, such as leather seats and media packages, it's a lot more you'll soon be north of 30. There are quicker, more exciting petrol-engined models, but I've reached a stage in my life when I don't crave that kind of thrill-seeking. This diesel's not silent, but I can appreciate the impressive fuel consumption and emission figures. It's effortless, smooth, comfortable, yet calmly powerful; sporty but well-balanced very much as I see myself, as it happens. Today. Right, where's the jetty, show me to my yacht, I say, ahoy there!
Price from £25,865
Top speed 143mph
Acceleration 0-60mph in 7.1 seconds
Combined fuel consumption 58.9mpg
CO2 emissions 125g/km
Eco rating 7/10
Cool rating 7/10
See full review on theguardian.com
Image courtesy of theguardian.com

Latest posts by Andrew Kirkley
(see all)