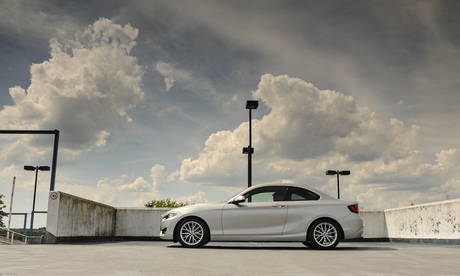 Perfect to go to the yacht club in says Sam Wollaston of the Guardian…
Hang on, BMW 2 Series? What the hell is one of them? I've only just got my head round the 1 Series. Is this one better? Or even twice as good?

Actually, it's the replacement for – and looks very similar to – the 1 Series coupe, though it's a little bigger. It's based on the 1 Series hatchback, an awkward-looking car, I've always thought. But, being a coupe, it has no frames on the doors, it's lower and sexier and more coupe-ish. Harder to get a baby seat into the back, but hey, get a babysitter – you can afford it. Babies aren't good on a yacht, either (I imagine. I haven't brought one, anyway).
To drive, it's lovely, as you'd imagine a 26-grand BMW to be. Although, when you start adding extras, such as leather seats and media packages, it's a lot more you'll soon be north of 30. There are quicker, more exciting petrol-engined models, but I've reached a stage in my life when I don't crave that kind of thrill-seeking. This diesel's not silent, but I can appreciate the impressive fuel consumption and emission figures. It's effortless, smooth, comfortable, yet calmly powerful; sporty but well-balanced very much as I see myself, as it happens. Today. Right, where's the jetty, show me to my yacht, I say, ahoy there!
Price from £25,865
Top speed 143mph
Acceleration 0-60mph in 7.1 seconds
Combined fuel consumption 58.9mpg
CO2 emissions 125g/km
Eco rating 7/10
Cool rating 7/10
See full review on theguardian.com
Image courtesy of theguardian.com

Andrew enjoys: Movies and travelling to new cities to explore different cultures.

Andrew has been in the motor trade for over 20 years. What he enjoys most about his job is the team spirit and the dedication of his work colleagues. He also appreciates the teams input in the improvement of the company.

Latest posts by Andrew Kirkley (see all)