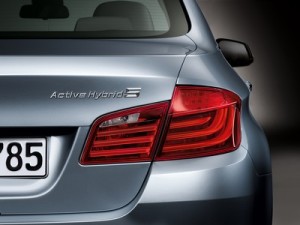 We're counting down to the Tokyo Motor Show, starting Saturday. One car we're particularly interested in seeing is BMW's new ActiveHybrid5, a full-hybrid Sedan.
The latest development in BMWs world-leading innovation, the BMW ActiveHybrid5 is a result of the company's desire to combine increased driving pleasure with reduced fuel consumption and emissions.
The next-generation BMW ActiveHybrid technology is the first to include a BMW TwinPower Turbo six-cylinder in-line petrol engine with a high-performance lithium-ion battery and an electric drive system. It also has an eight-speed automatic transmission.
This combination means that the car can be driven solely by electricity about town with zero emissions. The high-voltage battery is charged during braking and on overrun.
The intelligent energy management gives the driver the option for sporty performance too. The energy stored in the battery comes into its own when accelerating, as the driver can choose to activate the boost system, adding to the power from the petrol engine.
The ECO PRO mode allows the BMW ActiveHybrid5 to coast with the petrol engine turned off. This is possible at speeds of up to 100 mph. Waste of fuel is prevented when the car is stationary in traffic with the hybrid start-stop function.
The Professional Navigation System works with the energy management system, forecasting upcoming driving conditions and making sure the powertrain is working at maximum efficiency.
The new BMW ActiveHybrid5 showcases an elegant, sporty design, combining elements from the BMW 5 series with exclusive elements highlighting its special drive technology. Another unique touch is the option of having Bluewater metallic exterior paint, something not available on any of the other BMW 5 series.
Inside luxury touches included as standard are the Professional Navigation System, four-zone automatic climate control and stationary air-conditioning.
BMW ActiveHybrid vital stats at a glance:
Acceleration from 0 to 62 mph (100 km/h) in 5.9 seconds
Averages 40-44 mpg
All electric driving up to 37 mph
CO2 emissions from 149 to 163 grams per km
To keep up to date with news, photos and previews from the Tokyo Motor show, like us on facebook or follow us on twitter.
If you are looking to purchase or lease a new vehicle, contact our sales team, or alternatively, visit our website where you will find new and used vehicles available for sale or on finance.
Thanks for visiting us today.

Latest posts by Andrew Kirkley
(see all)