Review Of The BMW 2 Series Diesel Convertible
The new BMW 2 Series Diesel Convertible is typical BMW fare: Well-built, smart-looking and great fun to drive. It's going to be very hard for you to say "No" to it.
That said, it lacks practicality. Its rear seats are small and its boot isn't the most user-friendly. However, if drop-top thrills are your number one priority here, it's a compelling proposition.
OSV takes a closer look at what it's all about with our 2018 BMW 2 Series Diesel Convertible review.
Whichever engine you pick, the BMW is a strong performer that boasts excellent handling. In fact, we'd go as far as saying it's the best car to drive in this sector.
BMW has added more body strengthening in a bid to shore things up in the absence of a roof. It's certainly helped, and even at speeds the car feels solid, strong and safe with barely a vibration or a wobble in sight.
The well-weighted steering is communicative and there's lots of grip available.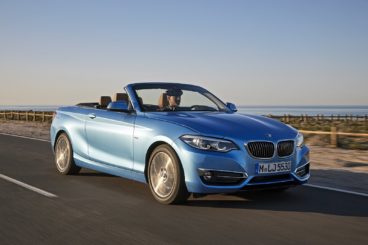 In terms of the engines, the 2 Series is available with a choice of 3 diesel engines, all of which are variants of a 2.0-litre four-cylinder unit. A 218d model kicks things off. It develops up to 148bhp and can get you from a standstill to 62mph in 8.9 seconds. It's economical and returns over 60mpg whether or not you stick to the manual 'box or opt for the automatic.
The 220d model takes things up a notch. It's a bit more eager, producing 187bhp while still returning a very impressive 64.2mpg if you spend extra on the automatic transmission. It's our top pick and you can specify it with xDrive four-wheel-drive for more grip. We recommend doing so if you'll be ticking the car out into trickier conditions.
Rounding off the range is a 225d model. This is an M Sport model, which means it's going to cost significantly more than the other two. It benefits from a turbocharger, develops 221bhp, and covers the 0-62 sprint in 6.4 seconds before maxing out at 146mph.
Enthusiasts will be a tad disappointed that this engine can't be paired up with the manual 'box, but the 8-speed automatic works well.
Can you see yourself whizzing around in the BMW 2 Series Diesel Convertible? Let's take a look at how reliable they are on the road
BMW 2 Series Diesel Convertible Interior, Design & Build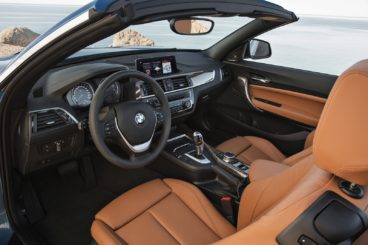 A key part of this car's appeal is its interior, which is comfortable and boasts plenty of high-quality materials and touches. The low-down seating position gives it a sporty flavour, and because the seat and steering wheel offer lots of adjustability it's easy for you to get into the perfect position.
Build quality is – as ever – second to none, while refinement is excellent. It's certainly much better than last time, with a new roof design limiting cabin noise. When the roof is down, an optional wind deflector will come in handy.
The dashboard is driver-focused, which further enhances the car's sporty flavour. If you splash out on an M Sport model, you also get a racy steering wheel but the 2 Series misses out on a raised transmission tunnel.
Overall, its cabin isn't quite as special as some elite rivals, but the brands iDrive infotainment system is once again one of the best around. It's super easy to use.
Is the BMW 2 Series Diesel Convertible practical? It gets just the two doors and we wouldn't say the car impresses in this department. Rear seated passengers aren't accommodated too well, with both legroom and headroom (when the roof is up) a bit cramped.
Worse still, specifying the optional wind deflector means the rear seats will be totally out of bounds.
There's plenty of room up front, and even taller adults will be fine. There are lots of storage areas too, including a large glovebox, some reasonably sized door pockets and a centre console storage space.
The boot, meanwhile, measures 335-litres. Drop the roof and that figure falls to 280-litres.
Equipment & Safety Of The BMW 2 Series Diesel Convertible
Standard kit is good across the range, with the entry-level SE model getting Bluetooth, sports seats, a multi-function leather steering wheel, rear parking sensors, LED headlights, a driving mode selector, a digital radio, a USB port, front armrest, sat-nav, air conditioning, a 6.5" display screen and 17" alloys.
The Sport model adds leather seats and 18" alloys, while the M Sport model gets a sportier suspension setup, an M Sport body kit, Alcantara upholstery and an M Sport gear lever.
In terms of how safe the car is, we have no concerns, despite it not having been crash tested by Euro NCAP. It's based on the 1 Series Hatchback, which scored all five stars when it was put through its paces.
Other than that, this convertible gets all the usual safety systems as standard, including electronic stability control, ISOFIX child seats and airbags.
Costs Of The BMW 2 Series Diesel Convertible
Prices for the new car start out from £28,255 and rise to £40,560. For more information on our leasing deals, you can check out our page here.
In terms of its running costs, the 220d diesel model is the most frugal. It returns 65.7mpg economy if you specify the automatic gearbox and stick to the 17" alloys, which is seriously impressive for a car of this type. It also has a BiK rating of just 24%.
The 218d model is good for 64.2mpg at best, while the 225d develops 248bhp and returns a respectable 57mpg economy. All models under £40,000 will cost £140 a year in tax, while those over £40,000 will demand an additional £310 surcharge.
Interested in the BMW 2 Series Diesel Convertible? Explore how BMW became one of the most popular manufacturers in the world
Pros and Cons Of The BMW 2 Series Diesel Convertible
Looks Fabulous
The outgoing 1 Series was beginning to look a bit dated. This one has breathed new life into it with some serious style.
Solidly Built
It feels solid and well-planted on the road, which gives you confidence.
Fun
It's typically entertaining for a BMW. The difference it, it's got the added bonus of drop-top thrills.
Small Rear Seats
Buyers might be left wondering what the point of them is.
Can Get Expensive
The optional extras could bump the price to over £40,000, at which point you'll be paying more in tax, too.
BMW 2 Series Diesel Convertible vs Vauxhall Cascada Cabriolet vs Audi A3 Diesel Cabriolet
Let's see how the car fares against its rivals in the comparison section of our 2018 BMW 2 Series Diesel Convertible review.
BMW 2 Series Diesel Convertible vs Vauxhall Cascada Cabriolet
The new Vauxhall Cascada Cabriolet will be looking to surprise a few people who thought that Vauxhall couldn't possibly pull off a sexy drop top.
Thanks to the addition of advanced front suspension technology, the Cascada drives better than a lot of fast front-wheel-drive cars. Naturally, it can't match the handling finesse of the BMW, but it handles surprisingly well at speed.
It's also comfortable and supple, and feels rather relaxing. It isn't, however, sporty.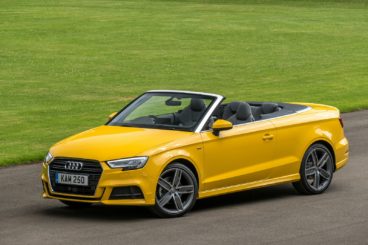 In bends, it remains composed thanks to the strong brakes and direct steering, but the Cascada's weight is apparent at all times. As a result, it's not quite as fast or as agile as we'd like.
The sole diesel engine available is a 2.0-litre BiTurbo unit that has enough power in its tank to cover the 0-62 stretch in 8.9 seconds. That makes it as quick as the BMW's entry-level model.
Running costs? The diesel engine is good for returns of 54.3mpg, while emissions stand at 138g/km of CO2. It's a noisy old thing, though, and it's not expected to hold onto even 40% of its original value after 3 years.
Inside, we've already mentioned that the Cascada doesn't drive like a sports car, and its cabin is set up for relaxation rather than driving thrills. Ride quality is good but the fact that Vauxhall has used sports seats with short bases means that longer trips might prove to be uncomfortable.
Insulation is decent, though it's much better if you add the optional acoustic hood, while cabin highlights include chrome-ringed dials and a sweeping dash design.
On the negative side, there are harder plastics here and there, as well as too many buttons.
Is the Vauxhall Cascada Cabriolet practical? It's hit and miss. This is a full-size cabriolet and four people can squeeze in, but there are a few issues. The biggest one is perhaps visibility, which is compromised by a large A-pillar.
Adults should be okay in the rear for shorter journeys, but leave them there too long and they might start to grumble as knee, head and legroom is poor.
The boot, meanwhile, measures 380-litres but shrinks to 280 when you lower the roof. A small opening makes loading awkward but the Cascada is no more impractical than the BMW.
Price:
BMW – £28,255 – £40,560
Vauxhall – £28,010 – £34,105
BMW 2 Series Diesel Convertible vs Audi A3 Diesel Cabriolet
The new Audi A3 Diesel Cabriolet is one of the best-looking convertibles on the market. It's also economical, more spacious than last time – but does cost a bit more than the BMW.
For an extra grand or two, the A3 still isn't as fun to drive as the 2 Series. It's competent enough, but while Audi has done a decent job of hiding the extra weight brought on by the folding roof mechanism, they couldn't turn this car into a purists dream.
That said, it drives a lot like the regular A3 Hatchback, provides plenty of grip and manages body lean well.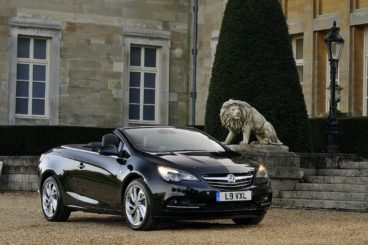 Four-wheel-drive is worth adding if you know you'll be venturing into slippery conditions frequently, but don't expect it to make the A3 more entertaining.
In terms of the engines, there are only two diesels on offer and both are slower than the entry-level BMW 2 Series. The 1.6-litre diesel is dirt cheap to run but it takes 11.4 seconds to cover the 0-62 sprint. The 2.0-litre 148bhp diesel covers it in 9.4 seconds, but again is slower than any BMW diesel model.
Running costs? The 1.6-litre diesel can return 70.6mpg on a good day, but we suspect most buyers will overlook it because it's hardly the performer of the year. The bigger 2.0-litre diesel engine is good for returns of over 60mpg if you stick to the front-wheel-drive version but adding Quattro knocks that figure down to 57.6mpg. That's still reasonable for a car of this type.
Inside, we have few complaints with Audi's interior. As usual, it wins for quality and dashboard design. The premium plastics add to the sense of occasion, as do the neat lighting effects, trim finishes and quality of the materials used.
Comfort is okay with the standard suspension setup, but opt for the sportier suspension and larger alloys and you'll suffer a bumpy ride. Refinement is good, especially if you pay £200 for the special acoustic roof.
Is the Audi A3 Diesel Cabriolet practical? Its 320-litre boot is bigger than last time but still significantly smaller than the BMW, although folding the roof causes a drop in capacity to 275-litres, which is only slightly less than what the BMW can offer with the roof down.
The A3 is bigger than last time but rear seated passengers will still be cramped. Legroom is the biggest issue but those upfront will have no such problems.
Price:
Audi – £29,680 – £42,080
Verdict Of Our 2018 BMW 2 Series Diesel Convertible Review
The first thing a convertible needs to be is stylish. The new 2 Series ticks that box, and then goes onto text many others. It's got so much that buyers find desirable about cars like this, from an engaging driving experience to a hassle-free way of folding the roof down. Chuck in a 335-litre boot and low running costs, and the new BMW 2 Series Diesel Convertible is a very attractive proposition.
When you lease a car with OSV there are no hidden costs, request a call back and we'll find you a finance, lease or purchasing deal designed just for you.