Review Of The BMW 3 Series Gran Turismo Diesel Hatchback
The new BMW 3 Series Gran Turismo Diesel Hatchback certainly has an exotic name, but it's really nothing more than a 3 Series that gets a hatchback boot.
Don't let that put you off, of course, because this is a practical, suave, comfortable and ultimately upmarket car.
That said, its styling will polarise buyers and there aren't as many engine choices as there are with the saloon variant. Hit and miss? OSV takes a closer look at what it's all about with our 2018 BMW 3 Series Gran Turismo Diesel Hatchback review.
In terms of how they drive, there isn't that much to separate the GT Hatchback and the 3 Series Saloon. The Gran Turismo leans in bends a bit more than the saloon variant but it shares its siblings direct steering and pliant suspension setup.
And despite being heavier, the Gran Turismo doesn't wallow or pitch over crests. Moreover, that body lean issue can be dealt with by specifying Adaptive M Sport suspension.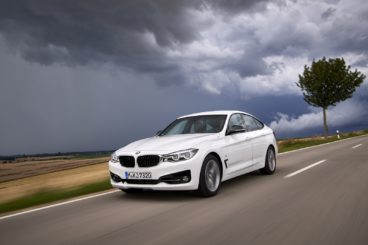 Ultimately, however, the saloon variant is more entertaining to drive. That said, it was never BMW's aim to make this one the ultimate driving machine as it's essentially the more practical choice.
It's possible to drive it with enthusiasm too, and the front end provides lots of grip. The ride is fantastic on motorways and refinement is good.
In terms of the engines, the 318d model kicks things off. It's powered by a 2.0-litre diesel engine that develops 142bhp, and which covers the 0-62 sprint in 9.7 seconds if you stick to the manual 'box and 9.3 seconds if you opt for the automatic.
The 320d model is next up. Its 2.0-litre diesel engine develops 182bhp, and it has a 0-62 time of 8.0 seconds if you stick to the manual and 7.8 seconds if you specify the automatic gearbox.
Enthusiasts might fancy the faster 330d model that can sprint from a standstill to 62mph in 5.7 seconds, but then again they might prefer to take a look at the even quicker 335d model that does it in 4.9 seconds. This range-topping model gets xDrive four-wheel-drive as standard which boosts grip but which also has a negative impact on running costs.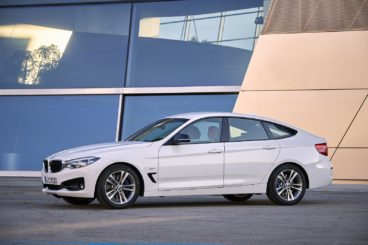 The Gran Turismo Diesel Hatchback is arguably the most comfortable 3 Series on the road at the moment. Its suspension setup is super cushioning, but you would need to overlook the 19" alloys if comfort is important to you.
Adaptive dampers are optional and they're definitely worth adding as they let you flick from Comfort to Sport mode to prime the car to suit your mood or the conditions.
As well as being the most comfortable model in the 3 Series range, this GT is also the most luxurious and spacious. It accommodates everyone, while its dashboard is the same as the one in the saloon. This means you can expect a driver-oriented design, lots of sublime trim finishes and top-notch plastics.
A dash-mounted colour screen looks neat and brings together many of the cars numerous functions, while more glossy materials and chrome have been added in a recent update.
Is the BMW 3 Series Gran Turismo Diesel Hatchback practical? It's pretty vast inside and can boast a 520-litre boot that's considerably bigger than both the 3 Series Saloon and 3 Series Touring Estate. It comes with a gigantic, power-operated boot lid for ease of use and can be extended to 1,600-litres by folding the rear seats.
Rear legroom is better in here than it is in the saloon, while the raised seats improve access. The rear seats also reclines and three adults should be able to sit in relative comfort.
Storage space is the same as the saloon – few reasonable door bins, two cup holders and a big glovebox are the highlights.
Equipment & Safety Of The BMW 3 Series Gran Turismo Diesel Hatchback
Standard kit across the range is good, with the entry-level model getting automatic lights and wipers, a digital radio, rear parking sensors, active cruise control, an electrically powered tailgate, air conditioning and 18" alloys.
The Sport model adds so-called track cloth upholstery, a sports multifunction steering wheel, sports seats, double-spoke alloys and high-gloss black trim.
The Luxury trim gets a full leather interior and more chrome while the M Sport model finishes things off with M Sport badges and an M Sport body kit.
In terms of how safe it is, the Gran Turismo hasn't been crash-tested by Euro NCAP and probably won't be. The 3 Series Saloon, however, was awarded all five stars and we'd confidently base this cars safety credentials on that. Its standard safety kit includes dynamic stability control, traction control and lots of airbags.
Costs Of The BMW 3 Series Gran Turismo Diesel Hatchback
Prices for the new car start out from £32,265 and rise to £45,985. For more information on our leasing deals, you can check out our page here.
In terms of its running costs, the 320d model will be the perfect choice for many buyers. It's performative and it's also economical, with average returns topping 60.1mpg. It also emits just 125g/km of CO2.
Adding four-wheel-drive has a negative effect on those mpg figures, though – they drop to 54.3.
The smaller 318d model, meanwhile, is good for 61.4mpg, but because it's not as powerful as the 320d model, most buyers have been overlooking it.
Rounding off the range is quicker 330d and 335d models that average 50mpg each. That's not a bad figure at all, especially when you consider the 335d model completes the 0-62 dash in 4.9 seconds and comes with four-wheel-drive.
Pros and Cons Of The BMW 3 Series Gran Turismo Diesel Hatchback
Lots of Space
This is a vast car that can accommodate five adults well.
Large Boot
It measures 520-litres, which should satisfy most buyers looking at a car like this.
Economical and Powerful Engines
The 320d model packs some serious muscle but still returns over 60mpg.
Expensive
If a large family car is all you need and your budget is stretched to breaking point, you might want to look at a mainstream rival instead.
Unorthodox Looks
Not BMW's sexiest car by a long shot.
BMW 3 Series Gran Turismo Diesel Hatchback vs Mercedes B-Class Diesel Hatchback vs Infiniti Q30 Diesel Hatchback
Let's see how the car fares against its rivals in the comparison section of our 2018 BMW 3 Series Gran Turismo Diesel Hatchback review.
BMW 3 Series Gran Turismo Diesel Hatchback vs Mercedes B-Class Diesel Hatchback
Can a five-seater MPV Mercedes really work? Quirky isn't how we'd usually describe a Merc, but that's essentially what the new Mercedes B-Class Diesel Hatchback is.
On the road, it isn't as exciting as the BMW but the B-Class offers a smooth and comfortable driving experience, an experience that's enhanced by the optional 7-speed automatic gearbox. It's a bit slow to respond on occasion but we recommend specifying it over the standard 6-speed manual 'box.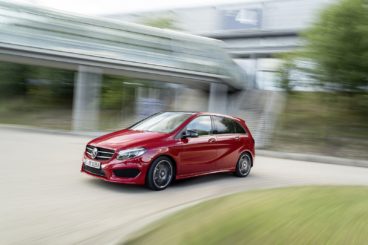 In terms of the engines, there are three diesel models available. A 180d model kicks things off but it lacks the power which the B200d model provides. And since this model is almost as economical as the 180d, it's our top pick.
Topping the range is a B220d model that's quick, smooth – but expensive. It's also a bit hesitant at low speeds, and while you can add four-wheel-drive, we'd avoid it unless you're planning to spend a lot of time on rougher terrain.
Running costs? Stop-start technology is fitted to all models as standard to help keep fuel costs down, and as a result the B200d model is able to return 67.3mpg while emitting 109g/km of CO2. Specify it with the 7-speed automatic 'box and you can nudge those mpg figures up to 70.6.
The B180d diesel, meanwhile, is good for returns of 70.6mpg, while the B220d model can return as much as 67.3mpg economy.
Inside, the Mercedes is able to offer more space and comfort than last time. The driver's seat is widely adjustable, the seating position itself is nice and high, and the soft suspension of the car ensures good ride quality.
The diesel engines are a bit on the noisy side, however, and insulation isn't great.
The dashboard is smartly designed and we love the slick new instrument dials and revamped steering wheel.
Is the Mercedes B-Class Diesel Hatchback practical? There's plenty of space on offer, and even the tallest of adults should be comfortable enough. Access to the rear seats is good, there is more headroom than last time and rear legroom is excellent and can be further increased at the expense of the boot.
Speaking of the boot – it measures 488-litres and comes with a small lip and a wide opening.
Price:
BMW – £32,265 – £45,985
Mercedes – £23,195 – £32,265
BMW 3 Series Gran Turismo Diesel Hatchback vs Infiniti Q30 Diesel Hatchback
The new Infiniti Q30 Diesel Hatchback is uniquely styled, comfortable … but leans on the expensive side for what it is.
And what it is is not the BMW. It's relaxing enough to drive but it can't compete with the BMW for drivability. Its entry-level diesel engine develops 108bhp and feels too sluggish to cope with a car of this size. Moreover, to get the best out of it you'll need to work it pretty hard, which defeats the purpose of a supposed-relaxed car.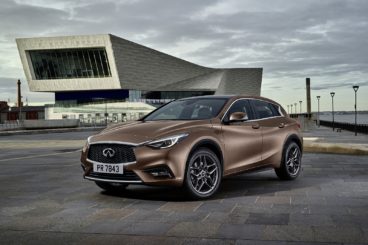 That said, it copes fine in the towns and cities.
However, we'd be tempted by the 2.2-litre diesel engine. It produces 168bhp and the car benefits from that extra power. At the same time, that extra power won't improve the Q30's rather unremarkable handling but it does ensure that you won't be hanging around too long to get from A to B.
The Q30 offers lots of grip, especially if you add four-wheel-drive, and buyers can choose between a 6-speed manual and a 7-speed automatic dual-clutch transmission. The manual is taken from the Mercedes A-Class but feels jerky and light.
Running costs? The 1.5-litre 108bhp turbo-diesel is good for returns of 72.4mpg and emits just 103g/km of CO2. It also has a BiK rating of 22% which will make it very appealing to business users.
It's not a great engine though, and it's worth bearing in mind that the bigger 168bhp diesel is almost as economical and emits 116g/km of CO2 if you avoid four-wheel-drive.
Inside, the Q30 feels nice and smooth even at speed, and insulation is decent, with the diesel fading into the background. The design of the cabin is nice to look at, and it's here where the Infiniti benefits from its partnership with Mercedes.
A standout interior highlight is the suede-effect roof lining and there's no arguing with the quality of the switchgear, too.
Is the Infiniti Q30 Diesel Hatchback practical? It fares decently on this front. Headroom is a bit tight, both upfront and in the back, while visibility isn't helped by thick rear window pillars.
The boot measures 430-litres, which is reasonable but significantly smaller than the BMW.
Price:
Infiniti – £20,600 – £36,435
Verdict Of Our 2018 BMW 3 Series Gran Turismo Diesel Hatchback Review
Whether you go for this or a cheaper mainstream option will come down to what your priorities are. No doubt this is a fine car that's a more practical version of the Saloon. It's as upmarket as BMW's come and it's got badge appeal.
But can you get everything you need from a cheaper Infiniti, or even a Ford? It's something to ponder as you weigh up the BMW 3 Series Gran Turismo Diesel Hatchback.
When you lease a car with OSV there are no hidden costs, request a call back and we'll find you a finance, lease or purchasing deal designed just for you.