We've all been there; you get a supercar but you don't have a matching yacht, what are you to do?
Well, say goodbye to sleepless nights because Bugatti has teamed up with Palmer Johnson yachts to produce the new Bugatti Niniette. At 66-feet long, the Niniette can travel up to 44 knots because it would be disappointing if it wasn't as fast on the water as the Bugatti Chiron was on the roads.
Looking incredibly futuristic, the Niniette has a carbon fibre composite frame, but its looks aren't even the coolest thing about it. The Niniette comes with leather seats, a champagne bar and a Jacuzzi. Oh, and a fire pit, because you're bound to get cold.
Inside the yacht, it's all open plan with a flat screen TV, a king size bed and a luxury sofa. Different lengths of the hull will be available ranging from 50 to 80 feet so you can decide how many people are lucky enough to board your Niniette.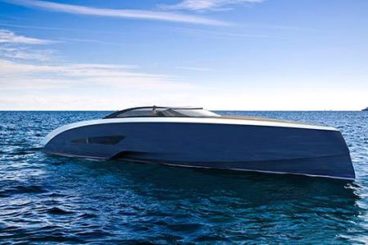 Bugatti says that the yacht is perfect for cruising in the Bahamas or the Caribbean and we could not agree more. The only downside is that there will only be 66 ever built, which makes them even rarer than a Chiron (only 70 of those are built per year). Etienne Salome, Design Director and Head of Interior Design at Bugatti, told Forbes "I strongly believe the Bugatti design philosophy is so unique and original that it can be applied to a great number of products. However, a yacht is something special…this yacht successfully carries the DNA of more than a century of history of our brand with its specific architecture: centre-line accentuation, Bugatti Signature Line as well as the duotone, symmetry and multiple other elements that one discovers in Bugatti sports cars as well."
Those who are fans of Bugatti will know that they have branched out to a wide variety of products already, including model cars, furniture collections and high-end watches, so it's unsurprising that they would want to branch out to the yacht industry. There is no word yet on how much the yacht will cost you but considering the Chiron costs a hefty £2.1 million, it won't come cheap. Each yacht is tailored specifically to the person buying, with a range of materials, colours and finishes to choose from. In fact, you can design your own on their website.

Latest posts by Rachel Richardson
(see all)