Citroen is celebrating Sebastian Loeb's exceptional achievement in becoming the world's most titled racing driver.
The French marque's star driver is now out-shining driving legends like Michael Schumacher and Valentino Rossi.
Over the last eight years he has completely dominated the FIA circuit, winning the FIA World Drivers' Championship every year since 2004.
Here are some of his most outstanding achievements at a glance:
2004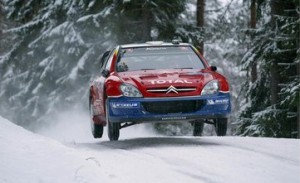 This was the year that Loeb definitively proved his critics wrong, overshadowing his rivals.
By the end of the year, he had taken a 36-point lead in the championship and won six rallies.
His most remarkable achievement was becoming the first non-Nordic driver to triumph on the perilous, icy Swedish stages.
2005
This was an exceptional record-breaking season. He took the 13th stage at the Japanese rally by an incredible 56-points, smashing a record that had been unbroken for 25 years.
Competing on his home turf in France, Loeb won every single stage, a world first for a WRC event.
2006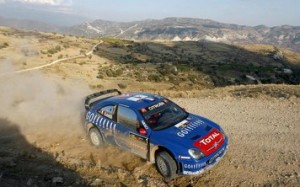 Loeb suffered a nasty setback when he broke his elbow in a mountain-biking accident shortly after winning the Cyprus Rally.
Despite having to sit out both the Turkish and Australian competitions, he had accumulated so many points that he was still crowned champion at the end of the season.

2007
Loeb won on his first outing with a Citroen C4 WRC, at the Monte-Carlo Rally.
2008
Again Rally Japan was a happy hunting ground for Loeb. By the end of the Rally, it was clear that he was the WRC's first five-times champion.
The combination of Loeb's exceptional driving skills and Citroen's high-performance rally cars enabled them to take the Manufacturer's trophy too.
2009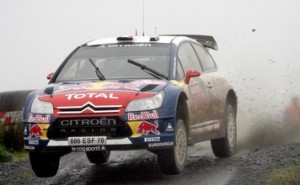 This was a very tightly fought year, with the championship title being contested until the very last round in the UK.
Loeb came back from being one point down at the start of the British stages to win the title again, after a thrilling struggle against Ford's Hirvonen.
2010
Rally France changed its location from Corsica to Alsace, where Loeb grew up.
His home town of Haguenau was the emotional setting for Loeb's Victory on the Rally's final stage, which brought him his seventh FIA world championship title.
2011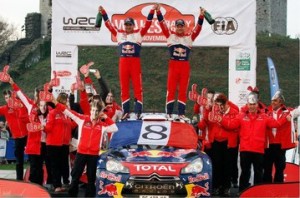 Loeb started the season with a brand new Citroen, the 300bhp, 1.6 litre turbo-charge DS3 WRC.
Throughout the year Loeb found himself battling his team mate, Sebastian Ogier, who matched Loeb by winning five rallies.
He started the Wales Rally GB with such an impressive lead on points that although he had to retire on the rally's final day, he still took his record-setting eighth title.
Now we're just wondering if Loeb and Citroen are going be able to pull off the incredible feat of winning the FIA World Rally title for a ninth time in 2012.
Keep yourself updated with the latest motoring news by liking us on facebook, following us on twitter or connecting with us on LinkedIn.
If you're interested in buying or leasing a new vehicle contact our sales team. Alternatively, visit our website where you will find new and used cars available for sale or on finance.
Thanks for visiting us today.

Latest posts by Andrew Kirkley
(see all)