Review Of The Citroen C3 Hatchback
Looking for an objective review of the Citroen C3 Hatchback? OSV has got you covered, from engines to lease deals.
The new C3 is unrecognisable from its conservatively-styled predecessor. It's now funky, and comes stuffed with lots of advanced tech. Citroen clearly felt they had to do something to stand out from the million other superminis on the market and this was it.
Fortunately, despite its attention-grabbing looks, the C3 hasn't forgotten to do the basics. It's still comfy, still easy to drive, and will get you from A to B without any hassle.
OSV takes a closer look at what it's all about with our 2017 Citroen C3 Hatchback review.
The C3's looks are a little bit deceptive. While it hints at being as sporty to drive as the Ford Fiesta, the truth is that it doesn't have a sporty bone in its entire body. Instead, Citroen have focused on making it as comfortable as possible.
To this end, they've added Advanced Comfort, a feature which makes it easier to use the car, improves visibility, and softens up the suspension. As such, the C3 is great fun around the town, where it soaks up lumps and bumps like a pro.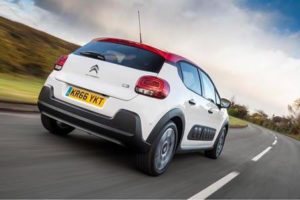 Really put your foot down on quicker roads, though, and its soft suspension does tend to go into hiding.
In terms of the engines, there are a trio of petrols to take your pick from. The entry-level model is powered a 1.0-litre 67bhp unit, and both itself and the 1.2-litre 81bhp are naturally aspirated and come with a 5-speed manual gearbox. The bigger 1.2-litre 109bhp petrol engine also comes with a 5-speed manual 'box, as well as a turbocharger.
Performance isn't going to rock your socks, with the 67bhp variant doing 0-62 in 14.0 seconds, and the 81bhp variant managing it in 12.8 seconds. The 109bhp version, though, is when things do get a bit exciting. It's a feisty little number that can get you from a standstill to 62mph in just 9.3 seconds before maxing out at 117mph.
The diesel engines aren't really cost-effective if you're a low mileage driver, as they cost more to buy outright than the petrol units. If you are planning to spend a lot of your time out on the motorway, we recommend the 109bhp Blue HDI model with its 0-62 time of 10.6 seconds.
Citroen C3 Hatchback Interior, Design & Build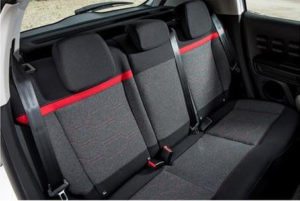 The interior mirrors the exterior in that it's funky, stylish and hip. It's just a very nice place to be. The controls and switches are easy to use, air vents on the dashboard are standard, and a neat 7" touchscreen infotainment system comes with higher-spec models.
You also get the chance to customise the cabin so that it's coloured the way you want. The dash can either come in red, yellow or the more customary grey, and whichever colour you choose you'll benefit from a clean, clutter-free dash.
The quality of the materials is a bit questionable, and there is no doubt that the likes of Audi and Volkswagen produce classier interiors. But as far as cars in this class go, the C3's cabin can't really be faulted. And if we did fault its bright, fun interior we really would be the daddy of all party poopers.
Moreover, it's also a really practical and spacious interior. It might only be a small car, but it feels a lot bigger, arguably thanks to the large glass area that floods the cabin with light.
Your kids will have plenty of room in the back so shouldn't get too restless on longer journeys, and ISOFIX mount points are standard. Two adults can also sit in the back, but we wouldn't keep them there too long!
This is a five-door car which also improves usability, making it easy to access the rear seats. However, we have a few criticisms with storage spaces; there isn't much of them, and the ones that are here are too small. Still, the 300-litre boot is a plus. It's bigger than most rivals, and you can extend it to 922-litres by folding down the rear seats.
Equipment & Safety of the Citroen C3 Hatchback
There are three trim levels to choose from, with the base-level Touch trim getting Bluetooth connectivity, a DAB radio, electric front windows and a DAB digital radio as part of its standard kit.
The mid-range Feel trim is our favourite. Its standard kit includes AppleCar Play, a 7" touchscreen infotainment system, MirrorLink Connectivity, rear electric windows and 16" alloys.
Flair models are the most exciting, and add AirBump panels, tinted rear windows, a forward-facing camera located in your rear-view moor, leather trim on the steering wheel and gear knob, as well as parking sensors.
The car has been crash tested by Euro NCAP and scored 4 out of 5 stars. One of the reasons it didn't achieve a perfect score was the fact that it doesn't come with autonomous emergency braking.
Standard kit includes stability control, tyre pressure monitoring, lots of airbags, and blind-spot detection.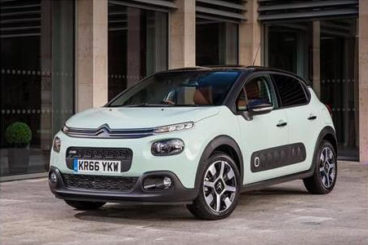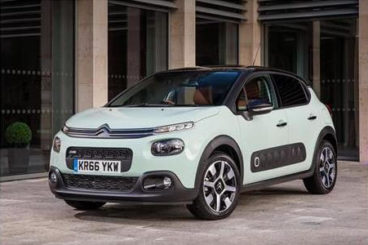 Costs Of The Citroen C3 Hatchback
Prices for the new car start out from £11,000 and rise to £17,000. For more information on our leasing deals, you can check out our page here.
In terms of its running costs, the diesel engines are – predictably – the most frugal choice. The 1.6-litre 74bhp diesel engine is the cheapest of them all, and can return fuel economy as high as 80.7mpg on a good day. To achieve such incredible numbers, you'd have to stick with the small 15" wheels, as the 16" alloys knock fuel economy down to 78.5mpg.
But even the bigger 99bhp diesel is cheap to run, and can return 76.3mpg while costing £140 in road tax – the same as the 74bhp variant.
The petrol engines won't break the bank either, with the most powerful able to return 61.4mpg on average.
Pros and Cons Of The Citroen C3 Hatchback
Cheap To Run
Spectacularly cheap to run, that is. The most affordable diesel engine is good for over 80mpg on small wheels, while the cheapest petrol can return over 60mpg.
Big Boot
300-litres of luggage space is generous for this class.
It's Different
Okay, when it all comes down to it, the C3 doesn't offer any more high-value than any other hatchback. But it looks different, and has a refreshing, bold sense of style that marks it out from the crowd.
Numb Steering
Its steering hardly inspires confidence, and it's not the most sure-footed small car we've driven.
Engines Are Noisy
The engines lack refinement and won't be giving more upmarket rivals something to think about anytime soon.
Citroen C3 Hatchback vs Kia Rio vs Mazda 2
Let's see how the car fares against its rivals in the comparison section of our Citroen C3 Hatchback review.
Citroen C3 Hatchback vs Kia Rio
The new five-door Kia Rio is a good car that's capable enough. But because it doesn't have any standout qualities, it's going to be hard for a buyer to choose it over the Citroen C3 Hatchback, let alone any other car.
For example, out on the road it's competent – but nothing more than that. It's not fun to drive, and it can't rival competitors for driver enjoyment. It is, however, noticeably more engaging than last time around, with Kia having revised the Rio's engine range.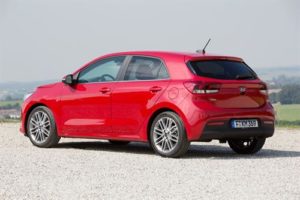 To this end, they've introduced a 1.0-litre three-cylinder turbocharged petrol engine that develops up to 99bhp, and which can get you from a standstill to 62mph in just over 10.0 seconds. Move up to the 118bhp variant, and you can do the same distance in 9.8 seconds.
Both these engines are the fastest in the line-up and come with plenty of punch. However, they like the flexibility of the C3's engines and aren't easy to recommend unless you really want to get your hands on a Kia. On the move, the car is saddled with needlessly dull steering that sucks the life out of the driving experience.
In a plus-point, the Kia Rio is at least affordable to keep on the road. The revision of the engine range has impacted performance (slightly), and it's also benefited economy. The 89bhp 1.4-litre diesel is the most frugal in the range, and can return 74.3mpg. It's also free from road tax.
If you want the 1.0-litre petrol engine, the 99bhp variant is good for returns of 62.8mpg, while the 89bhp version manages 60.1mpg on a good day.
Inside, standard equipment is good but scratchy surfaces let the car down somewhat. Still, the dashboard is a marked improvement on last time around. In an attempt at modernisation, Kia have introduced a 7' touchscreen infotainment system that smartens things up, and which is easy to use. Overall, the dash is a much cleaner affair than last time.
The Rio Hatchback is five-door only, which adds to the price, but which does ensure decent practicality. The interior is spacious for a car of this size, but legroom is a bit tight in the rear – especially if a passenger happens to be sat behind a fairly tall driver. Headroom is good, though.
One of this cars strengths is its boot. Measuring 325-litres, it's one of the biggest in this class and can outdo not only the C3, but also the likes of the Vauxhall Corsa and the VW Polo.
Price:
Citroen – £11,000 – £17,000
Kia – £12,000 – £17,700
Citroen C3 Hatchback vs Kia Rio vs Mazda 2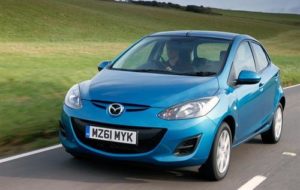 The brand new Mazda 2 is, as ever, one of the most entertaining cars to drive in this sector. It's also economical and looks great.
The diesel versions of the Mazda 2 are much more than the petrol versions, even if neither can match the Ford Fiesta for drivability. To do that, more feel and weight would need to be added to the steering, but there is plenty of pace on offer here which makes tackling bends a riot.
Your engine of choice can be paired up with either a 5 or 6-speed manual gearbox or a 6-speed automatic, and OSV recommends the manuals. They just suit the cars temperament best.
Moreover, the fun-loving 1.5-litre diesel engine can only be wedded to a manual 'box. Unusually, this engine is quieter than the petrols and also offers more flexibility. It's turbocharged, but its power delivery is straightforward.
This 1.5-litre diesel engine is our top pick, and can get you from a rest to 62 in 10.0 seconds before maxing out at 111mph. It costs more to buy originally than the petrol. However, you'll get the difference back in the long term, especially if you're a high-mileage driver.
For example, the diesel – which uses Mazda's SKYACTIV-D technology – is capable of returning fuel economy of 83.1mpg. Meanwhile, the cheapest petrol is a 74bhp 1.5-litre engine that can return 60mpg at best.
The cars interior is very modern. Like most city cars these days, the a 7" infotainment screen has smartened things up, while build quality is better than it ever has been. If you go for one of the top-spec models, you'll benefit from stitched leather on the dash, and door panels and seats. You'll also get carbon-fibre trim. For a sportier feel, Mazda have added rectangular and circular vents.
Interior space is also good, thanks to the fact that the Mazda 2 Hatchback is bigger than last time. The wheelbase has been stretched by 80mm. This means the car should now be able to accommodate five instead of four people. The boot has also benefited from this increase in size, and now measures 280-litres (it previously measured 250).
You can fold the rear seats flat to extend this space to 960-litres, but the car doesn't come with a spare wheel. This allows the boot to be deeper than last time. More ruefully, it comes with a large load lip.
Price:
Mazda – £12,200 – £17,400
Verdict Of Our Citroen C3 Hatchback Review
You could literally spend all year looking for a new supermini, as the sector is just so stuffed with them. With so much choice, it's hard to make a final decision.
The new Citroen C3 Hatchback makes a compelling case for itself, though; its sense of style is easily a big draw, while its bump absorption, extremely low running costs and big boot all ensure that it's worth at least a spin for anyone who's in the market for a car like this.
Get in touch with a Vehicle Specialist
Fill out the form below with your details, and one of our highly qualified specialists will be in contact within 24 hours.
When you lease a car with OSV there are no hidden costs, request a call back and we'll find you a finance, lease or purchasing deal designed just for you.