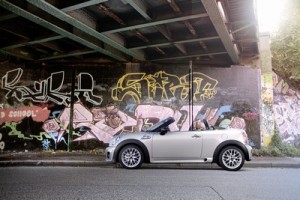 It's a world first for MINI, as they prepare for the MINI Roadster's world premiere at the Detroit Motor Show next month.
The MINI Roadster is a contemporary take on the classic British roadster tradition. Globally, it's also a completely unique development in the small car market.
The newest addition, and sixth member of the MINI family, is designed for pure driving fun.

Smile-inducing performance
The Mini Roadster gives zesty performance and exceptionally nimble handling, thanks to its sophisticated drive and chassis technology.
Models on display in Detroit come with a choice of three powerful petrol engines: the MINI Cooper Roadster at 121hp, the MINI Cooper S Roadster at 181hp and the star performer, the MINI John Cooper Roadster at 208hp.
Classic agile, exiting roadster-style driving is delivered by the MINI Roadster's very low centre of gravity and rigid body.
MINI's innovative decision to combine Electric Power Steering and Dynamic Stability Control as standard makes spontaneous, expressive driving easier and safer too.
And when you get to 50mph, the MINI Roadster's aerodynamics are boosted as the rear spoiler automatically extends.
Refreshing twist on MINI design
Unmistakeably a MINI, the Roadster has all the much-loved hallmarks of the British brand, like the large circular headlights, classic radiator grille and stacked rear lights.
With its new, distinctive silhouette, the MINI Roadster is a 21st century take on the golden era of driving fun. Strong, athletic lines design with proportions described by MINI as elegantly stretched.
This distinctive attitude extends to the Roadster's racing-style elements, a steeply raked windscreen and a dramatically stepped boot, setting it apart from its older siblings in the MINI range.
And, of course, the soft-top roof highlights MINI's combination of expressive design and practicality. It opens and closes quickly and simply, folding flat behind the seats so as not to break the Roadster's fluid, elegant lines.
As with all their cars, MINI are offering the wide range of customisable options and accessories that are so popular with MINI enthusiasts.
At the moment we don't have any details from MINI about when they're planning to launch the Roadster in the UK, and if there will be any changes made for the British market.
Keep yourself updated with the latest motoring news by liking us on facebook, following us on twitter or connecting with us on LinkedIn.
If you're interested in buying or leasing a new vehicle contact our sales team. Alternatively, visit our website where you will find new and used MINI's available for sale or on finance.
Thanks for visiting us today.

Andrew enjoys: Movies and travelling to new cities to explore different cultures.

Andrew has been in the motor trade for over 20 years. What he enjoys most about his job is the team spirit and the dedication of his work colleagues. He also appreciates the teams input in the improvement of the company.

Latest posts by Andrew Kirkley (see all)