Review Of The Fiat Fiorino Combi Diesel Estate
It sounds more like a twinkle-toed Italian footballer than a heavyset van. But the new Fiat Fiorino is a straight up small van without any frills. If you like yours rough and ready, it's one of the best on the market. And thanks to recent upgrades, it's more modern than last time.
Not as big as the Doblo, this recently upgraded version seats five people and has a load capacity of 175kg. It has plenty of standard safety kit, too, including a driver's airbag and electronic brake force distribution. It's not as silky on the road as an Italian footballer, but its compact dimensions mean it's easy to live with.
OSV takes a closer look at what it's all about with our 2017 Fiat Fiorino Combi Diesel Estate review.
Being a van means the Fiorino is more at home in the city than anywhere else. Here, its lively engines and compact dimensions make it one of the most enjoyable vans to drive at the moment. On the motorway, it will struggle with longer stretches of road.
It's a similar story in the countryside, where its short wheelbase and suspension setup makes the ride quality unstable on twisting roads. In the city, however, it holds the road well.
The van comes with a 5-speed manual 'box as standard, which is easy enough to use. There is the option of a Comfort-Matic automatic transmission, which is also smooth and light.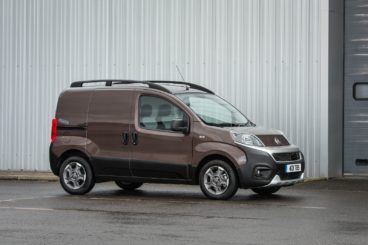 There is no 4×4 version of the Fiorino, but the Adventure trim comes close to filling in as one. This model comes with Traction+ electronic differential locking, as well as bigger wheels. It also comes with more ground clearance, and is ideal for anyone who's planning to take the car off-road often. The extra grip will definitely come in handy if you end up on muddier terrain, or construction sites.
Moreover, the van isn't the most confident in extreme wintry conditions unless you upgrade to the Adventure trim.
Fiat Fiorino Combi Diesel Estate Interior, Design & Build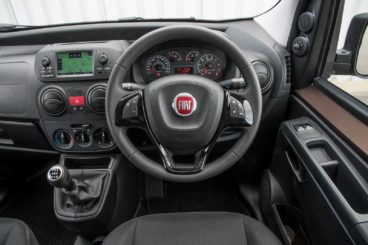 This is a fairly compact van, but there is still plenty of room on offer for taller individuals. In standard form, the interior is stripped to the basics. The plastics are at times hard and flimsy, and the overall design is minimal.
Still, the cab is functional enough. The driver's seat is both comfortable and supportive, though we'd avoid the fold-flat passenger seat. It's an optional extra that's thin and uncomfortable, especially for longer journeys.
The steering wheel has been redesigned for 2017, and looks slick and modern with its new controls. The dashboard benefits from a new storage compartment, while the sleek instrument graphics are also new. Other upgrades for 2017 that have modernised the cabin include Bluetooth, a 5" touchscreen, and a DAB radio.
Despite its compact dimensions, this is a really practical van. The load bay offers 330-litres of space, which you can extend to almost 2,500 if you fold down the (optional) flat-folding passenger seat.
The van comes with a sliding loading door, as well as two rear doors for easy access. The floor is close to the ground, which makes it easy for you to load your stuff. If you need a second sliding door, you can add it as an optional extra.
The Fiorino Combi is also more versatile than a lot of rivals, as it can seat up to five people. This second row of seats can be easily removed when you need more load space. Towing capacity, meanwhile, is 1,300kg.
Equipment & Safety Of The Fiat Fiorino Combi Diesel Estate
In its most basic form, the van gets a height-adjustable driver's seat and steering wheel as part of its standard kit. It also gets a DAB radio, lumbar adjustment and a driver's seat armrest. The SX trim comes with electric mirrors and windows and central locking.
The range-topping Adventure model, meanwhile, adds roof bars, Traction+ Electronic stability control, and bigger wheels.
In terms of safety, the likes of side and passenger airbags are only available as options. However, a driver's airbag and ASB brakes are part of the vans standard safety kit.
Costs Of The Fiat Fiorino Combi Diesel Estate 
Prices for the new van start out from and rise to. For more information on our leasing deals, check out our page here.
In terms of its running costs, the sole petrol engine (a 1.4-litre Fire unit) is probably worth overlooking. It develops up to 76bhp, and returns just 40.1mpg. For low mileage drivers, that's not too bad.
But the 1.3-litre MultiJet diesel engines just make a lot more financial sense. There are two available, a 79 and 94bhp variant, and both are Euro VI compliant. They can both be ordered with energy saving stop-start tech, and both return fuel economy of 72.4mpg. Emissions, meanwhile, stand at 104g/km of CO2.
You can save money initially and order them without stop-start. However, this will see fuel economy returns drop to 64.2mpg.
Pros and Cons Of The Fiat Fiorino Combi Diesel Estate 
It's Compact
The fact that its dimensions are so compact means that the Fiat Fiorini Combi is easy to drive. Parking is simple, and it weaves through towns and cities with ease. No problems in this respect.
Economical
With both 1.3-litre MultiJet diesel engines able to return over 70mpg, the van is affordable to run.
Basic Is As Basic Does
Compared to car derived van rivals, Fiat has made no real attempts to hide its van origins.
Depreciates Badly
Depreciation is a major, major issue here. After three years of ownership, the van is expected to retain just 30% of its original value.
Fiat Fiorino Combi Diesel Estate vs Ford Tourneo Connect vs Citroen Berlingo MultiSpace
Let's see how the van fares against its rivals in the comparison section of our 2017 Fiat Fiorino Combi Diesel Estate review.
Fiat Fiorino Combi Diesel Estate vs Ford Tourneo Connect 
The new Ford Tourneo Connect is less rough around the edges than the Fiat, mainly because it's got more in common with an MPV than an actual van. Don't worry, though, because it's still super practical, and has lots of interior space.
Having more in common with MPV's and SUV's means the Tourneo Connect is more confident on the road. We wouldn't go as far as saying it's silky, but Ford does have a reputation for developing entertaining cars. The steering always feels well-connected to the road, and handling is reasonably sharp.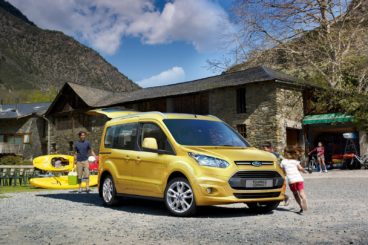 Our only criticism is that the suspension setup is a tad harsh. As a result, it isn't the most comfortable ride you'll ever have.
In terms of the engines, the diesel are your best bets. They're both 1.5-litre units, and while neither offers formidable performance, they're both capable. The smaller 98bhp variant takes 15.0 seconds to do 0-62, while the bigger 118bhp variant takes 14.0 seconds.
These numbers are unimpressive, but out and out pace isn't what this van is all about. In the city, both engines suit the Ford Tourneo Connect well, where you won't exactly be putting the pedal to the metal. We prefer the 118bp version, as it comes with a smooth 6-speed manual gearbox.
Ford hope the van's low running costs will tip this one in their favour. The smallest diesel engine is good for returns of 61.4mpg, and costs just £30 a year to tax. That will catch the eye of most buyers, but if you upgrade to the Grand Tourneo Connect models, your yearly road tax bill will be over £100.
The interior benefits from a smarter design than the Fiat's, with Ford borrowing cues from their other models. However, if you look closely enough you'll spot harder plastics. And when you spot one or two, you'll see much more. Road noise is an issue too, thanks to the boxy shape. At high speeds, you will notice wind whistle, as the van doesn't have the kind of soundproofing found in the Focus.
Still, the seats are comfortable enough, and the driver's seat is adjustable in various ways.
It's also really practical, too. Freed from design flourishes, such as a sloping roof, there is plenty of interior space. Three passengers in the back will be just fine on longer journeys, while the boost measures 1,305-litres.
Price:
Fiat – £16,000 – £18,000
Ford – £17,000 – £24,000
Fiat Fiorino Combi Diesel Estate vs Citroen Berlingo MultiSpace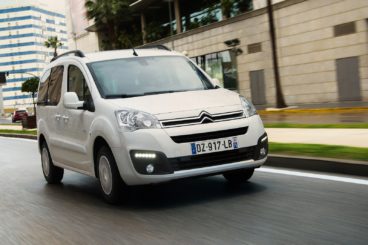 The new Citroen Berlingo MultiSpace is as blandly designed as the Fiat. But it does a job, providing lots of space and a massive boot.
If you need to be somewhere in a hurry, this car-cum-van can't help. It's slow, but it is at least capable and won't let you down. And when the conditions are good, it's also a bit lively.
The engine range has recently been updated, which means there is more power this time around. This was much-needed. But while the Berlingo is definitely more suited to the diesel units, they're all a bit loud.
However, they're all solid enough. The BlueHDi 100 98bhp diesel is our top pick. It can get you from a standstill to 62mph in 12.4 seconds. That should be quick enough for most van-buyers. If it isn't, there is the option of a BlueHDi 120, which does 0-62 in 11.4 seconds. That makes the Citroen look like a rocket ship compared to the Fiat.
The BlueHDi 100 model returns 65.7mpg, which sounds excellent on paper. However, on a full load, you'll really struggle to achieve those numbers. Emissions are at 109g/km of CO2, which means road tax will be £140 – which is what you'll pay whichever model you pick.
You can get the same engine but without stop-start tech. It's cheaper to buy outright, but more expensive to run.
Being based on a van means that the Citroen's interior will be uninspiring, but not as basic as the Fiat's. The dash is a bit jazzier than it used to be, thanks to new tech and a 7" touchscreen. Citroen has also vamped things up with better upholstery, though it's still a decidedly unsexy cabin.
We're also not so keen on the over-saturation of grey in the cabin. Had Citroen thought about this a bit more, they could have injected a bit more colour in here.
Still, this is a van-come-car, and the main thing buyers want is lots of practicality. When you remove the rear seats, you get a 3,000-litre boot space. With the seats up, it measures 675, which is still very good.
You can specify a third row of seats if you want, while sliding side doors are standard. These doors are huge and make access easy. There are plenty of storage spaces inside, while head and legroom are good both upfront and in the back.
Price:
Citroen – £16,200 – £20,500
Verdict Of Our 2017 Fiat Fiorino Combi Diesel Estate Review
Small van's don't really come as good as this. Its compact dimensions serve it well on the road, but don't take anything away from practicality. It's got huge load capacity, is affordable to keep on the road, and is safe as houses.
For anyone who doesn't care about creature comforts and doesn't need seven seats, the Fiat Fiorino Combi Diesel Estate is an understated winner.
Request a call back from one of our Vehicle Experts
When you lease a car with OSV there are no hidden costs, request a call back and we'll find you a finance, lease or purchasing deal designed just for you.