Review Of The Fiat Qubo Estate
Looking for an objective review of the Fiat Qubo Estate? OSV has got you covered, from engines to lease deals.
The new Fiat Qubo Estate could be the best £12,000 your family will ever spend. For that kind of money, you get a practical MPV that offers just as huge a boot, just as much visibility, and just as low running costs as more expensive rivals.
Even better, it doesn't look as much like a van as its competitors.
It's essentially a quirky-looking, small, van-based MPV that's tailor-made for families on a budget. It won't repel your kids, it won't annoy you on the school run, and it's a great way to move big items across town. Hassle-free and enjoyable, there's not much wrong with it.
OSV takes a closer look at what it's all about with our 2017 Fiat Qubo Estate review.
"There's not much wrong with it."
There really isn't. But the biggest criticism is the way it drives. Van-based cars that are entertaining to drive are a rarity, and this isn't one of them. It just doesn't have enough performance or acceleration to get excited about. Both the engines lack shove, and they're on the sluggish side.
Moreover, to get the car up to speed, you will need to work it hard.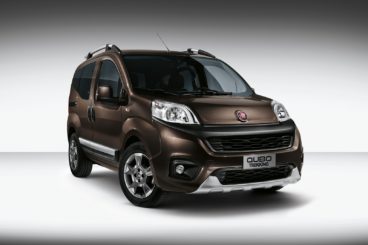 You can choose between two engines – a 1.4-litre petrol and a 1.3-litre MultiJet. The car is better suited to the diesel engine, which can offer decent low-down power. It's better than the petrol at getting you up hills on a full-load, but it does it with a grunt and a wheeze.
But just in case you decide to test what it's made of and approach a corner enthusiastically, we suggest you hold back. Its 5-speed manual transmission just isn't cut out for such daredevil stuff! If you do decide to chuck caution to the wind, you'll have to wrestle with body roll.
One redeeming quality is the soft suspension, which ensures a smooth ride. Out on the motorway, it even turns the car into a bit of a cruiser. Or are we stretching our imagination a bit?
Fiat Qubo Estate Interior, Design & Build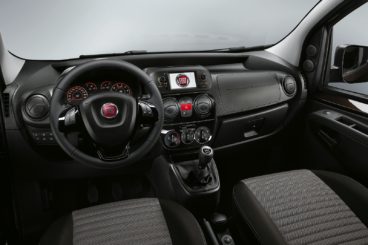 In terms of its exterior, we'd have to give Fiat some thumbs up. They've managed to somehow give its undeniably gawky aesthetics some road presence. They've achieved this with side mouldings and beefy wheel arches. Roof rails, meanwhile, add a visual flourish, as well as some practicality.
Overall, it's a bit goofy looking, both outside and in. For some buyers, that will be part of its charm. Its cabin is certainly different, but it's more functional than sexy to look at.
There's nothing wrong with functionality in a van-based MPV, of course!
Visibility is boosted by a large glass area, while robust materials contribute to a cabin that's built to last. Leg and headroom is exceptional for everyone, while the boot measure 330-litres. Fold down the rear seats and you can extend this to a gigantic 2,500!
The Qubo Estate comes with sliding doors as standard, which makes access a cinch. They'll prove especially handy in tight parking spots. Storage spaces include a cavernous glove box, while a minor criticism is the big rear tail gate.
Equipment & Safety Of The Fiat Qubo Estate
Standard equipment across the range is okay, and includes a CD stereo, electric front windows, air conditioning, alloys, body colour door mirrors and electrically adjustable door mirrors. These are also heated.
Each car also gets ISOFIX child seat anchor points and steering wheel rake adjustment. The most basic model misses out on the likes of cruise control and parking sensors. Front fog lights are also missing.
When you spend around £10,000 on a family car you've a right to question how secure it is. Despite the budget price, we're happy to report that the Qubo is a well put-together Estate car. The plastics are strong, and Fiat's own reputation for safety is improving.
However, while the Qubo hasn't been crash tested by Euro NCAP yet, its identical twin the Citroen Nemo has. And it scored only 3/5.
Costs Of The Citroen C4 Picasso MPV
Prices for the new car start out from £12,100 and rise to £16,000. For more information on our leasing deals, check out our page here.
In terms of its running costs, the car scores very well. No diesel engine returns under 60mpg, and the car can keep going for almost 600 miles on a full tank.
Maintenance bills are likely to be low, too, as will insurance. You can snap up Fiat's EasyCare package for £399, which includes three services. However, you should exercise a bit of caution if buying from a Fiat dealership. AutoExpress rank them poorly for customer satisfaction.
Pros and Cons Of The Citroen C4 Picasso MPV
Super Practical
For £12,000, it's impossible to argue over how practical this car is. Need to move furniture around? It's got you covered. Need to take the kids and their mates to school? Bingo. Need a car for a family holiday? You get the idea.
Really Affordable
It sells for £12,000, which we think is a steal. Better yet, you can lease it for just £240 a month.
Comfortable
There are plenty of things buyers look for in a car like this, and comfort is right up there. It's a compact, comfy and welcoming van-cum-car.
Dull On The Road
Okay, it's not the most inspiring car to ever grace British roads.
Goofy Looks
And, yes, it looks a bit awkward. Having said that, its face is friendly enough for your kids to love it. But it's hardly the car you dreamt of owning when you were a kid.
Fiat Qubo Estate vs Peugeot Partner Tepee vs Citroen Berlingo MultiSpace
Let's see how the car fares against its rivals in the comparison section of our 2017 Fiat Qubo Estate review.
Fiat Qubo Estate vs Peugeot Partner Tepee
It's not always easy to convince buyers to get their hands on a car that looks like a van. But despite doing little to hide its van roots, the Peugeot Partner Tepee has what families want: Lots of standard kit, lots of practicality and versatility, and affordability. You can also get it with seven seats if you want.
Not only have Peugeot been unable to hide the Tepee's van-derived looks, they've also been unable to hide the fact that it drives like a van.That was mission impossible, largely thanks to its tall stature.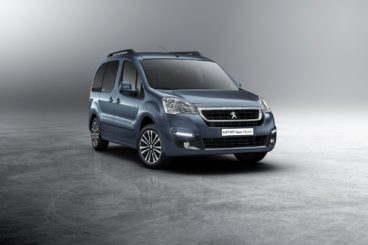 It will lean in corners, and its heavy steering will remind you that driving isn't always fun. No wonder the Tepee was never an option on Gran Turismo!
Still, on the motorway and in the town, the Partner Tepee is as capable as you want. It has two engines on offer, both of which are 1.6-litres.
One is a petrol, and the other is a diesel. The diesel takes over 13.0 seconds to do 0-62, which isn't so bad. The petrol has a bit more life to it, though.
Both engines are cheap enough to keep on the road, but the BlueHDi diesel is our pick. Available in either 100 or 120bhp power guise, the cheapest can return 67.3mpg economy. It emits 112g/km of CO2, which is reasonable for a van-cum-car of this size.
Insurance and servicing won't prove to be too expensive either, while its sheer amount of standard kit means it won't depreciate as badly as some rivals. The Fiat Fiorino, for example, is expected to lose 70% of its value after 3 years. Standard kit here includes a DAB radio, parking sensors, and alloys. You also get a reversing camera for safety, and dual-zone climate control.
Inside, the layout is smart but not eye-catching. It looks slicker than the one in the Fiat – as it should, since you'll be paying money. The seats are comfortable, and easy to adjust. The rear seats, meanwhile, are removable, and legroom is good back there.
Overall, the cabin layout is sensible and well-judged. Everything is where you'd expect to find it, and there are plenty of storage spaces. There really is no excuse for cluttering up the interior!
Practicality is good, too, thanks to its predictably boxy shape. This means you get oodles of interior space, as well as lots of versatility. The boot measures 675-litres if you have five seats, but will shrink if you add an extra row. Remove all the seats, and you can extend the boot to 3,000-litres. When you do that, the Peugeot Partner Tepee turns into an actual van.
Price:
Fiat – £12,160 – £16,000
Peugeot – £16,200 – £20,400
Fiat Qubo Estate vs Citroen Berlingo MultiSpace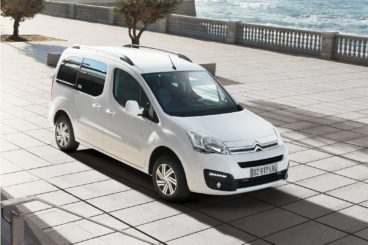 The new Citroen Berlingo MultiSpace is as boringly designed as the Peugeot. When it comes to aesthetics, the Fiat Qubo wins hands-down. It's also considerably more expensive. However, for your money you get a big boot, lots of space, and seven seats if you want them.
There wasn't any kind of compelling case we could make for the way this car drives in the past. However, Citroen have livened things up a bit by revising their engine range. So while it's still not what you'd call rapid, it is more performative.
More performance was just what it needed, too. We buy cars like this for their pulling power. Last time, it went into hiding on a full load and ran out of puff. In 2017, the Berlingo MultiSpace has a bit more about it, and the engines feel safer.
Still, the revisions haven't been enough to make this van-cum-car feel like a car. It still drives with the awkward touch of a van. On the road, it's uninspiring and takes the fun out of driving.
That said, you'll be able to live with the engines. The 1.6-litre 94bhp petrol is the cheapest, and it makes decent progress. 0-62 is achieved in under 13.0 seconds. The turbocharged 1.2-litre 108bhp has a bit more about it, though.
The diesel engines suit the car well, with the BlueHDi 100 98bhp diesel OSV's favourite. It does 0-62 in 12.5 seconds, and can return 65.7mpg.
How much you spend at the pumps, though, will come down to whether or not you decide to specify the car with stop-start tech. Energy-saving tech sounds like a no-brainer at first. After all, it will save you cash in the long run. However, if you're a low mileage driver it makes less sense because it adds a few extra quid to the asking price.
Since it's more expensive than the Qubo, it figures that the Citroen's interior will be slicker. It is – but only just. Its van roots are still wildly in evidence, but they do come with benefits. You get plenty of shoulder, leg and headroom, and you can fit seven people inside.
The dashboard is too bland, though. Greys dominate, despite Citroen's efforts to jazz things up with better upholstery. A 7" touchscreen is new, but it's reserved for the range-topping model.
In terms of pure aesthetics, the Citroen shades the Fiat but loses out compared to more upmarket rivals. The materials are scratchy, outdated and unwelcoming.
Practicality is its calling card, though. The boot can measure 3,000-litres with all the rear seats folded down. With five seats up, it measures 675. Access is really easy, thanks to large sliding doors, and we like the overhead storage system. It's like the ones you see in aeroplanes – really innovative!
If only Citroen could have been a bit more imaginative with the car's styling.
Price:
Citroen – £16,250 – £20,500
Verdict Of Our 2017 Citroen C4 Picasso MPV
If you need a small, spacious van-cum-car but are on a massive budget, this is worth a test. It's the cheap choice for cash-conscious Brits. But it also might be the best kept secret on the roads. Because you get just as much practicality, interior space and versatility as £20K + cars. You also get cheerful looks and frugal engines. The Fiat Qubo Estate isn't the car you dreamed of owning, but it's an excellent choice.
Request a call back from one of our Vehicle Experts
When you lease a car with OSV there are no hidden costs, request a call back and we'll find you a finance, lease or purchasing deal designed just for you.