We enjoyed looking through the selected photos Ford have released as part of their UK centenary celebrations, that we decided to do it again this week.
Ford have also undertaken a celebratory tour of Britain and commissioned unique couture made from Ford parts as part of their jubilee.
The Ford RS200
Despite calling it a "tough and sometimes cruel sport", Ford have long been committed to rallying.
The Ford RS200 was designed as a light, turbo-charged, mid-engined Group B rally car, able to drive fast on any surface. It went into production in the UK in 1986.
However, it's career as a rally car was cut short by changing FIA regulations.
In 1987 the organisation reacted to a number of serious accidents, first by banning aerodynamic improvements to Group B cars, and then by dropping the entire class.
Still, this wasn't the end either for the Ford RS200 or for Ford's involvement in rallying.
The Ford RS200 was transformed from a stark rally car to a more luxurious, high-performance road car, that fans found was cramped, noisy and physically difficult to drive.

Ford Escort Mk1 Twin Cam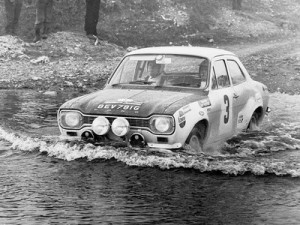 In this vintage photo, British drivers Roger Clark and Jim Porter negotiate a difficult part of the 1969 San Remo Rally course in their Ford Escort rally car.
The following year the pair won the Circuit of Ireland Rally.
From it's launch in 1968, the Ford Escort Mk1 Twin Cam was remarkably successful, helping Ford to gain victory at numerous rallies, including a hat-trick at the Danish Rally.
Ford engineered the Escort to be lighter than the Lotus Cortina, and its agile handling, excellent balance and stiff body made it an important part of Ford's winning rally strategies.

Ford rallies in 2012
Meanwhile Ford are looking forward to the 2012/13 rally season, where the Ford Fiesta World Rally Car will again carry the hopes and dreams of the Ford WRC rally team.
Keep yourself updated with the latest motoring news by liking us on facebook, following us on twitter or connecting with us on LinkedIn.
If you're interested in buying or leasing a new vehicle contact our sales team. Alternatively, visit our website where you will find new and used Ford's available for sale or on finance.
Thanks for visiting us today.

Latest posts by Andrew Kirkley
(see all)