With the top of the range Ford Mondeo Vignale Saloon, Ford are tackling the premium compact saloon sector head on. But this is more than just a mere trim because the U.S. automotive giant have made a concerted effort to market the car as a full-on experience independent of being just another range-topping option. As such, it is up against some top quality competitors. And while you might think there isn't a cat's chance in hell that a Mondeo could be a premium car, there is a lot of promise here.
The name of the trim was inspired by Alfredo Vignale, an Italian coach-builder who was invited to design limited edition models of Alfa Romeos, Ferraris and a handful of other famous Italian brands. There will be up to 50 Ford showrooms throughout the UK that will home Vignale Lounges, where Vignale Relationship Managers will be on hand to talk you through the buying process. A special customer service line will also be available for any questions you have.
OSV takes a closer look at what the car is all about with our Ford Mondeo Vignale Saloon review.
Overview Of The Ford Mondeo Vignale Saloon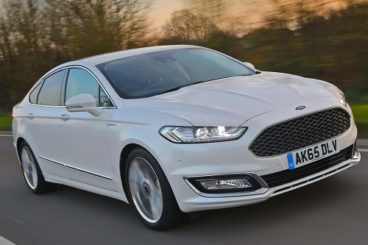 The previous generation saloon was known for its handling finesse and verve, but we find here a more mature and more forgiving Mondeo. The softer nature of this Vignale Saloon is a fantastic compliment to the lush setting of the interior.
The mechanics of the car are shared with the standard model, and there are a few petrol and diesel engines to choose from. However, this is the first Mondeo to come with a 2.0-litre bi-turbo unit that can develop 207bhp, and which was debuted in the Ford S-MAX. The biggest-selling engine, though, will be a 2.0-litre diesel that is good for 178bhp, and which has so far been responsible for almost 80% of sales.
The bi-turbo diesel is our preferred choice. Smooth and effortless, it offers a heap of torque in reserve that helps to gun you from rest to 62mph in around 8.1 seconds. Get it up to cruising speed, and any noise heard from the engine will begin to fade and die.
Sound is almost inaudible, and the reason for this is Ford's newfound commitment to refinement. To this end, Ford have installed an Active Noise Cancellation feature, as well as acoustic glass. The combination of these features has reduced exterior noise vastly. You almost feel as though you're sitting in a BMW.
Old Mondeo's were known for their rather direct steering, but here the steering is as light as ever. The suspension is much softer, while crisp damping ensures it glides over surfaces that would otherwise be deemed troublesome.
Interior, Design & Comfort
This is marketed as a premium saloon, so it has to deliver indoors. But does it?
Ford have become obsessed with refinement recently, and the Vignale Saloon is the fruit of their loins so far. The car is also supremely comfortable and marks it out as more than just another trim level. Indeed, it's actually a luxurious sub-brand.
Once inside, it will be hard not to be impressed by the well-built cabin, one for which Ford have held nothing back. There is no cost-cutting here.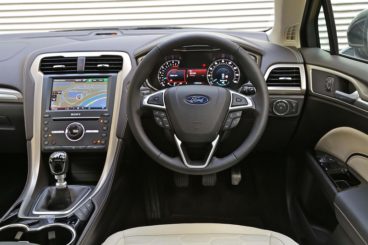 The seats benefit from laser-cut leather trim, the instrument panel is soft-touch, while there has never before been this level attention to detail in a Mondeo.
However, behind the wheel it doesn't feel quite as special as you'd hope. To get this model, you have to pay some £5,000 more than you would for the Titanium trim. As such, you'd expect a bit more than you get. The massaging and contoured leather seats are nice, but a greater sense of occasion is warranted.
For example, the leather trim is nice enough, but it disappointingly ends a few inches above the base of the seat, after which shabby felt takes over. Moreover, the floor mats are supposed to be posh – but they are not.
This is a big car, though, so interior space is good. Upfront, the passenger and the driver will be able to sit in supreme comfort, while two adults will be just fine in the rear. A third might struggle thanks to the fact that headroom in the middle is a bit tight.
There are plenty of storage spaces dotted around the place, and while the saloon variant can't rival the estate for boot space, 500-litres is still very pleasing. Fold the rear seats and you can extend this space to 1,437-litres.
The amount of standard equipment on offer is generous and includes alloy wheels, Curtain airbags, metallic paint, rear parking sensors, front fog lights, full leather seats, heated front seats, Bluetooth connectivity, satellite navigation, a reversing camera and a DAB digital radio.
There is only one optional extra we would recommend, which is the inflatable seat belts.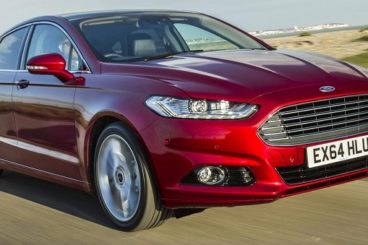 Costs Of The Ford Mondeo Vignale Saloon
£31,295 might seem like an alarming amount of money for a Mondeo, but the evidence is out there that buyers are interested in premium cars with a Ford badge.
In terms of running costs, the 2.0-litre petrol unit is unsurprisingly going to rinse you at the pumps. It's a highly capable engine that covers the 0-62mph sprint in just 7.9 seconds before maxing out at 149mph, but fuel economy returns of 38.2mpg and an annual tax bill of £205 might be enough to put some of you off.
Moreover, the bi-turbo 207bhp diesel engine is not exactly a slouch. It's performative, but it's also fairly cheap to run and will achieve returns of around a 56.6mpg while costing £110 year in road tax.
The 178bhp diesel engine will prove to be the most popular, though. It costs £110 a year in tax and can achieve fuel economy returns of 57.6mpg. It's also the lowest priced and takes 8.6 seconds to cover the 0-62mph dash.
There is also a petrol-hybrid variant on offer, too. But despite the fact that it can achieve returns of 67.3mpg while costing nothing at all to tax, this 185bhp engine is likely to be the ugly duckling in the range that most buyers ignore. Indeed, Ford have forecast it will account for only 2% of total sales.
Pros and Cons Of The Ford Mondeo Vignale Saloon
Pros:
The Mondeo is already a commanding and assured piece of work, but the Vignale takes things up a notch. Thanks to nice chrome trim pieces, bigger alloys and an original front grille design, this luxurious saloon stands out among the rest of the Mondeo saloon range.
It's a large car, but that doesn't mean it needs to cost the earth to run. The diesel options are economical, and can achieve impressive returns of up to 63mpg. It might not be enough to rival the Jaguar XE, but it's very respectable.
Terrific Levels Of Standard Equipment
There is a heap of equipment here which justifies the price tag and ensures that you'll want for nothing. The kit also makes for a quality interior and a comfortable ride.
Cons:
Ford's have traditionally been fun to drive, but the American brand toned things down with the Mondeo. Unfortunately, they haven't done anything to improve drivability with the Vignale, either. The drive is sobering, and the car is more of a cruiser than anything else.
One of the problems that the Mondeo Vignale Saloon has is that selling in the premium compact saloon market means it's up against cars with decidedly more badge appeal, such as the BMW or the Jaguar. This is a solid offering, but it lacks prestige and history.
Ford Mondeo Vignale Saloon vs. BMW 3 Series vs. Jaguar XE
Let's see how the Mondeo's range-topping model fares against its rivals in the comparison section of our Ford Mondeo Vignale Saloon review.
Ford Mondeo Vignale Saloon vs. BMW 3 Series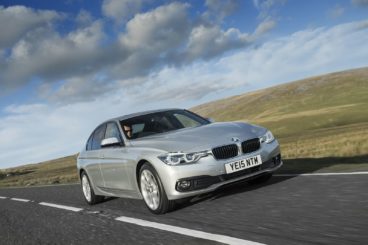 The new BMW 3 Series has been setting the standard in this class for a number of years now. It continues to handle like a dream, still looks fantastic, and is cheaper to run than ever.
The best thing about this car is how it handles. Out on the road, it's pure entertainment. The grip is good, the suspension is firm, and the steering is well weighted. You'll never have this much fun on twisting back roads, and optional adaptive dampers boost ride quality. Without them, you do miss out on this car's potential.
Performance is good right across the engine range, starting with the entry-level petrol engines. A 1.5-litre three pot unit can get from rest to 62mph in 8.9 seconds, while a 2.0-litre BMW 330i can cover the same distance in just 5.9 seconds.
The diesel engines shouldn't be discounted either, and the BMW 320d can rocket you from a standstill to 62mph in 7.5 seconds. But all engines off a fun and engaging experience on the road, although the four-cylinder units are more entertaining than the three pots.
Regarding running costs, the BMW 320d unit puts the Mondeo's best efforts in the shade, managing to return 74.3mpg while emitting 99g/km of CO2. This means it costs nothing in road tax. The petrol engines are naturally thirstier, but they aren't as thirsty as the Vignale's petrols. The BMW 318i, for example, claims returns of 51.4mpg.
The BMW's interior is exceptional as always. The design is classy, the layout logical, and high-quality materials abound. The dashboard is well laid-out and comes with a focused wraparound design that is easy on the eye. The car isn't, however, the most practical. It's smaller inside than the Mondeo, and rear head and legroom is adequate at best.
Still, there are plenty of storage spaces here and there, while ISOFIX child-seat mounts come as standard. Visibility is good enough, while the 480-litre boot is only 20-litres smaller than the Ford's.
Price:
Ford – £31,295
BMW – £25,000 – £41,000
Ford Mondeo Vignale Saloon vs. Jaguar XE
The new Jaguar XE is good fun to drive, sports handsome looks, and doesn't cost a bomb to run.
Cars in this sector are either entertaining or comfortable. Few are both. The Jaguar XE Saloon, however, is both. The steering reacts quickly to your inputs, and the steering is sharper than the Ford's. You can pair up your engine with either an eight-sped automatic or a six-speed manual 'box, with the former being our favourite of the two.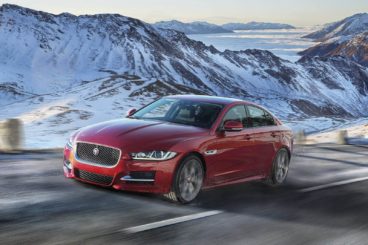 Four-wheel drive is available only with the 2.0-litre 178bhp diesel unit, and although it will bump up running costs and purchase price, it does offer more confidence in poorer conditions. The 2.0-litre diesel comes in two power guises, which can get you from rest to 62mph in either 8.4 seconds or 8.2 seconds respectively.
There is a trio of petrol engines to choose from, but you can't pair them up with the manual transmission. The 2.0-litre petrol unit is available in two power guises and can gun you from rest to 62mph in either 7.7 seconds of 6.8 seconds. The supercharged V6 petrol engine is the standout pick if you can afford it and want as much pace, power and performance as possible. It takes just 5.1 seconds to cover the 62mph dash.
The entry level Jaguar XE Saloon is dirt cheap to run and can achieve fuel economy returns of 75mpg. It's also free to tax and is liable for just 19% BiK company car tax. The 178bhp 2.0-litre diesel is also cheap to run. Costing just £20 a year to tax, it can achieve returns of 67.3mpg. The supercharged V6 model, by contrast, cannot top 35mpg and will cost £265 per year in tax.
Unlike the Ford, there is a huge sense of occasion inside this Jaguar. The fit and finish are unrivalled, while distinctive Jag feats, such as the rotary automatic gear selector, are all pleasingly available. The wraparound dash looks great and cocoons you in your seat, while upholstery is top notch. There are still flaws, of course, such as a lowly-mounted drivers side air vent.
The Jaguar isn't, however, hugely practical. Rear space is very limited, thanks to a wide tunnel which passes through the floor. Upfront, there is ample room for the driver and the passenger, but thanks to thick windscreen pillars, shorter drivers will need to adjust the height of their seat before setting off.
Storage space is overall no better than reasonable, while small rear door openings make access poor. The boot is measured at 455-litres, which is considerably smaller than the one in the Mondeo Vignale.
Price:
Jaguar – £27,000 – £44,000
Verdict Of Our Ford Mondeo Vignale Saloon Review
You might find it hard to justify splashing out almost £5,000 extra on the Vignale when the high-spec standard Mondeo is adequate enough. Sure, this model comes with a plusher interior, but it doesn't really have much of an edge over its equally priced rivals.
With that said, the amount of standard equipment you get is very impressive, and this is one area where it stands apart from its competitors. If the idea of a Ford-badged premium saloon sounds attractive to you, the Ford Mondeo Vignale Saloon is a solid choice.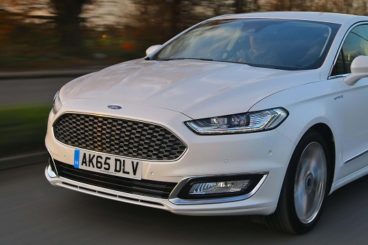 Want to learn more? Click below to view the review for the competitors in this article…
Looking for a price?
Fill out the form below with your details, including whether you're looking to lease or buy and we'll give you a quote within 24 hours.
[contact-form-7 id="32576″]
When you lease a car with OSV there are no hidden costs, request a call back and we'll find you a finance, lease or purchasing deal designed just for you.