How To Get The Best Out Of Your Sales Job
Six World-Class Tips to Getting the Most Out of Your Sales Job
Working in sales can have amazing moments and can be hugely rewarding, but it can also have it's tough times as well.
We understand that when things don't seem to be going exactly as you want them to, it can be frustrating. This can end with you putting more pressure on yourself and getting too stressed as a result.
Over the years, we at OSV have worked with several sales professionals, supporting them to maximise their strengths, overcome their difficulties and achieve exceptionally high financial rewards.
With this in mind, here are some world-class tips we have learnt over the years to make sure you get the most out of your sales job.
1. You are in charge of your mind, and therefore your results
The power of the mind is incredible and if you start your day thinking and expecting that you are going to make it a great day, then you will.
One of the biggest factors holding talented people back is their mind-set. It's so easy to have negative self-talk. For example, telling yourself, 'I'm not going to reach my target this month' or 'the customer is going to think this is too expensive' or even 'the customer will be too busy and probably won't take my call' will make you less likely to achieve your goals. I am aware that this is probably a bit cheesy, but you would be surprised at how true it is.
When you're positive, you attract positive results.
2. There is no such thing as failure, only feedback
In some environments, if you don't hit your target, you've failed.
During my time in HR and Recruitment, I have worked with several talented people who have felt that they were a failure at some stage. However, they have then gone on to receive a pay increase, a promotion and in some cases, more than triple their results.
What matters is how you feel about yourself. If you know you are capable and talented, then don't let one bad month get you down.
What is important, however, is feedback. If you are not getting any feedback to help you overcome your challenges, ask for it. Some questions you could ask are, 'What do I need to improve?' 'What am I doing well?' 'I lost this order; can you give me some feedback on how I could have handled this better?'
If you are keen to learn and keen to get feedback, then you will never be a failure. If one thing isn't your strong point, something else will be. Look for your greatness and be kind to yourself.
The fact that you are reading this article means that you are already investing in yourself and considering new avenues or thought processes, which is great. This means that you are already on the path to ongoing success.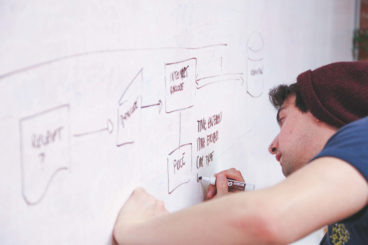 3. Focus on the route, not the destination
Through observing hundreds of sales teams over the years, many of them purely focus on the end result.
You're probably thinking, 'how is this a problem?'
It's not necessarily a problem, but in my experience, high performing teams focus on the actions it takes to achieve the result, not the actual result itself.
Imagine you've got a long car journey ahead of you. You'll be focused on getting there, of course, but you'll also be thinking about the best route to take, what stops you could be making, whether there will be any traffic and most importantly, your playlist. You're looking at the steps you will be taking to ensure that the drive is as easy and as enjoyable as possible, and it's the same in business.
I know that whilst I have goals, there are steps I need to take and important actions to focus on to get me to that goal.
To get the most out of your sales job, you have to think about what actions you have to be taking to get you to your target. If you didn't get the right result yesterday, what can you change today that will help you get a step closer to your target?
If you master each step, you'll be leaping towards that target.
4. Find Your Trigger
Learn about yourself, not just the job. If things don't go your way, find the trigger. What happened before you started to feel unresourceful?
Once you find that trigger, you can reflect and consider how you can prevent feeling the same in the future.
What makes you truly happy? If you capture that emotion, for example, by having an object on your desk that reminds you of it. Next time you come to that trigger point, look at that object and allow your mind to take you to that emotion before you move onto your next
5. Measure your communication by the response that you get
While you could think that you are the best communicator in the world, it's important to remember that the measure of communication is the response you get.
If your customer is not responding in the way you want or expect them to, don't blame them!
Listen, listen and listen again
Empathise, understand, summarise and clarify
By doing the things above, you will help enormously. Don't expect your customers to adapt to you, adapt to them. If they speak slowly, speak slowly, if they like detail then provide detail. If they are more visual, for example, focus on visual factors.
At OSV, we have comprehensive training on every aspect of sales, communication, customer service, emotional intelligence and rapport, to name a few.
The reason we do so much training is because sales professionals that always learn and develop themselves are far better at educating customers, innovating and overall just making a difference.
6. Don't think now, think forever
If all you are interested in is winning this order right now, it is highly unlikely that your service will be at the level it needs to be to wow a customer and gain deep trust.
Win your customers forever; deal with them in a way that shows that you are in this for the long term.
Ask for their feedback, check their satisfaction levels and take a genuine interest in them. This will build something strong enough to last.
These are just a few tips that can make a huge difference to getting the results you want. Ultimately, it's down to you believing that you can achieve the results you want. This can be done by taking a step back and looking at how you're going to reach your goal, and by eliminating negative thought processes and replacing them with positive ones.

Andrew enjoys: Movies and travelling to new cities to explore different cultures.

Andrew has been in the motor trade for over 20 years. What he enjoys most about his job is the team spirit and the dedication of his work colleagues. He also appreciates the teams input in the improvement of the company.

Latest posts by Andrew Kirkley (see all)