Review Of The Hyundai IX20 Hatchback
What does less than £200 a month get you these days? How about a five-door supermini that's easy to drive, at home on the motorway, and spacious?
The new Hyundai IX20 Hatchback might be a small supermini, but it aims to be as useful as pocket-sized MPV. It's practical, versatile and offers lots of interior space.
Its 440-litre boot is one of the biggest in this class, too, and defines the car's size. If you want the cuteness, affordability and hassle-free driving experience of a supermini but want to get more use out of it, this one is well worth a test drive.
OSV takes a closer look at what it's all about with our Hyundai IX20 Hatchback review.
Hyundai has decided against making the IX20 a rival to agile, fun-loving superminis. There'll be no sleight of hands here as you weave in and out of traffic, never to be seen by a grumbling big saloon driver ever again. It's just not all that quick and feels a bit lacklustre behind the wheel.
To literally get anywhere, you need to rev it a fair amount.
There are positives, though. The high driving position makes you feel safe and improves visibility. The light steering also contributes to an easygoing driving experience, and makes pottering around town a cinch. The soft suspension means you don't feel the lumps and bumps in broken roads too much, either.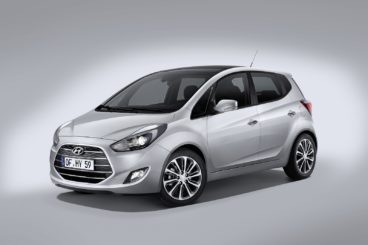 It's surprisingly not too bad on the motorway, where the steering begins to feel heavier. In a straight line at speed, it will feel reassuringly composed.
We like the standard manual gearbox. It has 6 speeds, and its gear-changing action is smooth and fast. It also comes with stop-start tech, which will save you cash at the pumps. An automatic transmission, meanwhile, is available with higher-spec models.
There is a handful of engine available, including a 1.4-litre petrol and a same-sized diesel. Which one of these you opt for will depend on your priorities. Do you want a better economy, or do you want more performance?
The petrol variant can do 0-62 in just less than 13.0 seconds. That's not too bad, and it's better than the lethargic diesel, which is over a second slower. However, a 1.6-litre petrol engine is quicker still, and gets you from rest to 62 in 12.2 seconds.
There is also a 1.6-litre diesel engine available. It delivers up to 115bhp, and can do 0-62 in 11.5 seconds. It feels slower than those numbers suggest, though.
Hyundai IX20 Hatchback Interior, Design & Build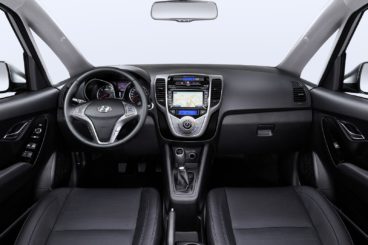 As mentioned, the IX20 isn't a fun car by any means. But it is comfortable, and this is something we think you'll appreciate on those long commutes to work. Its softened suspension ensures a relaxing driving experience.
The trade-off, of course, is that there will be excess body lean in bends.
The cabin is reasonably insulted, but the diesels tend to bark so loud that their whimpers will be heard. The petrol engines are quieter. Road and wind noise, meanwhile, is well kept out.
The dashboard is a straightforward affair, which we think lots of buyers will appreciate. All the buttons and controls are easy to reach and operate, and they're all of a good size. The plastics aren't as soft as they are in some rivals, but they're durable enough to last a while.
You usually don't expect such a small city car to be so practical, but the Hyundai is. Access is easy thanks to wide-opening doors, and the back seats recline, and slide back and forth. The steering wheel is rake and reach adjustable, while the driver's seat adjusts for height. And with lots of glass, visibility is great.
Headroom is excellent, as is legroom. Three people can fit into the rear seats at a squeeze, and should be just fine on shorter journeys. The boot, meanwhile, grabs all the headlines. It measures 440-litres, which makes it one of the biggest in this class. Fold down the rear seats and you can extend it to 1,486-litres.
Equipment & Safety Of The Hyundai IX20 Hatchback
Standard kit is good at this price point. The base-level model gets power steering, body-coloured bumpers, Electric front windows, and 6 speakers. The Active spec adds stop-start tech, Bluetooth connectivity, alloys, and parking sensors. It also comes with a leather-trimmed steering wheel.
The top of the range model seems pointless, especially as it's only real USP is a panoramic sunroof.
Optional extras include £125 rear parking sensors, and a £175 DAB radio.
When it was put through its crash-test paces by Euro NCAP, the IX20 bagged all five stars. It scored particularly highly for child protection and adult protection. Its standard safety kit includes electronic stability control, traction control, and anti-lock brakes. It also gets airbags, although there are no knee airbags up front.
Costs Of The Hyundai IX20 Hatchback
Prices for the new car start out from £14,900 and rise to £18,500. For more information on our leasing deals, check out our page here.
In terms of its running costs, all the engines are competitive when it comes to efficiency. However, none are free to tax.
The cheapest to run is a diesel – the 1.6-litre. It costs £30 a year to tax, and returns a solid if unspectacular 64mpg. The petrol engines make less noise, which makes them attractive. But the 50mpg economy returned by the 1.4-litre model is way off the diesel engine.
The IX20 is cheap to insure. The entry-level model sits in group 7, and the range-topping model sits in group 10.
Pros and Cons Of The Hyundai IX20 Hatchback
Roomy
Somehow, Hyundai has made a compact car positively huge on the inside. No one will be complaining that they're in a squeeze, while innovative storage spaces are present.
Versatile
It's easy to park, visibility is good, and its rear seats can slide back and forth – and they can fold. For a small car, it's remarkably versatile.
Solid Build Quality
It's clearly a car built to last.
Low Residual Value
The asking price is fair, but don't expect your IX20 to hold onto more than 39% of its value after 3 years.
Not Much Power
Four engines are on offer, but none of them has much power. The quickest takes 12.2 seconds to do 0-62.
Hyundai IX20 Hatchback vs Citroen C3 vs SEAT Ibiza
Let's see how the car fares against its rivals in the comparison section of our 2017 Hyundai IX20 Hatchback review.
Hyundai IX20 Hatchback vs Citroen C3
The new Citroen C3 stands out in this class thanks to its funky looks. And although it lacks the class of some more upmarket rivals, it's a solid alternative to the IX20.
The C3 hasn't been designed to be fun on the road. Instead, it was always Citroen's aim to make it as comfortable as possible. If you thought that means the French brand have simply softened the suspension, you'd be wrong.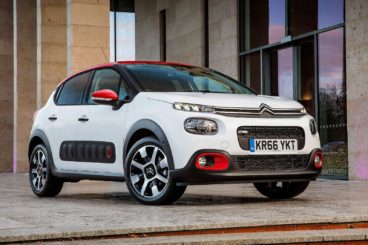 They've also added their Advanced Comfort system, which almost makes the C3 feel like a luxurious saloon! It makes the car so much easier to use, makes access easy, and literally turns the seats into pillows.
In terms of its engines, there are three kinds of petrol to choose from. None of them is bigger than 1.2-litres in size, and all are paired up with a 5-speed manual transmission. A 1.0-litre 67bhp model kicks things off, but while it won't set your heart on fire, it's no slouch. It does 0-62 in 14.0 seconds, and makes reasonable progress.
The turbocharged 1.2-litre 109bhp petrol engine is the sportiest. It can get you from rest to 62mph in 9.3 seconds, and feels as quick as those numbers suggest. For such a small car, that's impressive.
The diesel engines are only worth looking at if running costs are a huge priority. If you're a low-mileage driver, we suggest overlooking them as they're too anodyne to get excited about.
If you're keen to keep costs as low as possible, the 1.6-litre 74bhp diesel is the cheapest in the range. According to Citroen, it can return 80.7mpg if you fit it with 15" alloys. Upgrade to 16" alloys, and it's still good for 78.5mpg.
The petrol is affordable too, though. Oddly enough, the most powerful 1.2-litre petrol is actually the most efficient. It returns 61.4mpg, and emits 103g/km of CO2.
Citroen is killing it with their funky designs of late, and we expect you'll love the C3's vibrant interior. It's got bags of character, with stylish touches, such as the fabric straps that have replaced plastic door pulls, something to get genuinely excited about.
The dashboard is smart, and the top-spec models benefit from a classy 7" infotainment system. The dash can also be coloured, too, though which colours you get depends on your chosen Ambience. Red and Yellow are among your choices.
The dials are crystal clear, and easy to read and use.
The Citroen C3 Hatchback is also a fairly practical car. Citroen claims that it has class-leading cabin space. We're not sure if that's totally true, but it does feel bigger inside than you'd expect. That said, the large glass area creates the illusion of more space than there perhaps is.
Young children have plenty of space in the rear to get comfy, and 2 ISOFIX points have been mounted on the two outer back seats. Two adults can fit in there, but we don't recommend squeezing three in. Not unless you want to feel their wrath afterwards!
The boot, meanwhile, measures 300-litres. You can fold the rear seats to extend it to 922, and the boot comes with a big opening.
Price:
Hyundai – £12,140 – £17,195
Citroen – £11,100 – £17,600
Hyundai IX20 Hatchback vs SEAT Ibiza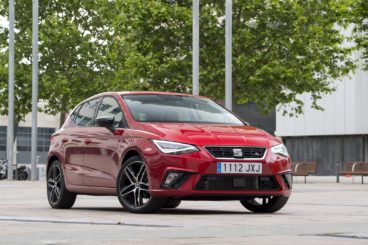 The sexy new SEAT Ibiza Hatchback is a handsome devil – as always. It's also quiet on the move, spacious and one of the best cars in this market.
The Ibiza makes for a great companion on the road. It's highly capable, quiet and super comfortable. It also feels really safe. It's good in the town, where it can negotiate tight turns with aplomb, and relaxed on the motorway.
SEAT have made the new model wider than last time. This has improved its driving dynamics, making it feel more composed. It's also been tweaked so that it's better for long distances.
And thanks to precise steering, that extra width hasn't resulted in an unwieldy drive.
In terms of its engines, it's probably a good idea to avoid the 74bhp MPI petrol unit. It's the smallest in the range and a tad slow, taking 14.7 seconds to do 0-62. Go for the 94bhp variant and you can do 0-62 in 10.9 seconds, while the 113bhp model does the same distance in 9.3 seconds.
The engine itself is bursting with character. It's already been used in both the VW Up! and Golf, and has a willing nature. It revs freely when you put your foot down, and settles down when you want to cruise.
These petrol engines are cheap to run, too. The 74bhp, however, once again shows why it should be overlooked. Not only is it slow, but its 57.6mpg economy is unappealing.
The 94 or 113bhp versions are faster, have more power – and are cheaper to run. They both return 60.1mpg.
The diesel engines, however, are the most affordable, and can return 70mpg economy at best.
Inside, the SEAT Ibiza Hatchback is easy to live with. It's conventional and far from revolutionary, but it's designed to make life as hassle-free as possible on the road. With that said, there has been an upgrade in quality. The design is slicker, and the materials are more robust.
It's a spacious, genuinely practical small car, too. Its extra width means more interior space, and four adults can sit in comfort. The door bins are well-shaped and big, and the boot measures 355-litres. That can't compete with the Hyundai, but it's still good for this class.
Price:
SEAT – £13,100 – £17,800
Verdict Of Our 2017 Hyundai IX20 Hatchback Review 
The IX20 might be small on the outside, but never have looks been so deceiving. Inside, it's versatile, practical and super spacious. Young families will also be drawn to its cute design, its small footprint, and its ease of use. It lacks power, but the Hyundai IX20 Hatchback is a first-rate small family car.
Request a call back from one of our Vehicle Experts

Latest posts by Will Titterington
(see all)