The new Hyundai Santa Fe estate comes with better styling, more equipment, as well as a powerful new 2.2-litre 200PS diesel unit. As such, it's battled its way to the top end of the market on merit.
Buyers get the choice between a 5 and a 7-seater, while both manual and auto gearboxes are offered. Impressed? You probably should be, because this MKIII Santa Fe represents just how far the South Korean brand have come in the last few years. Their recent fortunes have improved, and it's high-quality cars like this that are driving their success. Let's take a closer look at what it's got to offer you.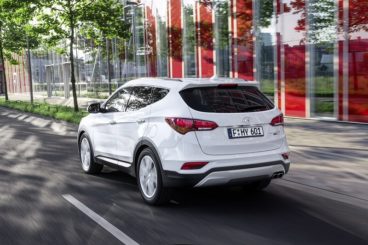 Hyundai Santa Fe Estate Test Drive
Pleasingly, the Hyundai Santa Fe continues to be rode on a MacPherson strut front end that was tuned in the UK, as well as a multilink rear suspension that was also tuned her in blighty. These dynamics were part of the reason for its success last time around, but Hyundai haven't sat on their hands and offer up a few interesting changes.
For example, a self-levelling suspension comes as standard on 7-seater variants, while all-wheel drive has been introduced. Other additions include a FLEX STEER system that means you get to choose between three different steering modes:
The Santa Fe relies on front-wheel drive 90% of the time, but once slippage has been detected by its sensors, around half of your drive will be sent to the back wheels. If you're looking for a beefy 4×4 here, you'll be pleased to know that 4WD can be manually selected whenever you're battling through more slippery conditions, such as snow; all you need to do is press the "lock" button.
In terms of engine choices, not much has changed since last time around. As such, buyers here in Britain are only offered the 2.2-litre 200PS CRDi diesel that delivers up to 440Nm of torque. You do, though, get a choice between an auto or manual transmission. The automatic is an interesting choice, because it's actually 12kg lighter than traditional auto sticks.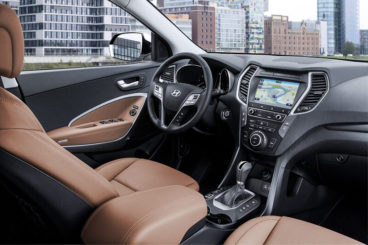 The Interior, Design And Build Of The Hyundai Santa Fe Estate
The new Santa Fe estate is not the fairest in the land, and you certainly won't turn many heads as you plough through the mud, but it's still a handsome if understated beast. Proportion is its strong suit, while slicker rear and front bumpers ensure that road presence is as commanding as they come. The modified silver rim and LED daytime running lights all offer neat touches, and are well worth mentioning.
Step inside the estate, and you'll find the cabin offers both comfort and refinement – as well as plenty of up-to-date tech that helps to ram home the idea that Hyundai are very much going upmarket – though if you look hard enough, you will find some grating hard plastics that bring the ambiance down a peg. Fortunately, it doesn't dampen things too much and the cabin is smart and can offer just as pleasing a driving environment as, say, the Nissan X-Trail. The seating position, meanwhile, offers a panoramic view of the road.
This is a big car, and as such it works very well as a solid practical family car. Space is fantastic up front, and certainly not too shabby at the back – though the middle rear passenger might find things a bit of a squeeze. The five-seat version comes with a 585-litre boot, while the 7-seater disappointingly drops that figure to 516-litres – some 34-litres less than the Nissan X-Trail's boot.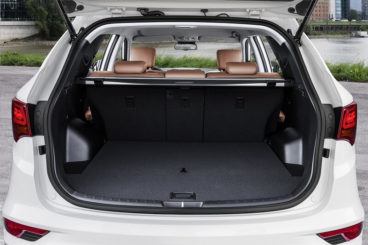 Hyundai Santa Fe Price And Running Costs
Prices for the new Hyundai Santa Fe start out from around £32,000 and rise to close to £40,000. The car is available in two trims:
Even the Premium trim comes with good levels of standard equipment, including Bluetooth phone connectivity, heated leather seats, air conditioning and chrome trim. The Premium SE model adds 19" alloys, a panoramic sunroof and keyless entry.
In terms of running costs, this estate car is certainly not going to be causing you to raid your piggy bank anytime soon. The only engine on offer is a very frugal diesel, though the caveat is that the automatic transmission fares worse than the manual. While the latter returns figures of 46.mph and 161g/km of CO2, the former returns 42.2mpg and 177g/km of CO2.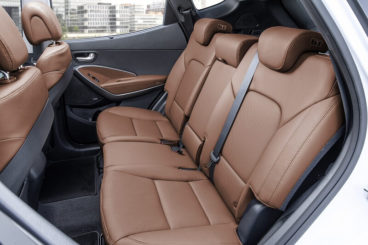 Our Favourite: Hyundai Santa Fe Sport
Now in its third guise, the Santa Fe is a serious contender in its sector. If you've thought about owning an SUV estate before but never taken the plunge, this could the one that finally tempts you. It's deliciously roomy, versatile, offers low running costs, and zero drama – which is perfect for families. The option of seven seats will also be very welcome to anyone with a large family, while it's more affordable than many of its competitors. Can the Hyundai Santa Fe make us believe in Santa again? Maybe. Just maybe.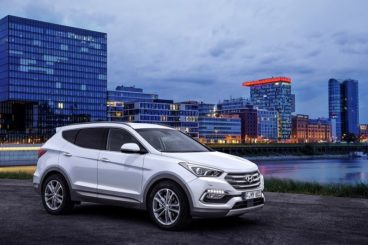 Latest posts by Will Titterington
(see all)