Review Of The Hyundai i30 Hatchback 
There are a lot of family car's on offer, and the Hyundai i30 Hatchback has a lot to do if it's to convince you it should be your next purchase. So how does a 7-year warranty, lots of safety equipment and a genuinely excellent motorway cruiser sound?
Yep, the i30 has lots of strengths for young families. There is an engine for everyone, it's handsome, and it fits nicely into the average UK family's budget.
OSV takes a closer look at what it's all about with our Hyundai i30 Hatchback review.
The Hyundai i30 won't thrill and excite you like a Ford Focus. It's more of a comfortable motorway cruiser that's totally chill. It leans a bit too much in corners, and its overly sensitive steering means there won't be much fun to be had.
However, despite feeling somewhat lifeless and inert, the i30 is just what you need on the motorway. It's composed and confident, and there are very little road and wind noise. Clocking up the miles on long stretches of road comes naturally. It's so well-planted that you'd think you were driving a BMW Saloon.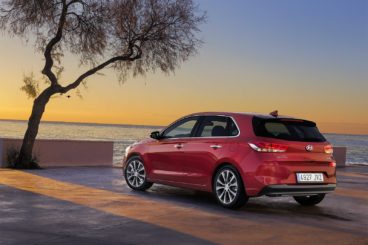 In terms of its engines, the small turbocharged 1.0-litre petrol engine is a lively one. It does 0-62 in 11.1 seconds, and will be enough for most buyers.
A turbocharged 1.4-litre 138bhp petrol engine has more mettle, though. It can get you from rest to 62mph in less than 9.0 seconds, and can overtake with ease on the motorway. It feels a bit dead at lower revs, but soon picks up momentum once you put your foot down.
The 1.6-litre diesel engine is the sole diesel power plant in the range. It's available in two separate power guises – 108 and 134bhp. The former does the 0-62mph sprint in 11.0 seconds, and the latter does it in 10.2 seconds. Those are pretty good times, and the engine goes about its business smoothly and quietly.
Hyundai i30 Hatchback Interior, Design & Build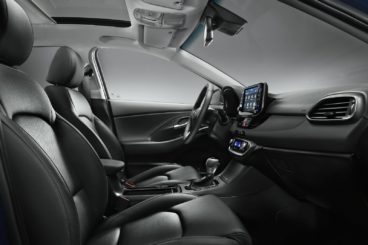 Remember when Hyundai's crafted poor-mans interiors that were flimsy and grey? In 2017, their cabins are almost upmarket.
The i30 is a case in point. The interior here is easily one of this car's strengths. Despite costing a lot less than an exec German car, there are soft-touch plastics aplenty and top-notch finishes. It's not as plush as some rivals, but the elegant design and robust dash are pleasing.
The car also comes with a brand new 8" touchscreen infotainment system that Hyundai have surely been dying to show off. It's only available with top-spec models, and looks awesome in the centre of the dash. It's compatible with both Android Auto and Apple CarPlay, and – according to Hyundai, at least – it "floats." We think it perches, but that's still good enough.
If we could have but one criticism, it would be a piece of horizontal trim that runs across the dash. It's aesthetically fine, but it feels hard and flimsy to the touch. It's a relic from a bygone era from Hyundai, and feels needless.
How practical the car is will really depend on what stage your family is at. For very young families, it's ideal. For families with older, bigger children, the room might be a bit tight. The driver and their passenger will be just dandy, but rear-seat space isn't excellent.
Teenagers, for example, will probably find that headroom is restricted.
Still, there are lots of storage spaces, so there's no way anyone can leave this car looking a mess. The central armrest comes with a storage space tucked beneath it, and the glovebox is fairly sized.
The boot, meanwhile, measures 395-litres. It's one of the largest in this class, and is well-shaped. It can be extended to 1,301-litres by folding the rear seats.
Equipment & Safety Of The Hyundai i30 Hatchback 
All cars are well-equipped as far as family cars go. The entry-level model gets LED running lights, 15" alloys, and all-round electric windows. It also gets Bluetooth phone connectivity.
The SE trim is our favourite, and adds 16" alloys, rear parking sensors and a 5" infotainment screen. The SE Nav model is good value, too, and comes with the classy 8" infotainment screen and sat nav. If you can gather together the extra grand it costs, we recommend it.
The Premium trims are luxury models. They add the likes of leather seats, LED headlights and a heated steering wheel. The range-topping model also chucks in a 4.2" driver display.
Whichever model you go for, Hyundai has made this a very safe car. Standard safety kit across the board includes auto-dipping headlights, lane-keeping assistance, and a fatigue warning system. Autonomous emergency braking is also in there, and this is key tech that all cars should have.
Costs Of The Hyundai i30 Hatchback
Prices for the new car start out from £17,150 and rise to £24,800. For more information on our leasing deals, check out our page here.
In terms of its running costs, the i30 is competitive. Even the 1.4-litre petrol – which is the least efficient engine in the range – can return 51mpg. The turbocharged 1.0-litre petrol, meanwhile, is good for 56mpg. These are very impressive numbers.
You can also add an Eco pack to specific petrol or diesel engines, which all further improve costs. The 108bhp diesel is one compatible option. The Eco Pack adds low-resistance tyres, and bumps the mpg figure up from 69 to 76mpg.
Pros and Cons Of The Hyundai i30 Hatchback
Economical
No petrol models return economy under 50mpg, and adding the Eco pack boosts efficiency significantly. If you're a high-mileage driver, it's worth adding.
Good Amount Of Standard Kit
All models are well stocked, and customers will be especially pleased with the amount of standard safety kit. The SE model, for example, gets front fog lights and a reversing camera.
Refined
Even at high speeds, the i30 is pleasingly refined.
Dull Drive
The driving experience is best described as "grown up." In other words, not much fun!
Cramped Rear Seats
It's a car for young families, but growing teenagers will be cramped in the rear.
Hyundai i30 Hatchback vs SEAT Leon vs Vauxhall Astra
Let's see how the car fares against its rivals in the comparison section of our 2017 Hyundai i30 Hatchback review.
Hyundai i30 Hatchback vs SEAT Leon
Easily one of the sexiest hatchback's of recent times, the SEAT Leon's rivals wouldn't stand a chance if we all bought cars based on how they looked alone. As it is, we don't. So what else does it have?
Quite a few things, as it happens! For starters, the SEAT Leon Hatchback is a kicking car to drive. It's got bags of power that complement its sporty looks, and it's more fun than the i30.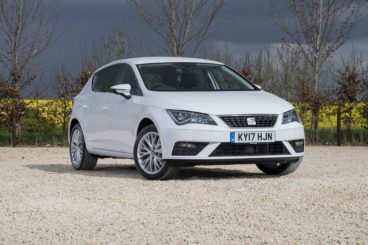 We wouldn't say that it's the sharpest or the most responsive of hatchback's, but it's got lots of excitement. Its steering is accurate, its brakes are strong, and its suspension is comfortable. As a bonus, its gearbox is one of the smoothest there is at this price point.
In terms of its engines, we'd recommend overlooking the 1.6-litre diesel engine. It'll please cash-conscious buyers with its good running costs, but that's its only USP. It's cheap to run, but lacks the oomph that makes the Leon what it is.
The 2.0-litre turbo diesel comes in two power guises and is a better bet. The 148bhp variant should be enough for most drivers. Just in case it isn't, there is an 181bhp variant on offer.
Three petrol engines are also available. The middle of the trio is a 1.4-litre unit, which we think is the top pick. It's got good acceleration, makes overtaking easy, and will suit families down to the ground. It's also economical, and can return 54.3mpg.
Those figures set the tone in terms of running costs, and the Leon's economy is very good in general. The 1.6-litre diesel is the most frugal, and can return an amazing 78.5mpg. As already mentioned, this is the car's USP. But surely you'll want more power. If so, the bigger, more fun 2.0-litre 148bhp is still economical, and can return 64.2mph. It also emits a mere 112g/km of CO2.
Inside, the cabin is nicely put-together. It's very family friendly, with its comfortable seats, swatches of space, and a good-sized boot.
There is also more quality than last time, too. It can't quite match, say, a Volkswagen, but it's easily on par with the Hyundai. The design of the dash is simple and straightforward, and the controls are easy to find and use. We like the touchscreen that SEAT have positioned on top of the dashboard. Such positioning makes it easy to see while driving.
The plastics are robust and should be able to cope with everyday family life on the road. Meanwhile, that aforementioned boot measures 380-litres. That's bigger than last time, bigger than a lot of rivals, but smaller than the i30's. It also suffers from a high boot lip.
Price:
Hyundai – £14,420 – £22,750
SEAT – £17,500 – £20,400
Hyundai i30 Hatchback vs Vauxhall Astra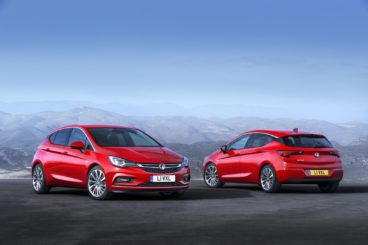 The new Vauxhall Astra can't quite match the SEAT for sex appeal, but it betters it and matches the i30 when it comes to driving fun.
This is the best Astra yet, and nowhere has it been better than in terms of how it drives. Provided you look at the entry-level engines, it's a very astute, very entertaining car.
It's helped in part by its weight-loss programme that Vauxhall put it on. Now lighter, it is able to accelerate more swiftly, and handles much more confidently. There is plenty of grip, the ride quality is good, and the steering is accurate if a tad light.
As a bonus, Vauxhall has softened up their sportier trim.
In terms of the engines, the diesels benefit from Vauxhall's innovative 'Whisper' technology. But although the 1.6-litre engine is quiet, we wouldn't quite go as far as saying it's reduced to a whisper. It's more of a hushed tone, but it is very refined.
The 134bhp variant is quick too, and does 0-62 in 9.0 seconds.
There are plenty of petrol engines to choose from. We cover them in greater detail in our main review of the Astra. But let's just say that you should avoid the base-level 1.4-litre 99bhp model. A 0-62 time of 12.6 seconds isn't great. And while you might convince yourself that's okay because you get to save some pennies, let's just say it's also old and inefficient.
The 1.0-litre 104bhp turbo petrol is much better. It does 0-62 in just 10.4 seconds, and is a super relaxed engine. It's affordable to run, too, and can return 64.2mpg. Moreover, it emits just 102g/km of CO2
.
Still, nothing beats the entry-level diesel when it comes to affordability, not even the i30. According to Vauxhall, it can return 85mpg and costs nothing to tax. Wow!
In terms of the Astra's interior, we really have nothing bad to say. Once again, Vauxhall has made all the right improvements. Soft-touch materials abound, and there is a really high-quality feel here. Access is easy, comfort is guaranteed for all, and the style is slick.
Vauxhall has kept up with the times, too, with their big touchscreen that dominates the dash. You can get it in either 7" or 8", and it's much easier to operate than it looks.
The Vauxhall Astra Hatchback is also a practical car. There is plenty of space for two adults in the back and either two more adults or three kids in the rear. Knee-room has been improved by 35mm, and the Astra's sloping roofline doesn't impinge on rear headroom too much.
The boot is the same size, and measures 370-litres.
Price:
Vauxhall – £16,500 – £25,200
Verdict Of Our 2017 Hyundai i30 Hatchback Review
The i30 has matured – but has it matured too much? The dashboard will be too conservative for some, while the dull driving experience will feel too grown up for others. Especially if you've already test-driven the Leon and Astra.
Still, this is a car for growing families, and being grown up can't be a bad thing. It's economical, safe, well-stocked, and has good refinement at speeds. The Hyundai i30 Hatchback won't rock your world but it's worth adding to your shortlist.
Request a call back from one of our Vehicle Experts
When you lease a car with OSV there are no hidden costs, request a call back and we'll find you a finance, lease or purchasing deal designed just for you.