Review of the Hyundai i40 Diesel Tourer
The new Hyundai i40 Diesel Tourer is a mid-sized estate car that's roomy, neatly styled and affordable to run.
It's aimed at families who aren't looking for an amazing driving experience, but who need all the essentials covering and who don't want to spend a small fortune. To that end, there's a lot to like about it. The question is, has it got enough to convince you to pick it over the usual suspects in this sector?
Read more about Hyundai's manufacturing history in our summary about the company from 1947 to the present day.
OSV takes a closer look at what it's all about with our 2018 Hyundai i40 Diesel Tourer review.
Overview of the Hyundai i40 Diesel Tourer
The car can more than hold its own on the motorway and it boasts some satisfactory dynamics. It's less assured out on the open road, and it's far from the sharpest car to drive in this market, however.
The biggest issue is its steering. It's too light and offers scant communication so that you never really know what's going on with the front wheels. Power steering is standard but it feels overly artificial, and this just makes the problem worse.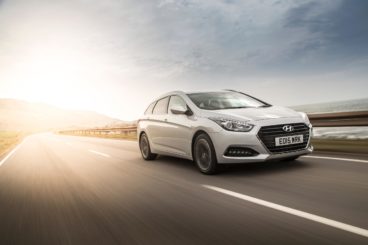 That said, there's no denying that this is a comfortable cruiser that eats up the miles with ease. The suspension setup, meanwhile, does a good job of smoothing out most road surfaces and body lean is sufficiently controlled.
In terms of its engines, a 1.7-litre diesel is available in two separate guises. The smallest of the two generates 114bhp and can cover the 0-62 dash in a modest 12.6 seconds. The engine responds fairly well, but many buyers will think it too slow. Moreover, it needs to be worked hard.
Rounding off the range is a 139bhp variant of the same engine. It's our top pick, and it covers the 0-62 sprint in 10.5 seconds if you stick to the manual gearbox. If you specify the automatic, that number climbs to 11.0 seconds flat.
Both engines are refined and smooth, but the smaller of the two requires more work and effort to execute an overtake. Conversely, the bigger of the two makes overtaking look like a piece of cake.
Hyundai i40 Diesel Tourer Interior, Design and Build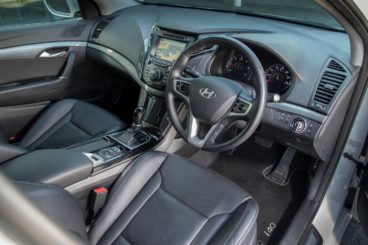 It's well worth pointing out that, while this car comes with a budget price, its cabin hardly reflects that. Hyundai haven't cut any obvious costs here. A stylish dashboard is a treat and it comes with a centrally mounted screen that dispenses with the need for too many buttons on the dash.
The buttons that are on show, are logically arranged and practically labelled.
Hyundai have even gone as far as using a fair amount of soft-touch materials in and around the cabin, although it can't rival the likes of Volkswagen on this front.
The car is comfortable and smooth on the move, while the driving position affords you excellent visibility.
Insulation is good too, with engine, wind and road noise barely getting into the cabin.
Is the Hyundai i40 Diesel Tourer practical? Its boot measures 553-litres and can be extended to 1,719-litres. These are impressive figures, even if they can't match the Skoda Octavia Estate. Its load lip is low and its opening is wide, but intruding wheel arches are a pain.
Other than that, four adults can sit in lots of comfort over long distances, and head and legroom is excellent. Five will be comfortable on shorter trips, and it's worth pointing out that the car's middle seat is bigger than most in this class.
The door pockets are nice and deep, the glovebox is big, and if you opt for the Premium model you'll be treated to a cooled glovebox.
Visibility is the only real issue, with a sloping, thick windscreen pillar causing a few blind spots.
Is Hyundai reliable? Read our honest and unbiased assessment of the manufacturer.
Equipment and Safety of the Hyundai i40 Diesel Tourer
Standard kit is generous across the range, with all models getting a stereo and CD player, electric door mirrors, front and rear electric windows, Bluetooth, automatic headlights, alloys and air conditioning.
The SE Nav model is our top pick. It costs an extra £2,000 and adds automatic wipers, a digital radio, an electrically adjustable driver's seat, front and rear parking sensors, electrically folding mirrors, twin-zone climate control, sat-nav and cruise control.
The SE Business model chucks in a reversing camera, keyless entry and ventilated leather seats, while the Premium model rounds things off with an electric tailgate and a glass panoramic sunroof. At almost £30,000, though, it's hardly a budget car anymore.
Safety-wise, the car bagged all five stars when it was put through its crash test paces by Euro NCAP. It scored especially well for child occupant protection (86%) and adult occupant protection (92%).
Autonomous emergency braking isn't available even as an optional extra, however, but the car's standard safety kit includes a pair of ISOFIX child-seat mounts, an electronic stability program, anti-lock brakes, whiplash-reducing headrests and 7 airbags.
Costs of the Hyundai i40 Diesel Tourer
Prices for the new car start out from £21,585 and rise to £29,585. For more information on our leasing deals, you can check out our page here.
In terms of its running costs, the 114bhp variant of the 1.7-litre diesel engine is able to return 67.3mpg economy on a good day and emits 110g/km of CO2. This gives it a BiK rating of 24%.
The bigger 139bhp variant of the same engine can return 65.7mpg at best and emits 114g/km of CO2 if you pair it up with a manual gearbox. It has the same BiK rating as the smaller engine. However, if you pair it up with the automatic gearbox, it returns 60.1mpg at best and emits 123g/km of CO2, which gives it a BiK rating of 26%.
Pros and Cons of the Hyundai i40 Diesel Tourer
Spacious
Its vast cabin was a major selling point 6 years ago. Although rivals have since caught it up, it's still able to offer a lot of interior space.
Economical
All engines are economical, especially if you stick to the manual gearbox.
Long list of standard kit
Its sheer amount of standard kit remains a real selling point of the i40.
Bit dull to drive
It's definitely not as entertaining as some rivals in this class.
Awkward boot
Wheel arches intrude, and they can be a pain.
Hyundai i40 Diesel Tourer vs Honda Civic Diesel Tourer vs Toyota Auris Touring Sport
Let's see how the car fares against its rivals in the comparison section of our 2018 Hyundai i40 Diesel Tourer review.
Hyundai i40 Diesel Tourer vs Honda Civic Diesel Tourer
The new Honda Civic Diesel Tourer was a bit of an afterthought for Honda. It was never meant to exist, but demand got to be so big and here it is.
There isn't much to choose from engine-wise. In fact, there are just 2 power plants available. One is a 1.6-litre i-DTEC diesel that develops 118bhp and has a 0-62 time of 10.3 seconds, and the other is a 1.8-litre VTEC petrol that generates 142bhp and has a 0-62 time of 9.5 seconds.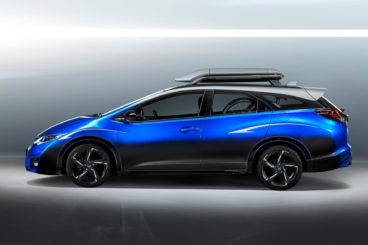 The diesel is a cracking engine that copes well with the car on a full load. It's also got your back when you're ascending hills and it's remarkably frugal. However, it also has a tendency to get bogged down at lower revs.
In terms of the way the car drives, it doesn't handle quite as well as last time, with Honda shifting focus onto comfort. Its steering is light, but it lacks feel and this can prove problematic if you want to hurl the car into corners.
Running costs? The 1.6-litre diesel can return a very impressive 74.3mpg at best while emitting 99g/km of CO2. The petrol engine, meanwhile, is miles off those numbers and scrapes 45mpg on a good day while emitting as much as 146g/km of CO2.
Inside, the Honda is smartly styled, robust and comfortable. It isn't as well-finished as some of its competitors, but it's functional and for some buyers, this will be all that matters.
Button clutter is a bit of an issue, but once you've acquainted yourself with everything it's a very liveable cabin.
Is the Honda Civic Diesel Tourer practical? Its 624-litre boot is the biggest in this class. It's also bigger than some in the class above and can be extended to 1,668-litres when you fold the rear seats.
A flexible seating system makes it easy to load in a bike, wide opening doors ensure easy access and head and legroom is good for all.
Price:
Hyundai – £21,585 – £29,585
Honda – £21,585 – £29,585
Hyundai i40 Diesel Tourer vs Toyota Auris Touring Sport
The new Toyota Auris Touring Sport sports a big boot, efficient engines and it can offer a comfortable ride.
On the road, the Toyota isn't a car for enthusiasts. This is very much what you could call a down-to-earth model that's focused on comfort and keeping costs down. There's a noticeable amount of body roll in bends while light steering will further prevent you from wanting to throw the car around.
In terms of its engines, there is no diesel available. There is, however, a hybrid model available and it's the liveliest one in the range. It can only be paired up with a CVT automatic gearbox, though, and it's a tad noisy.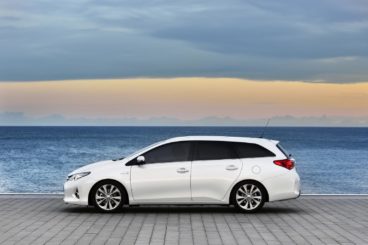 Alternatively, you could instead opt for a turbocharged 1.2-litre petrol engine that develops 114bhp and which has a 0-62 time of 10.4 seconds.
Running costs? Even without a diesel engine, the Toyota is economical. The hybrid is the most frugal model, and it can return as much as 80.7mpg on a good day and emits as little as 81g/km of CO2. This is with the smaller wheels; specify the bigger wheels and those numbers will change for the worse.
The petrol engine's numbers also vary depending on wheel size. The best it can return is 58.9mpg and the least it emits is 112g/km of CO2.
Inside, the Toyota is a very comfortable car, and this is one of its strong points. The hybrid's noisy gearbox ruins insulation somewhat, however,
On the other hand, interior quality isn't a match for the best in this class. It's well screwed together but there's a real lack of design flair in here that some buyers might find off-putting.
The dashboard is a no-nonsense affair; it's neat and tidy, robust, logically arranged and doesn't come with too many buttons.
Is the Toyota Auris Touring Sport practical? A 507-litre boot is big for this class, even if it's smaller than both the i40 and the Civic Tourer. Fold the rear seats and you can extend it to 1,635-litres.
Other than that, rear seat space is a bit cramped, and taller adults, in particular, will feel the pinch on longer journeys. It's not that much better up front, where space is average at best.
There are plenty of storage spaces here, there and everywhere, and these include a massive glovebox. Three power sockets are a bonus.
Price:
Toyota – £21,255 – £26,905
Verdict Of Our 2018 Hyundai i40 Diesel Tourer Review
The i40 has gone under the knife to bring it up to date with its rivals. It now looks sharper, its engines are more economical, and Hyundai have also shaken up its trim levels. All three models are well equipped, but as the brand push the car upmarket, its price levels have naturally risen with it. Is it worth it? The Hyundai i40 Diesel Tourer is a bold offering that's worth at least a test drive.
When you lease a car with OSV there are no hidden costs, request a call back and we'll find you a finance, lease or purchasing deal designed just for you.