Review of the Hyundai Tucson Premium SE
The new Hyundai Tucson is the latest small SUV to hit the UK car market; the result of a collaboration between Hyundai and friendly compatriot neighbours Kia. So, what did Kia get out of this bargain? Well, Kia got to put its Sportage SUV onto the market, a fine example of a small SUV, and seeing as it holds much in common with this new Hyundai Tucson, we think the omens are good for Hyundai. Let's find out if this South Korean duet produces another smash hit.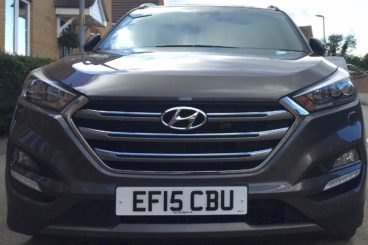 We've been rather spoilt with our test car because we've got the top-spec 'Premium SE' model complete with the most powerful engine on offer in the new Hyundai Tucson. It's a 2.0-litre turbo diesel unit producing 185PS and a beefy 400Nm of torque, which is more than enough for most needs – and if you're a buyer who needs to tow something, it's the one that makes the most sense. Acceleration is understandably impressive with this power under the bonnet, and the new Tucson will reach 62mph in just 9.5-seconds, not bad for a heavy-ish SUV. Economy isn't bad either but isn't exactly setting the world on fire. Expect around 40mpg and £180 a year road tax for this particular model.
The powerful 2.0-litre diesel propelled Hyundai Tucson Premium SE comes with two transmission options, a six-speed manual and the one we're testing – a seven-speed dual-clutch automatic gearbox. While it uses dual-clutch technology, it isn't the most responsive of units and can be a little bit frustrating. That said, an automatic does suit the feel of the Hyundai Tucson more than the manual, even if it isn't the best unit we've tested. Our advice would be to test drive both and see which one you prefer, or if you want to save some money, stick with the manual unit.
It should go without saying really, but new SUVs, like this Hyundai Tucson Premium SE, really are some of the most comfortable machines on the roads now. This new Hyundai Tucson Premium SE is no different, riding really well on the rugged roads of the UK and it's very easy to spend time travelling in. Comfort is very important in this sector, so it's good that Hyundai has cracked this aspect.
The same advice goes for the four-wheel drive system we've got in our Hyundai Tucson Premium SE. It doesn't exactly make the new Hyundai Tucson Premium SE jungle-ready, and you should think carefully before spending extra on a mechanical upgrade that only comes into its own in certain conditions. Those living in the countryside might find it beneficial during winter, but aside from that, we can't honestly recommend the upgrade.
Interior, Design, and Build
From the rear, the new Hyundai Tucson Premium SE looks a lot like its test-tube sibling the Kia Sportage, but from the front it is far more striking. Hyundai has gone with a large grill and angled headlight units to give it a really aggressive looking front end, one that's arguably just as handsome as any other small SUV on the market. It's sure to win over some fans, and looks great in the leafy suburban settings it will most likely call home.
Opening the doors will take you into an interior space that doesn't quite match up to the premium looking exterior design.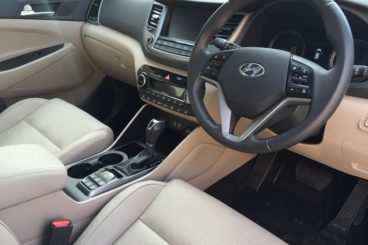 The materials are slightly lacking in quality and the overall design seems slightly dated, but this is still a Hyundai, so anyone expecting exquisite Audi-esque interior build quality is simply looking in the wrong place. That being said, we would expect a little bit more quality in a test car costing around the £32,000 mark.
So, while the interior quality might not be the best, it isn't the end of the world because this new Hyundai Tucson Premium SE feels really solid. It might not be glamorous, and it might not be all that impressive, but at least it feels like it can do some serious work for you. Yes, we've no qualms over the build quality here, but if that's not enough there's a five-year unlimited mileage warranty, too.
Aside from the colour, Hyundai has thrown out the options list entirely. Instead, the South Korean manufacturer believes that you should pick the trim level that suits you and your needs the best. There's S, SE, SE Nav, Premium, and Premium SE – like we have here. Which trim level gets what sort of kit can be a little complicated, so allow us to attempt to give you a little overview.
Touchscreen satellite navigation is available only on SE Nav and above, but there are USB connections, Bluetooth, and DAB radio across the range. Amazingly, the base 'S' model doesn't get parking sensors at all, but all other models get rear parking sensors.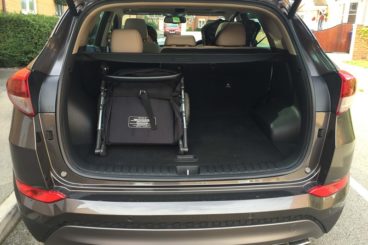 Step up to the Premium trim, onwards, and you get front sensors as well as rear. Premium level and above are also the only trims to get some extra safety equipment – autonomous emergency braking and blind spot detection. Only the Premium SE model gets luxuries like keyless entry, a heated steering wheel, and a parking assistant that helps the new Hyundai Tucson put itself into a parking space.
On the subject of space, the new Hyundai Tucson Premium SE has an impressive loading capacity – enough for a big pram or a couple of buggies and the weekly shop. Room virtually trebles in size when the rear seats are folded down – and the bay is almost flat, so it is quite simple to load. Carrying large objects or vast amounts of junk to the tip should be fairly simple.
Hyundai Tucson Premium SE: Cost, Pricing, and Leasing Rates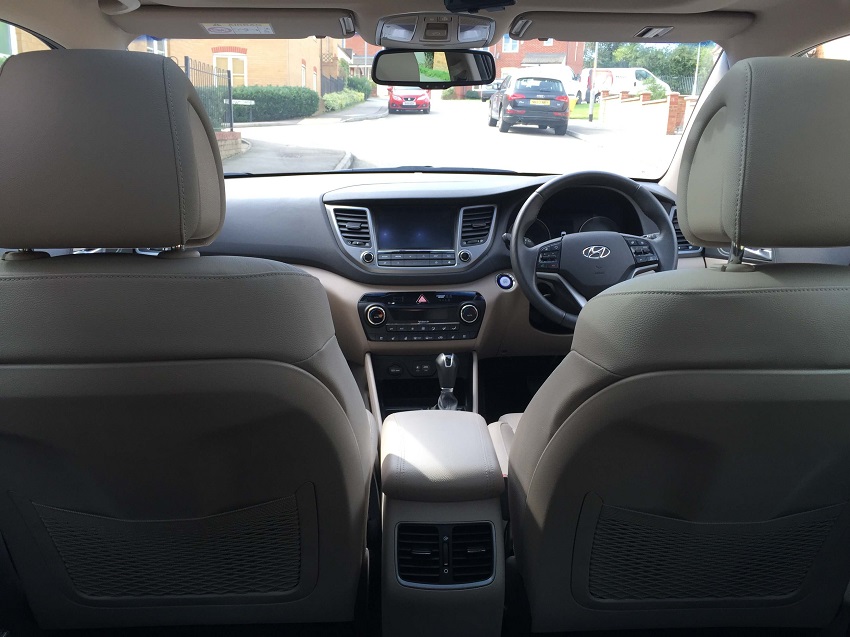 Business users always get the better deals when it comes to leasing, and a six-month advance payment should get you into a new Hyundai Tucson Premium SE for £260-300 a month. The Hyundai Tucson Premium SE has all the toys, comforts, and equipment you'll need, so it's the one to have, but private buyers will have to have a far larger budget in order to secure one.
Yes, private buyers will be looking at a six-month deposit and monthly payments of between £320 and £370 a month, and if your mileage is high, do bear in mind these figures creep up.
Pros and cons of the Hyundai Tucson Premium SE
Pro: Striking design
While the Kia Sportage played a dangerous game with new styling some have deemed suicidal, the design team at Hyundai played it safer with a bold but safe look. The result of this is a strong looking car that doesn't really stand out too much – and that's a pretty good balance for an SUV.
Pro: Powerful engine
It's not the quietest, but the 185PS 2.0-litre turbo diesel engine in this Hyundai Tucson Premium SE is a pretty strong performer. People who have something to tow around will love it, and the effortless overtaking potential is always useful to have.
Pro: Storage space
The new Hyundai Tucson Premium SE is a very practical car, with plenty of little spaces in the cabin to store phones, sweets, bottles, chargers and the rest. With lots of boot space to fill before you've even put the seats down, we're pretty confident the South Korean SUV will swallow most of the goods you need to get from A to B – or even A to Z!
Con: Disappointing interior
Okay, so we're not expecting anything spectacular, but the new Hyundai Tucson Premium SE really doesn't impress us inside that much. The leather seats are cool but the other materials feel quite cheap and the design is a little bit dated. That's pretty hard to take in a car that costs over £32,000 in this trim. Must try harder, Hyundai!
Con: Expensive
This applies to our test car more than anything else, but we think we've got a point. This top spec Hyundai Tucson Premium SE – which, let us remember, is the only way to get all of the toys and equipment as there's no options list – comes in at £32,700. Insert your rival car that can give the Tucson a bit of a bashing here.
Con: Sluggish automatic gearbox
While we praised the Hyundai Tucson Premium SE's engine for its power and smooth delivery, we must also criticise the gearbox for its occasionally lazy gear changes. So often an automatic gearbox can spoil the performance of a strong running engine, and that's the case here. It's not horrendous, but it's far from perfect, especially for a dual-clutch.
Hyundai Tucson Premium SE vs Nissan Qashqai vs Ford Edge Titanium
In many ways the Hyundai Tucson Premium SE is a fine SUV- especially for families. Yes, it has its flaws and a lot of good points, but how does it do against its two major competitors – the Nissan Qashqai and the Ford Edge?
Hyundai Tucson Premium SE vs Nissan Qashqai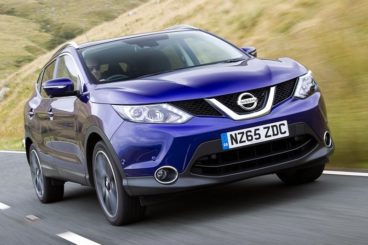 The Nissan Qashqai is the undisputed King of the small SUV segment. Over two-million of these Japanese money-makers have been sold since it was first released into the market. Families have snapped them up – they love them – and when you drive one it's quite plain to see why.
It's as simple to drive as a hatchback, for a start. It's easy to forget that when these cars first became available on the market, people thought they would be difficult to drive – cumbersome, heavy machines. It's only when they took a test drive in them that they found the opposite.
The Nissan Qashqai provides buyers with a commanding driving position, extra room, and a comfortable ride, all while being as simple to operate as a standard hatchback.
Nissan has another trick up its sleeve, too – its excellent 1.6-litre turbo diesel engine. It's not as powerful as the one we have on offer in our Hyundai Tucson Premium SE test car, but it is very smooth, quiet, and capable of impressive mpg figures. If you don't need the power, this might be the better choice.
There is something else to seriously consider here. The top-spec Nissan Qashqai starts at just over £25,000. That isn't just a small gap to the Hyundai Tucson Premium SE, that's a £7,000 gap. Considerably cheaper, and just as competent, so why spend more?
Prices
Hyundai Tucson Premium SE – £32,700.
Nissan Qashqai – £18,545 to £28,990
Hyundai Tucson Premium SE vs Ford Edge Titanium
Allow us to throw you a curveball. The new Ford Edge is an SUV that was originally designed with the US market in mind – you get the idea, it's a pretty large unit. But, because of the high price-tag of this particular Hyundai, and Ford's competitive pricing, the Ford Edge comes in at a similar cost in its very well packaged 'Titanium' spec. Do we have your attention now?
With the extra size comes the extra load capacity – 602 litres with the seats up, and a huge 1,847 with the seats down. If you're conscious about load space, the Edge has more than the Tuscon can offer. We're talking three prams or buggies in the boot, here – not two!
It also gives a very refined driving experience, thanks to some new noise-cancelling technology and films on the windscreens, and the diesel engine – another 2.0-litre turbo unit producing either 180PS or 210PS, depending on what you choose – is a quiet one anyway.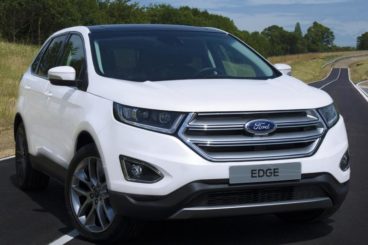 So, the new Ford Edge is as powerful, has more storage space, and has a better look to it. There's something to really consider here, so this curveball is really worth spending a bit of time looking into.
Prices
Hyundai Tucson Premium SE – £32,700
Ford Edge Titanium – £32,995.
Verdict of the Hyundai Tuscon Premium SE Review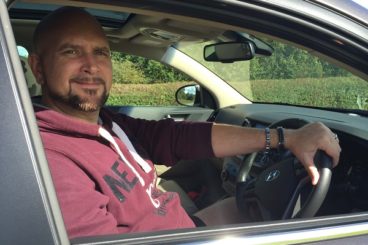 This is a complicated and highly competitive segment that the Hyundai Tucson Premium SE is doing just enough in to stay relevant. It's right in the middle of the SUV pack, failing to provide any overly convincing arguments to lease or buy, but also doing just enough to avoid being a poor choice.
The arrival of the Ford Edge adds an interesting dynamic to the SUV battle, as it is larger and more striking than some other rivals the Hyundai Tucson Premium SE will face up to. Meanwhile, the Nissan Qashqai continues to do what the Nissan Qashqai does best. It's not fancy, it's not particularly inspiring, but it is good to drive and provides a spacious, relaxing experience.
You don't have to spend £32,700 on a Hyundai Tucson, and we would suggest you don't. If you're going to buy a new small SUV, pick one of the lower trim levels to compare with the Qashqai, and work from there. If you really must spend over £32,000, then the Ford Edge is the new kid on the block, and will certainly draw attention, but we're not sure the driving experience matches the image. After that point, you're heading into luxury SUV territory – BMW, Audi, and Mercedes-Benz.
So the Hyundai Tucson Premium SE doesn't quite do enough to convince us it's worth the money; a high-spec Nissan Qashqai won't have the power, and won't be quite as big, but it will be considerably cheaper and just as good to drive.
Get in touch with a Vehicle Specialist Today!
Fill out the form below with your details, and one of our highly qualified specialists will be in contact within 24 hours.
When you lease a car with OSV there are no hidden costs, request a call back and we'll find you a finance, lease or purchasing deal designed just for you.