Infiniti Q50 Saloon vs Audi A4 Saloon vs BMW 3 Series Saloon Review & Comparisons
Fancy the Infiniti Q50 Saloon? In our review, OSV takes a look at the new Infiniti's pros, cons and compares it to …
Review Of The Infiniti Q50 Saloon
The Infiniti Q50 Saloon is dripping with quality. It looks smoking hot, boasts stacks of standard kit, and exec levels of comfort. If you want something different to all those German cars in the car park, it's well worth a test drive.
It can compete with them when it comes to performance and build quality, too. But has it got what it takes to beat them to the top of your shortlist?
OSV finds out with our 2017 Infiniti Q50 Saloon review.
The biggest problem here is that the Infiniti Q50 needed to be at least as exciting as a BMW behind the wheel. The brand themselves probably wanted you to salivate at the prospect of firing a Q50 up.
Unfortunately, they've let themselves down with the steering. There's just not enough feedback to get you involved here. Adaptive steering is a £800 option, but it just makes things even worse. Damn.
Seriously, Infiniti has done a bit of a botched job. They've added gizmos like distance control and lane-keeping assistance. Buy they prevent you even more from enjoying the car.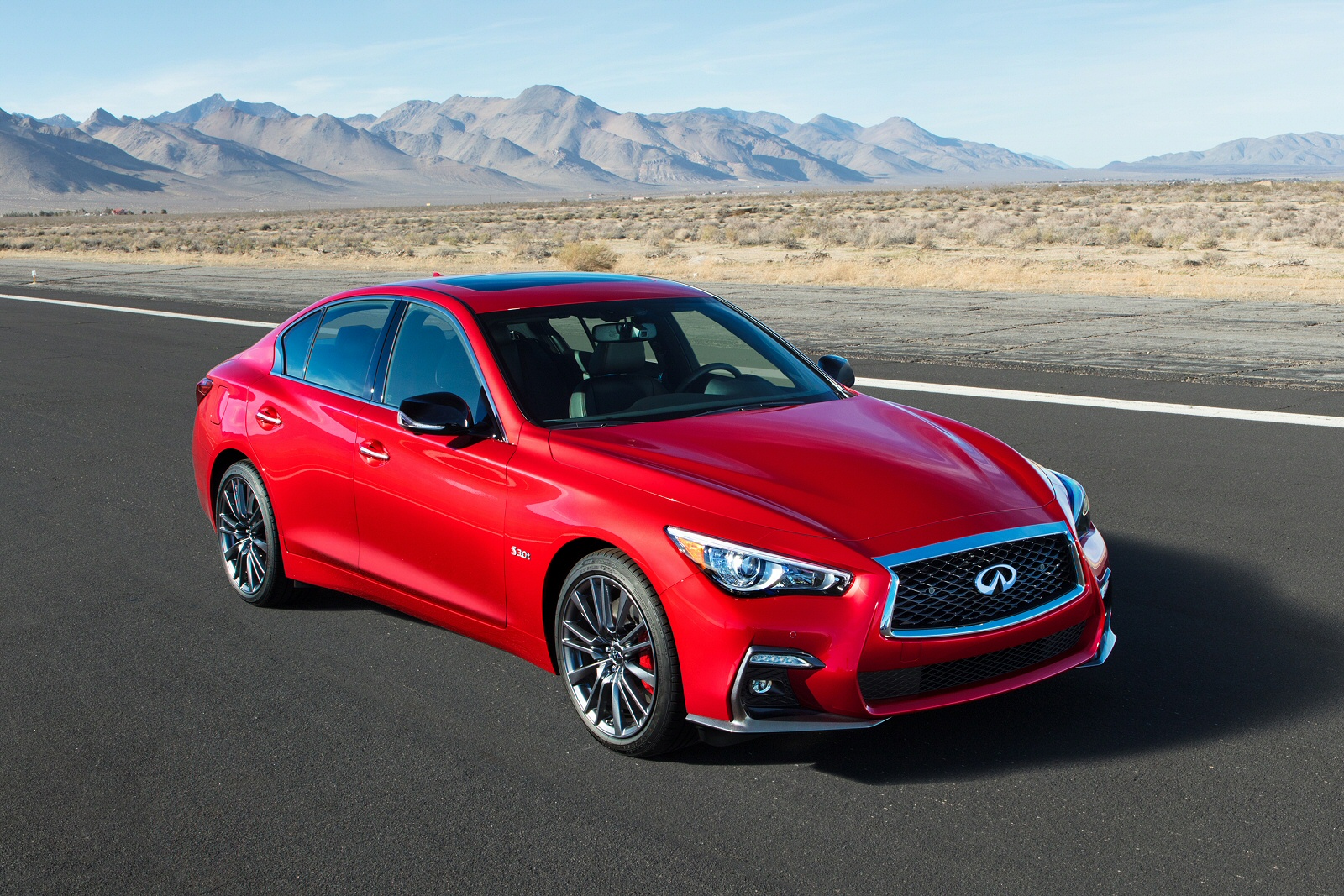 The sole diesel engine develops up to 168bhp, which is okay. It's sized 2.1, despite Infiniti badging it as a 2.2. It can get you from rest to 62mph in 8.5 seconds, and that's reasonable. It's not smooth or quiet, though, and doesn't match the car's levels of comfort.
The 208bhp petrol engine is a much better fit. It does 0-62 in 7.2 seconds, which is on par with what a rival BMW can do. However, you can't pair it up with a manual gearbox. Instead, you're stuck with the automatic, which at times shifts without much accuracy. Hmm.
A turbo 3.0-litre 399bhp is the one to get excited about. Muscular and powerful, it does 0-62 in just 5.1 seconds. If you want the exact same power and 0-62 time but don't want the high running costs, a hybrid model nicely rounds the range off. You can get it with either two or four-wheel-drive, and it can operate on just electricity at low speeds.
Infiniti Q50 Saloon Interior, Design & Build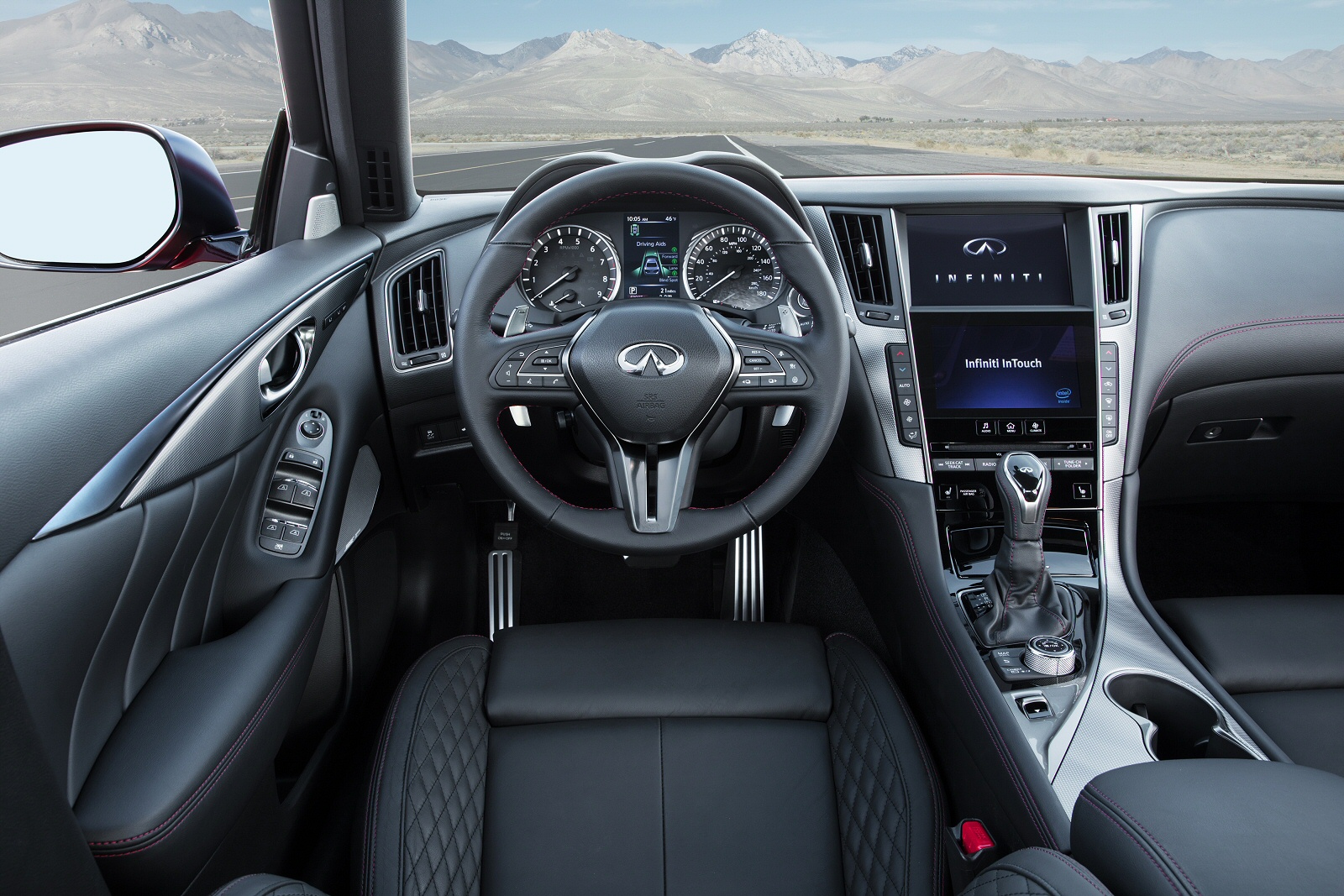 The interior is a pleasant, even luxurious place to be. It's well-insulated thanks to a neat noise-cancelling system, and manages to cut out engine noise at start-up. The harder you accelerate, though, the noisier things get. The four-pot diesel is a gruff one, and wants to make itself heard! Both the hybrid and petrol models, though, are smooth and quiet.
The suspension has been fine-tuned so that you're comfortable most of the time. It's a bit on the firm side, but you'll notice minimum vibrations.
The handling hasn't been helped by a steer-by-wire system, but this ensures that there is no kick-back if you crash over bumps and lumps. It's a strange sensation – or lack of – and some of you may not like it.
There is a tonne of high-tech kit included in here. Two touch screens dominate the centre console and dashboard. One is an 8" screen, the other is a 7", with this latter controlling your sat nav and other secondary functions. It's a bright screen, and both are super responsive. The only caveat is that they come with a glossy finish that will highlight your fingerprints!
The Infiniti Q50 Saloon is a practical car. Its 500-litre boot is bigger than most of its rivals, and there is lots of interior space. The back seats are especially spacious, and three adults can sit in comfort. These rear seats easily fold for more luggage space, and the Q50 also comes with a ski hatch.
If you want, you can opt for a steering system that allows you to adjust the speed and weight of the wheel. This proves especially helpful in towns and cities. Adjustment is not lightning quick, however, and it won't be of help when you need to park super fast.
Equipment & Safety Of The Infiniti Q50 Saloon
The entry level model is actually more expensive than its German rivals. You get a more standard kit, though, including air conditioning, a rearview camera, parking sensors, and a pair of touch screens. The Premium trim adds full leather upholstery, and represents better value for cash than the 3 Series.
Its standard safety kit is a bit less impressive. Euro NCAP gave it 81%, and while it gets 6 airbags, the entry-level Q50 misses out on the Safety Shield Pack. This is a key safety pack that comes with automatic emergency braking and a few other crash mitigation systems.
Costs Of The Infiniti Q50 Saloon
Prices for the new car start out from £30,000 and rise to £49,000. If you prefer to lease, you can pick up a deal from as little as £290 + VAT per month. For more information on our leasing deals, check out our page here.
In terms of its running costs, the Infiniti Q50 fares surprisingly well. The 2.1-litre diesel engine can return 65.7mpg economy, and emits 114g/km of CO2. That's not too bad at all. Its relatively low asking price and manual gearbox further boost its appeal.
The hybrid is surprisingly inefficient, and returns 46mpg economy at best. It also emits almost 140g/km of CO2, and is even less environmentally friendly if you add four-wheel-drive. In financial terms alone, we're struggling to make a case for it.
Moreover, the turbocharged 2.0-litre petrol is only a tad more expensive to keep on the road, and averages 43.5mpg.
Pros and Cons Of The Infiniti Q50 Saloon
Lots Of Room In The Back
The Q50 can easily compete with its German rivals when it comes to legroom. Backseat passengers will enjoy the luxury of being able to stretch out.
Stylish
It might be the left field choice, but it looks the part. Suave, eye-catching and edgy.
Refined
Even at speed, refinement is good.
Vague Steering
The steering is too vague and offers a little feedback. As such, you might lose your nerve in corners.
Cabin Feels A Bit Cheap
If the Q50 was to be a proper rival to the German's, it's cabin had to be more upmarket.
Infiniti Q50 Saloon vs Audi A4 Saloon vs BMW 3 Series Saloon
Let's see how the car fares against its rivals in the comparison section of our 2017 Infiniti Q50 Saloon review.
Infiniti Q50 Saloon vs Audi A4 Saloon
The new Audi A4 Saloon has one of the smartest interiors in this market. It's more comfortable than last time, and it's also less expensive to run.
Last time around, a major criticism of the A4 was that its performance and handling just wasn't up to scratch. It's improved on both counts, and can now boast sharper steering and more powerful engines.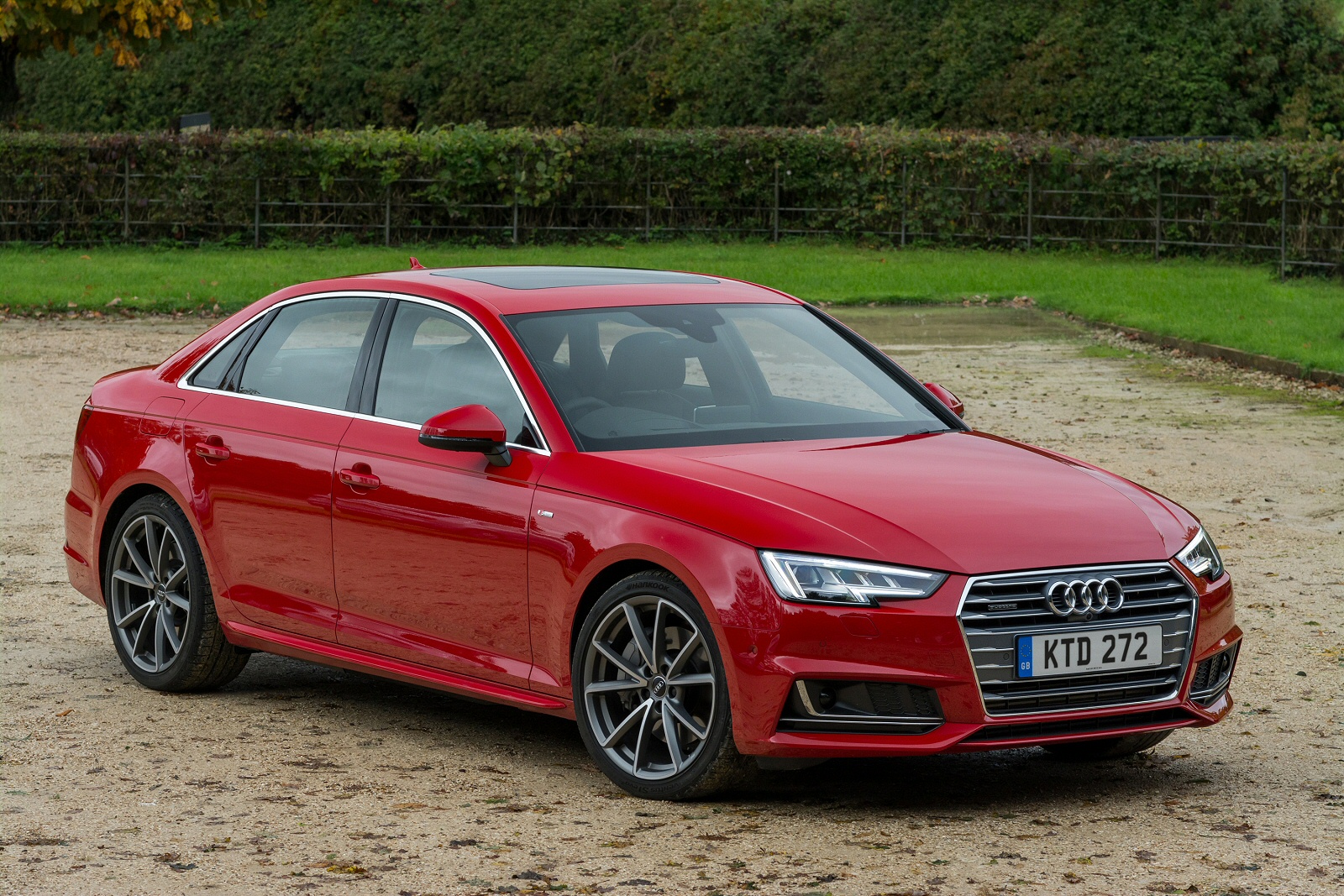 It's more agile, too, though active steering doesn't improve anything – we suggest you avoid it.
In terms of the engines, the range is bigger than before. A 1.4-litre turbocharged petrol engine kicks things off, but with just 148bhp it's probably worth overlooking,
Tastier is a turbocharged 2.0-litre TFSI petrol engine that comes in two power guises – 187bhp or 249. The less powerful can do 0-62 in 7.3 seconds, while the 249bhp variant does it in 5.8 seconds.
There are also four diesel engines to choose from, which kinda makes Infiniti's lack of choice embarrassing. The 2.0-litre diesel will probably have enough for most buyers, and can smoothly deliver up to 187bhp.
But it's the 3.0-litre V6 diesel that's the most eye-catching. Producing 268bhp, it can launch you from rest to 62 in just 5.3 seconds.
The most affordable model to run is the 2.0-litre diesel in its least powerful guise. It can return a hugely impressive 74.3mpg, and is free to tax. In terms of emissions, it's class leading.
The petrol engines will obviously be more expensive to run. But Audi claims that even their turbocharged 2.0-litre TFSI is good for the economy of 55.4mpg.
Inside, there aren't many interiors that are better built than this one. Not only is build quality impeccable, but the design is slick and the cabin is filled with advanced tech. The design isn't as flashy as, say, a Mercedes, but the minimal aesthetic is easy to the eye.
Audi has also blessed the A4 Saloon with their Virtual Cockpit, which is shared with the TT. This means that only two buttons remain on your dashboard.
Practically speaking, there is more interior space than last time. The car has been redesigned so that both front and rear passengers have more leg and headroom. The dimensions have also been extended, and the A4 is longer and wider.
The boot remains the same size, but since it already measured 480-litres, that's no bad thing. Folding seats come as standard, but loading bigger items is a bit of a pain thanks to a high lip.
Price:
Infiniti – £30,000 – £49,000
Audi – £27,200 – £44,800
Infiniti Q50 Saloon vs BMW 3 Series Saloon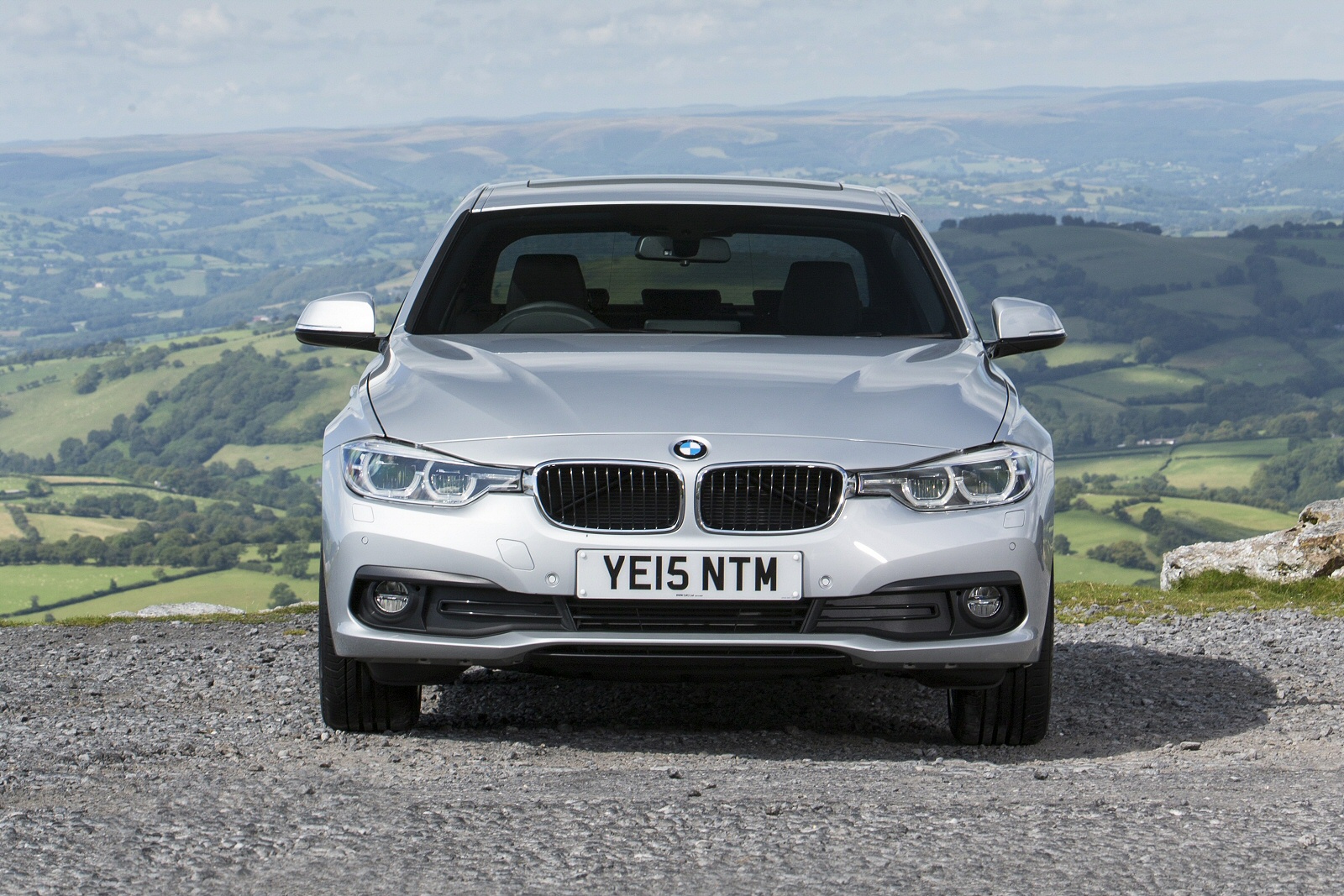 The new BMW 3 Series Saloon should be at the top of anyone's shortlist who is looking for a small exec car. For a good few years it's been the car to beat. Can the Q50 knock it off its perch?
In terms of out-and-out driving ability, the 3 Series wins. The steering is well-weighted, there is plenty of grips, and the suspension is nice and firm. It all means that the BMW is the most entertaining car to drive in this sector.
However, to get the best out of it you'll need to add the optional adaptive dampers. They boost ride quality and body control.
The engine range kicks off with a 1.5-litre 318i petrol model. Although it's the entry level model, it comes up a good amount of performance. 0-62 is taken care of in 8.9 seconds, and delivery is smooth. It's also satisfyingly quiet.
The 320i is well over a second quicker, while the BMW 330i does 0-62 in just 5.9 seconds. But these engines might be too quick if you're looking for a car to nip to the shops and pick up your kids in
The diesels are no slouches, either. The BMW 320d does 0-62 in 7.5 seconds, and is our pick of the range. It's quick, and it's also affordable to run. And while it grumbles in traffic that stops and starts, it's mostly smooth.
It also comes with four cylinders and softer suspension.
And just so we're clear, the economy is 74.5mpg, which is competitive with the A4. It's also significantly more affordable to run than the Infiniti. All diesel's that cost less than £40,000 will set you back a reasonable £140 a year in road tax.
Inside, the sort-of-wraparound dash is well-arranged, and has a very driver-oriented feel. The dials and controls are angled towards you, while the centre console is placed up high. Everything is easy to read and operate, and each model comes with a dash-mounted colour screen. From here, you can control the 3 Series' major functions.
It's a fairly practical car that's no bigger or smaller than the A4. However, it doesn't have the last word in practicality, and will feel smaller inside than, say, a Passat.
Still, this is the biggest 3 Series produced. It's got more head and legroom, plenty of handy storage spaces, and a 480-litre boot. That's the exact same size as the A4's, though both are smaller than the Infiniti's.
Price:
BMW – £26,800 – £42,100
Verdict Of Our 2017 Infiniti Q50 Saloon Review
If the time has come for you to opt for something different to the usual suspects, the Q50 is the best alternative choice. It's a gorgeous, eye-catching saloon that's right at home on the motorway, and which is stuffed with high-tech toys.
It doesn't drive as well as its rivals, and its cabin is not quite as swanky. But if you dare to be different, the Infiniti Q50 Saloon is an excellent choice.
Request a call back from one of our Vehicle Experts

Will Titterington is a freelance writer, video editor and all-round content creator based in Manchester, UK.

He believes that words can take on a transformative aspect and wants to help people make better decisions today.

His influences as a writer include Hunter S Thompson and Jack Kerouac, while among his interests outside writing are music, art, foreign films and football.

He'd one day like to own a Tesla, and still holds a candle for the Ford Capri.

Latest posts by Will Titterington (see all)