Review of the Jaguar I-PACE Estate
The new Jaguar I-PACE has to be the most exciting Estate car on the market right now. In fact, it doesn't even look like an Estate, but there's a clear method behind this compelling, futuristic design – and it's Jaguar's first ever electric car.
It's built on what the brand call a skateboard platform, which is the platform that will underpin all future Jaguar electric cars. With muscular looks, a range of almost 300 miles and 396bhp, this is a fascinating proposition.
Jaguar started manufacturing motorcycles just after World War I, they have an interesting history. Read more of Jaguar's story in our brief history of the quintessential British car manufacturer.
OSV takes a closer look at what it's all about with our 2018 Jaguar I-PACE review.
Overview of the Jaguar I-PACE
Jaguar have set a new benchmark for electric cars here, with the way the I-PACE performs in bends, unlike anything that's come before it.
A pair of electric motors power the car. Each one sits on either axle and they combine to produce 396bhp and come with four-wheel drive.
This isn't the fastest car in its sector but it's less about straight-line speed and more about stability, composure and precision.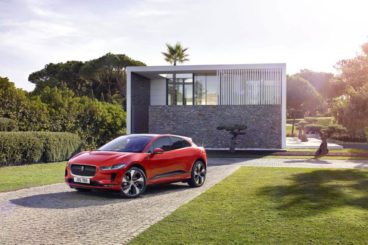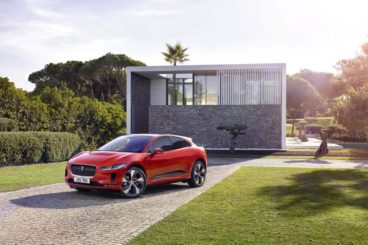 The steering can actually be a bit inaccurate at times, but it weighs up fast in bends and gives you enough confidence to drive the car with enthusiasm.
Body roll is practically non-existent, and this is a massive bonus when you consider how big and heavy the car is (it weighs more than two tonnes!).
The electric motors constantly shift power between the wheels so that you've always got as much grip as you need to take on corners, while the suspension is set up in such a way that the car never loses balance each time you change direction quickly.
One criticism is the brakes. Brakes aren't the strong suit of electric cars in general, and that's the case here. The pedal feels a tad too soft for our liking and firms up too artificially. Still, the car comes with regenerative braking that means you won't actually be using the brakes too often.
In terms of the engine itself, the I-PACE has a 0-62 time of 4.8 seconds which makes rival petrol or diesel powered cars seem slow. That said, there are faster cars in this sector, although this one feels mighty powerful indeed.
Are Jaguars reliable? Read our balanced look at the luxury manufacturer.
Jaguar I-PACE Interior, Design and Build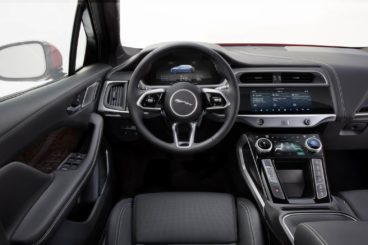 The car's interior is nice and smart and all trims are well equipped. The ride is our biggest criticism – it's too harsh for a car like this. Especially at low speeds, you will feel it when you travel over poorer surfaces. Air suspension is available as an optional extra and well worth considering.
The dashboard is modern and easy on the eye. It's also conventional and doesn't look like it belongs in a futuristic electric car. Some buyers will appreciate this conventionality, while others might have preferred a bit more imagination.
Still, this is a luxury car first and foremost, so it was probably asking too much to except Jaguar to stray too far from their blueprint.
Is the Jaguar I-PACE practical? This is where it really needs to impress and it's actually bigger than it looks inside. Due to its shape, headroom is good and there's no transmission tunnel to annoy anyone sat in the middle. As such, five adults can travel in relative comfort, at least on shorter trips.
There are plenty of useful practical touches in here, including 6 USB ports and 3 12v sockets.
The boot meanwhile, measures 656-litres. That's impressive and you can extend it to as much as 1,453 litres by folding the rear seats. The boot folds totally flat and if you need more space, there's a further 27-litres available under the bonnet.
Equipment and Safety of the Jaguar I-PACE
There are three trim levels available, starting with the entry-level S model that comes with the likes of a rear camera, cruise control, a digital radio, sat nav, a ten-inch touchscreen, sports seats, LED headlights, and 18″ alloys.
The SE model adds bigger 20″ alloys, leather upholstery, auto-dimming power folding wing mirrors, a power tailgate and LED headlights with daytime running lights.
The HSE model rounds things off with Windsor leather upholstery, matrix LED headlights, gesture-controlled tailgate and bigger alloys.
Safety wise, the car hasn't yet been crash tested by Euro NCAP. However, Jaguar is a very safe brand whose other cars all score 5-star safety ratings. Standard safety kit here includes a rear traffic monitor, emergency braking, driver condition monitor and lane-keeping assistance.
Costs of the Jaguar I-PACE Estate
Prices for the new car start at £24,995 and rise to £32,595. For more information on our leasing deals, you can check out our page here.
In terms of its running costs, the I-PACE might be expensive to buy but it's super cheap to run. It emits zero CO2, has a BiK rating of just 13% (the lowest possible), and it's exempt from the London Congestion Charge. That said, because it has a price exceeding £40,000, you will need to pay a surcharge of £310 each year between years 2 and 6.
Jaguar claim that the I-PACE has a range of 298 miles, which is one of the best in this class. For the sake of comparison, the Tesla Model X has a range of 259 miles in standard guise.
Also according to the brand, it takes just 40 minutes to restore a depleted battery back to 240 miles of range if you use a 100kw charger.
Want a great deal on a Jaguar I-PACE Estate?
You could be driving away with your new car in no time. Fill in your details below and one of our vehicle experts will be in touch within one working day.
Pros and Cons of the Jaguar I-PACE Estate
Fantastic range
Jaguar quote almost 300 miles, which is super impressive.
Great to drive
It's no exaggeration to say that this is perhaps the best electric car to drive so far.
Looks great
There's always a worry that EV's might look a bit weird, but this one just looks awesome.
Firm ride
It's not the most comfortable Jag ever, which is a bit of a shame.
Poor infotainment system
It's dated and not as intuitive as rivals.
Jaguar I-PACE Estate vs Tesla Model S vs BMW i Vision
Let's see how the car fares against its rivals in the comparison section of our 2018 Jaguar I-PACE Estate review.
Jaguar I-PACE Estate vs Tesla Model S
The new Tesla Model S was supposed to be the stuff dreams are made of – the quintessential fast electric sports car. But is it?
It's certainly one heck of a good looking car, and it's also very fast. On the road, it's got the I-PACE on toast, with the entry-level Model S able to whirl you from rest to 62mph in 4.2 seconds.
And if that isn't quick enough, you can always upgrade to the P100D model that has an astonishing 0-62 time of 2.5 seconds.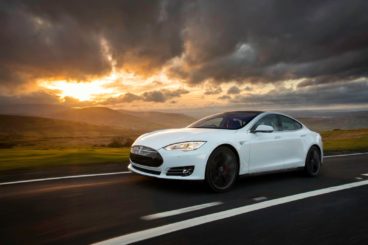 An electric motor backs the Model S, and if it wasn't already clear that this is a special electric motor, let's make it clear – this is a very special electric motor. It's quiet and powerful and offers an unrivalled driving experience.
The Model S weighs over two tonnes, but thanks to a floor-mounted battery pack it actually has a really low centre of gravity. There's lots of grip on offer, four-wheel-drive is standard, but if we can have a criticism, it's that the lack of steering feel ultimately means that this electric car isn't as fun to drive as a conventionally powered sports car.
Running costs? This is a cost-effective car that can be charged from your own home via an electric socket. The 100D model has a claimed range of well over 324 miles, (the official range is 393 miles!) but 324 is the ballpark you should probably be aiming for in real-world conditions. That said, it's a variable figure that can go up and down.
On the whole though, the Model S can claim a greater range than the I-PACE, and indeed any other electric car.
Inside, the Model S has a real upmarket look and feel to it. It's loaded with lots of tech, while wood, zinc and leather have been used extensively.
A 17" colour touchscreen is standard on all models, and it's so big that it's really easy to operate. That said, the lack of physical buttons won't be to all tastes, and neither will the fact that Tesla have been a bit cheap with some of the materials. We would argue that the Jag is better built.
Is the Tesla Model S practical? It's got more interior space than the I-PACE and more luggage space than any of its rivals. This is a deep and long boot that measures some 894-litres, although a high lip will frustrate. Fold the rear seats and it has a total capacity of 1,795-litres.
Other than that, everyone is treated well in this car, with those in the back even getting their own air conditioning controls! Legroom, meanwhile, is awesome all-round.
Price:
Jaguar – £62,925+
Tesla – £67,635 – £127,135
Jaguar I-PACE Estate vs BMW i Vision
The new BMW i Vision is comfortable and just as striking as the Jag.
It looks dramatic and drives quite dramatically too. It's a sports car at heart, and it's just as fun as you'd expect a BMW to be. Drivers can switch between 3 driving settings, with the Sport setting turning the car into a bit of a monster. The dials on the dashboard turn red, and the petrol engine combines with the electric motor to pin you to the seat with a 0-62 time of 4.4 seconds.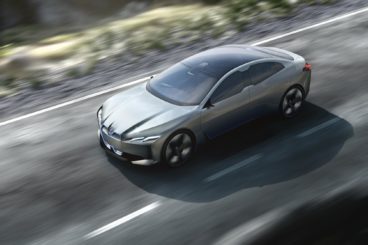 For enthusiasts, it's a tad disappointing that the car's 1.5-litre engine isn't as vocal as, say, a V10 but performance is on par. The i Vision responds in an instant once you jab the accelerator, and the sound – while no V10 – is still pretty explosive.
Four-wheel-drive is standard, and because the car doesn't weigh too much it feels nice and nimble.
Running costs? BMW claim the i Vision can return as much as 134.5mpg economy, which seems faintly ridiculous from a sports car. Meanwhile, the electric motor has a projected range of 23 miles at speeds reaching 75mph, which means there'll be plenty of times when you don't even need to engage the petrol engine.
Inside, the i Vision's cabin is just as striking as its exterior. The good news is that it's also still user-friendly and – in typical BMW fashion – the controls are all logically arranged.
That said, the dashboard sports a radical design that not all buyers will appreciate. If you want your electric car to look traditional inside, you'll be better off with the I-PACE.
As ever with a BMW, a wraparound dashboard is all present and correct, as is the brand's excellent iDrive system. An array of blue accents help to distinguish this electric model from conventional models in the brands line up.
Is the BMW i Vision practical? Not exactly. Indeed, this is where it falls short of the Jaguar. Access is tricky thanks to the low roofline, and once rear seated passengers are in, they'll find that space is at a premium back there.
Those upfront have it slightly better, but if we were to describe the two front seats as 'snug' it's up to you to interpret that as you wish.
The boot meanwhile, measures a meagre 154-litres which makes the i Vision by far the impractical choice.
Price:
BMW – TBC
Verdict of our 2018 Jaguar I-PACE Estate Review
Auto Express have named it their car of the year and for good reason – this isn't just an excellent electric car, it's an excellent car. It's not a gimmick or a flash-in-the-pan but a commanding, powerful, fast, luxurious family car. More than anything else, the new Jaguar I-PACE Estate is exciting.
Tesla who?
Want a great deal on a Jaguar I-PACE Estate?
You could be driving away with your new car in no time. Fill in your details below and one of our vehicle experts will be in touch within one working day.
When you lease a car with OSV there are no hidden costs, request a call back and we'll find you a finance, lease or purchasing deal designed just for you.