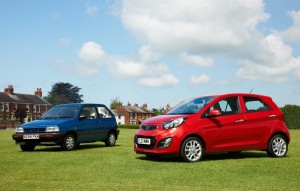 Only yesterday I was stuck behind a Kia in traffic thinking how far the manufacturer has moved forward since its UK introduction. Today we've received a press release from Kia reminding me that event came 20 years ago today, coincidentally.
The Kia Pride, based on the Ford Festiva/Mazda 121 of the time, was the brand's first car in the UK back in 1991 and in that year found 1,781 customers.  The name soldiered on until 2000, by which time the Korean brand had been taken over by Hyundai.
The appointment of Peter Schreyer, the chap behind the Audi TT, as Chief Design Officer in 2006 moved the brand on from value for money appliance manufacturer (think the Biko of the automotive world) to a maker of good looking and, still, great value cars.  A seven year warranty on all new cars, a first, further reinforced Kia's image as a serious contender.
The Hyundai/Kia group is now the fifth largest car manufacturer in the world, closing in on Ford in 2009 (who it may well have passed last year due to the US company's woes and disposal/closures of some brands).  How things change.
All this comes in the same month that Kia launched the new Picanto supermini in the UK, the modern day equivalent of the Pride.
Kia has certainly come along way and has become more popular with drivers.  OSV have excellent Contract Hire rates on the whole of the Kia range.  Contact our sales team for details or visit our website for new and used Kia's for sale or on finance.
To keep fully informed of the latest motoring news, test drive reports and car reviews, follow us on Twitter, connect with us on Linkedin or like us on Facebook.

Latest posts by Debbie Kirkley
(see all)