Review Of The Kia Optima Diesel Sportswagon
Two facts: Estate cars have never looked so good, and Kia's have never looked so good. The new Kia Optima Diesel Sportswagon is stylish, smooth, and cheap to run. What more can you want from Kia's first foray into the family car class?
The Estate car is largely dying, but the SUV hasn't stomped it to death just yet. And gunning for one last hurrah is the Optima Sportswagon. It's not as practical as an SUV, and hardly as versatile. But if lengthy, spacious family cars are your thing, it's gotta be well worth a look.
OSV takes a closer look at what it's all about with our 2017 Kia Optima Diesel Sportswagon review.
Kia don't really do fun. They never have, and unless you can afford the range-topping GT models, they probably never will. Instead, they're a brand focused on delivering comfortable and capable family cars. And this is something they do well.
In terms of comfort, smoothness and refinement, the Optima SW gets the thumbs up. And in reality, these are the three things all families look for in an Estate's driving experience.
So far, a massive success, then.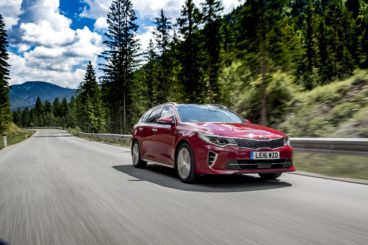 And as mentioned, if you do want something sportier, the GT model is for you. It's been tweaked by the engineer who oversaw the development of BMW's M division. Excited, much?
Other than that, all Optima SW's benefit from sharp responses and a suspension setup that deals well with broken roads. Excess body lean is still an issue, but the car makes for a great cruiser out on the motorway.
It's also worth elaborating on the suspension setup. Kia have modified it so that it deals well with the Sportswagon's extra weight at the rear. The saloon variant doesn't have this issue.
In terms of the engines, there is only one available. It's a 1.7-litre CRDi diesel unit that develops 139 bhp. That's enough to give you plenty of punch when you need it, but it doesn't feel the quickest out of the traps. It does 0-62 in 10.0 seconds if you opt for the automatic model, and 9.8 seconds with the manual.
The automatic gearbox is an innovative little thing in that it lets you flick through the gears manually when you want. The manual transmission, meanwhile, is accurate and good to use.
But perhaps the biggest advantage the automatic has is that it comes with the driving mode selection function. This lets you switch between Normal, Eco and Spot, depending on your mood or the conditions. Switching between the modes changes how fast the car is, but truth be told the manual 'box is more fun.
Kia Optima Diesel Sportswagon Interior, Design & Build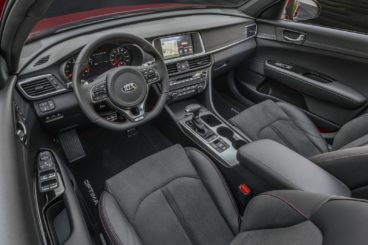 Kia's have never looked better, especially inside. The cabin is smart and stylish, and benefits from some high-tech. Everything is well-appointed, and just as classy as the Optima Saloon. The only difference is that this is more practical.
The dashboard is shared with the Saloon variant, which means it's tilted towards the driver. It comes with a 7" infotainment screen if you choose the entry-level model, but an 8" screen is standard on the 3 trim models. The screen is used to control most of the cars' functions, which means button clutter isn't an issue.
Interior space shouldn't be an issue, and four adults will be able to travel in comfort. You can add a fifth, but that means some unfortunate soul will have to deal with the raised middle seat.
Storage spaces are plentiful and include a fold-down rear armrest and a cooled glovebox.
The boot is hit and miss. It has 552-litres of space, which sounds good on paper. But there are bigger boots in this class. Still, there are smaller ones too, and you can fold the rear seats to extend the boot to 1,686-litres. A low load lip and wide tailgate are also bonuses.
Equipment & Safety Of The Kia Optima Diesel Sportswagon
Standard kit is generous across the range, starting with the 2 model (the traditional Kia 1 model has been ditched). It comes with the aforementioned 7" infotainment screen, front electric windows, cruise control and air conditioning. It also gets power-folding heated mirrors, a leather steering wheel, DAB radio, Bluetooth and MPV connectivity, and USB ports.
The 3 model adds an 8" infotainment screen, 18" alloys, lane-keeping assistance and rear electric windows. It also adds heated front seats and faux-leather sections.
The GT-Line S tops the range with a 360 degree parking camera and blind spot monitoring. Also thrown in is black leather upholstery, heated rear seats, and rear cross-traffic alert.
As is clear, the GT-Line S model is safety-conscious. But with the Saloon variant scoring all five stars when it was crash tested by Euro NCAP, we expect the Optima SW to be a safe car whichever model you choose.
Standard safety kit across the range includes a tyre-pressure monitoring system, electronic stability control, anti-lock brakes, and hill-start assistance.
Costs Of The Kia Optima Diesel Sportswagon
Prices for the new car start out from £22,500 and rise to £30,700. For more information on our lease deals, check out our page here.
In terms of its running costs, it's hard to find fault with the Optima SW. This is a fairly large car, and returns of 64.2mpg from the diesel engine are good. Moreover, it emits just 113g/km of CO2, which means that your yearly tax bill will be just £30.
However, these numbers refer to the manual version only. Pair your Optima Sportswagon up with the 7-speed automatic transmission, and can you can expect economy returns in the region of 61.4mpg. It emit a bit more CO2, but still costs £30 a year in road tax.
The car is reasonable to insure, and occupies groups nineteen and twenty.
Pros and Cons Of The Kia Optima Diesel Sportswagon
Economical
With a manual gearbox, the car can return a very impressive 64.2mpg economy. Whether you opt for the manual or automatic gearbox, you'll pay £30 a year in tax.
7-Year Warranty
Kia's seven-year warranty continues to be an attractive USP.
Smart-Looking
It's smartly styled, both inside and out. A classy but affordable way to travel.
Dull Steering
The driving experience is insipid unless you go for the more expensive GT-S model.
Rivals Are More Practical
Rivals have bigger boots, and some allow five people to travel in comfort. Here, a raised middle seat thwarts a fifth adult passenger's comfort.
Kia Optima Diesel Sportswagon vs Ford Mondeo Diesel Estate vs Vauxhall Insignia Sports Tourer
Let's see how it fares against its rivals in the comparison section of our 2017 Kia Optima Diesel Sportswagon review.
Kia Optima Diesel Sportswagon vs Ford Mondeo Diesel Estate
The new Ford Mondeo Diesel Estate is so new it's still glistening. It manages to look better than the saloon version, and is the safest it's ever been. It's a strong rival to the Kia.
If you've driven any Mondeo produced after 2014, you'll have noticed how watered down the driving experience is. Mondeo's – just like Focus's and Fiesta's – were always the go-to cars for enthusiasts. Not anymore.
The Mondeo is now more comfortable than exciting, and doesn't put the sedate Optima SW to shame. It's easy to drive, though, with the light steering ensuring that you're not too troubled by having to manoeuvre such a hefty car.
In terms of the engines, there is only one diesel engine available. It comes in three power guises – 177bhp, 148bhp and 207bhp – with the former doing 0-62 in 10.0 seconds. On paper, that looks quick. In reality, it just doesn't feel that fast.
Still, it is refined and quiet.
The 148bhp and 177bhp variants up the ante in more ways than one. They have more power, and they also come with four-wheel-drive if you wish to add it. However, doing so will slow them down. Without four-wheel-drive, the 177bhp takes 8.3 seconds to cover the 0-62 sprint. With it, it takes a whole 9.5 seconds. Hmm.
Ford have made it their aim to keep running costs as low as possible, and they've succeeded. We're not looking at the petrol engines in this review, but even they're pleasingly economical.
The most powerful 177bhp 2.0-litre diesel engine returns 62.8mpg, and emits 117g/km of CO2. It's not quite as cheap to run as the Optima, but it isn't far off.
The 148bhp variant is cheaper than the Optima SW, returning 67.mpg, and emitting just 109g/km of CO2.
The Mondeo's Estate felt a tad flimsy indoors, but that's all changed now. This is a well-built interior that's easier to get comfortable in. It's easy to park, too, thanks to its slab-faced rear end. It's actually easier to park than the hatchback version.
The dash features an 8" touchscreen that handily reduces button clutter, but we're pleased to report that normal buttons have replaced the niggling touch-sensitive heater controls of last time.
It's a spacious interior with lots of headroom for all. Large windows create a sense of airiness, and two adults can easily sit in comfort in the rear. The boot measures 525-litres, which puts it on par with the Kia. However, it's 12-litres smaller than last time, and both are far from class leading.
Price:
Kia – £22,500 – £30,700
Ford – £23,500 – £35,700
Kia Optima Diesel Sportswagon vs Vauxhall Insignia Sports Tourer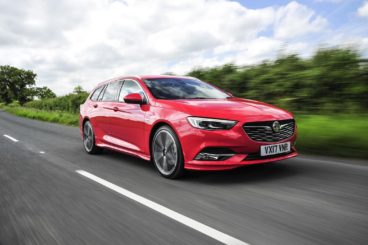 Vauxhall have held nothing back with the new Vauxhall Insignia Sports Tourer. It's now much more of an all-rounder that offers excellent value for money.
Like both the Kia and the Ford, the Vauxhall won't excite the senses on the road. But it is a pleasant, comfortable and hassle-free experience. Which is pretty much what most buyers want in a car like this.
It does feel bigger than the other two, and you'll notice a yawning gap between you and the rear windscreen. The steering is accurate and direct, though.
In terms of the diesel engines, there is a lot to choose from. A turbocharged 1.6-litre engine opens the range, with a 108bhp and a 134bhp variant. The latter is our preferred pick, and can do 0-62 in just under 10.0 seconds. That might sound sluggish right now, but it feels nippy as you accelerate from traffic.
The 2.0-litre diesel has more power and flexibility. It makes for an excellent motorway cruiser, but only comes with the pricier SR model. It develops up to 168bhp, and will penalise you on the economic front. It returns 53.3mpg, which is a long way behind both the Kia and the Ford.
The 1.6-litre diesel engine makes much more financial sense. In 108bhp guise, it returns 64.3mpg economy and emits 112g/km of CO2. The bigger 134bhp variant isn't so much costlier, with returns averaging 61.4mpg.
Inside and out the Insignia Sports Tourer is attractively styled. Indeed, its interior is almost the best in this class. There is plenty of space for everyone to lounge about, and you're treated to a hushed cabin, comfy seats, and an impressive dashboard.
The standard of the materials is also much higher this time around.
Being the second biggest car in this class means that head, leg and knee room is excellent. It still has a curvaceous roof, but because Vauxhall have added more length, you and your passengers will have sufficient room to be comfortable even on longer journeys.
The boot measures 560-litres, which makes it the biggest in this review. Fold down the rear seats and you can extend it to 1,665-litres. That's some 135-litres bigger than last time.
Price:
Vauxhall – £18,700 – £29,900
Verdict Of Our 2017 Kia Optima Diesel Sportswagon Review
The only thing the Optima SW has going against it is that it's not an SUV. It seems strange that Kia have entered the family estate market so late, especially at a time when the SUV is gunning for its extinction. But if this is to be one last hurrah, it's a very good one.
A smart design, excellent running costs and a neat cabin are just a few of this car's strengths. If you think family estate's still have a lot to offer, the Kia Optima Diesel Sportswagon is well worth a test drive.

Latest posts by Will Titterington
(see all)