Review Of The Kia Carens Estate
The new Kia Carens Estate are well worth adding to your shortlist as you look for a versatile large family car. It's generously equipped, practical, cheap to run, and comes with seven seats and Kia's amazing seven-year warranty.
It also looks better than most of its rivals.
Is it really a Kia?!
It is – but not as we know it. In fact, it's now more expensive than its rivals.
OSV takes a closer look to find out what it's all about with our 2017 Kia Carens Estate review.
Kia Carens Estate Review: On The Road
The Carens isn't what you'd call entertaining to drive. More comfortable than fun, drives a million times better than Kia's did ten years ago. Kia haven't quite figured out how to eliminate body lean yet, but soft suspension and good insulation are major plus points.
The steering is a bit hit and miss. It's direct and lacks feedback. But its three settings let you flick between light and heavy so that you're as composed or as fluid as the setting necessitates.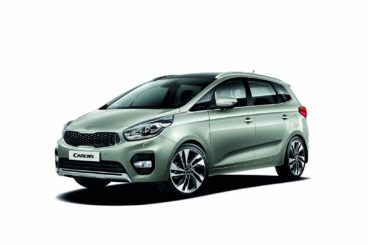 Three engines are available, with just one petrol among them. All models come with a 6-speed manual transmission as standard, though a 7-speed automatic can be added to the bigger diesel. It will bump up running costs, however, and it also misses out on stop-start tech. Worse still, it slows the Carens Estate down.
The solitary petrol is a 1.6-litre GDI engine that's not really got what it takes to cope with a car of this size. It's expensive to run, and feels sluggish – it's 0-62 time of 10.9 seconds attests to that.
Meanwhile, a top speed of 115mph says it all. Still, it is fitted with stop-start tech, which improves running costs a bit.
We prefer the diesel engines. They're quick, economical, and smooth for the most part. The 139bhp model is the fastest, and can do 0-62 in just 10.0 seconds. The smaller and slower 114bhp version covers the same distance in 12.6 seconds – but feels quicker.
Kia Carens Estate Review: Interior, Design & Build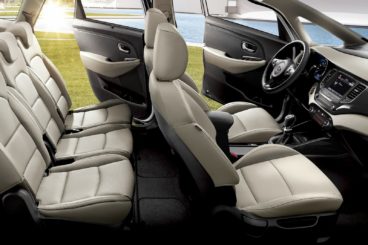 Unlike a few years back, when sitting inside a Kia was like squeezing into a baby's cot, one of the Carens' biggest attributes now is interior space.
But it isn't just the amount of space on offer that's a huge attribute – it's how smartly designed this cabin is.
Kia has put a lot of thought into how their Estate will look and feel. The controls are both nice to look at and easy to use, and they also make it easier for you to drive the car. And while the materials might not be of an outstanding quality, they are at least super durable. It's a cabin that's been designed to last.
It's also an interior that's very practical. Seven seats are standard on all models. And although the Carens has actually shrunk in size, it's roomier inside. How? Simply because its wheelbase is longer.
At the same time, those smaller dimensions mean it's easier to park. It's win-win.
Head and legroom are mostly good all round, though the third row is tighter. It can fold to increase boot space, though.
The Carens is versatile in other areas, too. For example, you can fold your passenger seat's backrest forward to make room for longer items. Also, the second row of seats can be slid backwards and forwards. They also recline.
The boot measures just 100-litres with all the seats in place. Eliminate the third row, and you get a much better 492-litres. The boot also comes with a false floor for more storage space.
Kia Carens Estate Review: Equipment & Safety
There are four trim levels available, and standard kit is good across the range. Seven seats are available on all models, as is a six-speaker stereo, Bluetooth, and air conditioning.
Cloth seats are also standard on all models, as are 16" steel wheels. However, the 2 model adds alloys and woven cloth seats. It also gets useful stuff such as roof rails, reversing sensors, and improved air con.
The 3 trim boasts 17" alloys, leather seats, as well as a ten-way adjustable driver's seat. It gets a heated steering wheel and heated front seats, too. But it's the sat nav that catches the eye with its 7" screen. Also eye-catching is the subwoofer, which gives your stereo better sound quality.
There isn't much to choose from the list of optional extras. Indeed, much that is on here is available on the more expensive trims, such as a panoramic sunroof.
Safety shouldn't be an issue with the Carens Estate. It landed all five star when Euro NCAP put it through its paces, and standard kit is good. It includes six airbags, electronic stability control, and 3-point seat belts.
You also get anti-lock brakes, an immobiliser, and hill-start assistance.
Kia Carens Estate Review: Costs
Prices for the new car start out from £19,300 and rise to £28,200. For more information on our lease deals, check out our page here.
In terms of its running costs, the smallest diesel engine is your best bet if economy is a priority. It can return 62.8mpg, and costs £30 a year to tax. Kia is set to unveil a new Eco-Pack soon, which will see you pay even less in tax – just £20 a year.
These are the same figures as the more powerful diesel engine. However, adding the automatic transmission is what bumps up costs.
The 1.6-litre petrol engine is the most expensive to keep on the road. It returns just 45.6mpg. and emits 143g/km of CO2.
Kia Carens Estate Review: Pros and Cons
Stylish
It's unusual to see a large MPV so stylishly designed.
Seven Seats Are Standard
Not only are they standard on all models, but they're pretty darn roomy.
Comfy
Don't get us wrong, the Carens doesn't offer a perfect driving experience. But it does offer a comfortable ride.
Expensive Petrol
The sole petrol engine can return economy higher than 45.6mpg, which might price some of you out of the running.
Not As Spacious As Some Rivals
It's spacious, but there are roomier seven-seat rivals. Moreover, it's not as big as some rivals, with Kia shrinking its size.
Kia Carens Estate vs Toyota Verso vs Ford C-MAX
Let's see how the car fares against its rivals in the comparison section of our Kia Carens Estate review.
Kia Carens Estate vs Toyota Verso
The new Toyota Verso is an MPV that buyers trust. It's dependable, safe, and well-built. It's not exactly desirable, though.
On the road, the Verso is easy to drive – if not much fun. Body lean isn't too pronounced as you enter bends, and the suspension setup manages to blend decent driving dynamics with comfort.
However, the steering lacks feel and becomes overly light once you pick up the pace. Compared to the C-Max in the review below, it's far from engaging.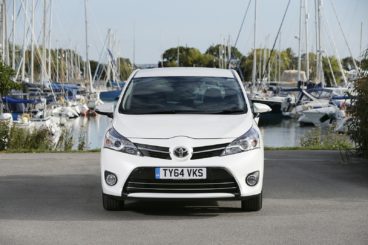 In terms of the engines, there isn't a lot to choose from. Their sole diesel engine is a 1.6-litre D-4D unit that feels dated. It takes a while to wake up, and it's not got as much puff as anyone would like. It also needs to be worked hard, though we do like its precise 6-speed transmission.
Also, it's the best engine for families who need enough power to haul them around.
There are two petrol engines available. An automatic gearbox drains the 1.8-litre unit of performance, which means the smaller 1.6-litre engine feels just as fast.
Both need to be worked hard, though, which means economy takes a hit. The 1.6-litre engine returns 41.5mpg at best, while the 1.8-litre engine – despite being bigger – is good for 43.5mpg.
The diesel is the cheapest to run, and can average fuel economy returns of 62.8mpg.
Inside, the Verso is hit and miss. Five adults can sit in relative comfort, while the extra seats are great for two more kids. But a stiff suspension setup is niggling.
The dashboard is easy to live with. It's clear and hassle-free to use, and we like how high the gearstick is positioned. The materials are robust and should stand up to everyday family life, but there is nothing by the way of luxury.
It's versatile seating arrangement is a highlight. Go for the entry-level model and you'll miss out on the extra two seats. But if you get them, they fold neatly into the floor of the boot whenever you don't need them. This Easy Flat Folding system offers thirty-two seating combinations, and eliminates a boot lip.
Speaking of the boot, it measures 155-litres with all seven seats up. Fold the extra two seats down, and you free up 440-litres of space.
Price:
Kia – £19,300 – £28,200
Toyota – £19,500 – £25,500
Kia Carens Estate vs Ford C-MAX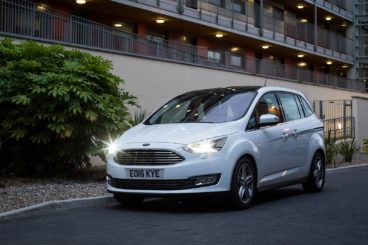 The new Ford C-MAX is a must on your shortlist if you're looking for a five-seater MPV. It's the best car to drive in this sector, and boasts low running costs. It's also from a brand everyone trusts.
The C-MAX is marketed as a people carrier – and it is a people carrier – but it drives more like a Focus. It's sharp, sure-footed, and even fun. The suspension is a bit firm, but it at least means that body lean is kept in check.
Torque vectoring is fitted on all models as standard, which boosts the amount of grip you have.
The state-of-the-art petrol engines are certainly interesting, but they're ideal for low mileage drivers only. The smaller 1.0-litre 98bhp EcoBoost variant is a tad slow, and can get you from 0-62 in 12.6 seconds. But just like the bigger 123bhp variant, which does 0-62 in 11.4 seconds, it suffers from poor fuel economy.
The diesels are pure workhorses, and they suit the Ford C-Max Estate much more. We like the 1.5-litre variant. It produces 118bhp, does 0-62 in 11.3 seconds, and returns 69mpg economy.
If you want more pace, though, it's worth checking out the 2.0-litre 148bhp diesel engine. Paired up with a manual 'box, it does 0-62 in 9.5 seconds. It's also economical, and can return 64.2mpg. Compare that with the 1.0-litre 98bhp EcoBoost petrol engine, which is good for a 55.4mpg economy.
Inside, the C-Max's dashboard suffers from button clutter. Worse still, some of the controls are just too fiddly for our liking – and some are just too small. The heater controls are simple enough, though, while a display screen is standard on all models. How big it is and what it can do will depend on which of the three trims you go for.
The seats are both supportive and firm, and visibility is good thanks to a high driving position. The roofline is also high, which means headroom is good.
In the back, headroom is still good, but overall space is a bit tight. Legroom is adequate, and storage space is decent. The glovebox is a decent size, and a sliding armrest comes included in the centre console.
The boot is smaller than the five-seat version of the Carens Estate, measuring 432-litres. Remove the rear seats, and you can extend that to 1,684-litres. However, if you specify the spare wheel, you won't get that much space.
Price:
Ford – £20,000 – £28,300
Verdict Of Our 2017 Kia Carens Estate Review 

Stylish and versatile, the Carens is a solid large family car. It's got seven seats, a hefty seven-year warranty, and lots of safety kit. Running costs are family friendly if you choose a diesel engine, while its generous standard kit is also appealing. The new Kia Carens Estate really is as good as things get for growing families in 2017.
Request a call back from one of our Vehicle Experts
Get in touch to have a chat about your new car
Give one of our helpful team a call to find your perfect vehicle.
ARE YOU INTERESTED IN GETTING A
MPV
?
Get in touch with us on 01903 538835 or request a call back. We look forward to hearing from you.