Review Of The Kia Picanto Hatchback
The new Kia Picanto Hatchback is a polished, affordable small family car that has lots of good things going for it. It's cheap as chips to run, friendly to look at, and boasts a seven-year warranty. It's also got a smart interior that's practical.
It's in a heavily-saturated market, and a few things do count against it. It's not quite as slick-looking as rivals, and its engines are willing troopers more than out-and-out powerhouses.
Interested? OSV takes a closer look at what it's all about with our 2017 Kia Picanto Hatchback review.
Kia Picanto Review: On The Road
Kia surely didn't intend the Picanto to be fun to drive – and it mostly isn't – but its dinky size means that it drives a bit like a Go Kart. As such, it should put a smile on the face even on enthusiastic drivers.
It's rewarding to drive, too. This is largely because Kia has pushed its front wheels further apart, giving it more athleticism. Its turning circle has also reduced, which has boosted its agility.
Overall, it's surefooted and confident in the city. But even if you take it out of congested urban sprawls, it doesn't fall apart. Body lean isn't too bad, and the tyres offer lots of grip. The only real disappointment is the engines which lack puff for the most part.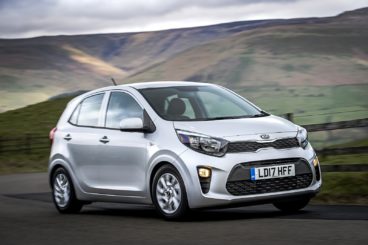 Steering is another highlight. It's both well-weighted and responsive, while the suspension is soft on most models. The GT-Line gets a sportier setup, but its firm ride isn't too harsh.
All models get a torque-vectoring system, which brakes separate wheels when you tackle bends with gusto. In the past, this sophisticated system was only available with range-topping sports cars. Pleasingly, it's now available with the eager Picanto.
In terms of the engines, there are no diesels available. The smallest engine in the range is a 1.0-litre 66bhp petrol power plant that does 0-62 in 14.3 seconds. It's worth overlooking in our opinion, as it just doesn't have enough power to pull this car along. Especially on hills, you will notice its deficiencies.
The 1.25-litre 84bhp petrol has more grunt. It takes care of the 0-62 sprint in 12.0 seconds, and can keep up with everyone else on the motorway.
A turbocharged 1.0-litre T-GDI engine is soon to be added to the ranks. It will develop almost 100bhp, and will do 0-62 in 10.1 seconds. It will only be available with the range-topping GT-Line model, though.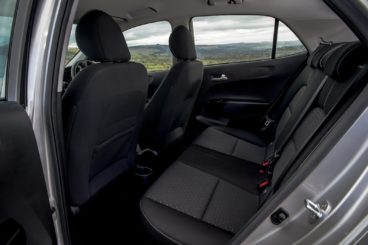 The quality of the Picanto's interior has certainly been knocked up a few notches. In the past it was robust and functional, but there's now some genuine quality here. Kia has realised that its rivals were getting away from them, and have upped their game.
More visually compelling than past Picanto's, the cabin here still boasts shiny, harder surfaces, though. As evolved as it is, it still falls behind the softer surfaces of its rivals.
Still, comfort is very good. The 15" wheels ensure a smooth ride, while insulation is also good. Add the bigger 16" wheels, though, and the Picanto will struggle to cushion you as well from broken roads.
The dash has been brought bang up to date with its competitor. It's still too grey, but a horizontal trim breaks the gloomy neutral colours up a bit. Kia has paid close attention to details, especially with the outer air vents, which brings something different to the dashboard.
All the dials are clear and simple to use, while the information panel provides you with useful info, such as range remaining and fuel consumption.
This is a small car with a small cabin, though. In terms of practicality, there is only so much it can offer. What it offers is actually pretty good for its size.
It's no bigger than last time, but Kia has extended its wheelbase. As such, legroom is better upfront, although the seats are still not height-adjustable. Visibility is good, while rear space is decent. Four adults should be able to sit in relative comfort.
The boot, meanwhile, measures 255-litres.
The Kia Picanto Hatchback Review: Equipment & Safety
Standard kit is on the whole good. The entry-level model gets 14" steel wheels, an infotainment system that comes with Apple Car Play, and Bluetooth. It also gets sat nav.
The GT-Line adds sportier-looking alloys, red artificial leather seats, and sportier steel pedals.
The 3 model rounds things off with a sportier suspension and styling.
The Picanto Hatchback hasn't been crash tested by Euro NCAP at the time of writing. The previous model only scored 4/5, with Kia surely hoping the new version gets all five stars. Bonded joints and high-strength steel have both been added to toughen the car up, while its standard safety kit includes six airbags and autonomous emergency braking.
Kia Picanto Hatchback Review: Costs
Prices for the new car start out from £9,500 and rise to £14,000. For more information on our lease deals, check out our page here.
In terms of its running costs, the Picanto is affordable. And although the entry-level 1.0-litre engine isn't especially powerful, average fuel economy returns of over 70mpg are hard to argue with.
However, how much the car costs to return will depend on whether you add the extra seat.
The 1.25-litre engine is a real trooper. It offers decent performance, and returns 61.4mpg. It's only available with the five-seat versions, though. And if you specify the automatic transmission, economy tumbles all the way down to 52.3mpg.
All models cost £140 per year in tax.
The Kia Picanto Hatchback Review: Pros and Cons
Easy To Drive
It's not got a lot of punch, but it's easy and even at times fun to drive around the city,
Well Equipped
It's got a big-car list of standard kit. Excellent from Kia.
Spacious
Even with five people inside, the now strictly five-door Picanto manages to feel roomy.
Not Much Performance
If you want performance, wait for the end of the year when the turbo model arrives.
Running Costs Are Hit And Miss
It can be cheap to run. But it depends on how you specify it. Adding the fifth seat drains the economy, and adding the 4-speed automatic saps it even more.
Kia Picanto Hatchback vs Hyundai IX20 vs SEAT Ibiza
Let's see how the car fares against its rivals in the comparison section of our 2017 Kia Picanto Hatchback review.
Kia Picanto Hatchback vs Hyundai IX20
The new Hyundai IX20 is a bit of a superhero. It's certainly small, but manages to be almost as practical as an MPV. It's also reasonably affordable.
"Capable" is the best way of describing how the Picanto performs on the road. It lacks agility, and most of its engines are underwhelming. It's also slow, and feels kinda lacklustre. But light steering and good visibility redeem it somewhat.
Moreover, a soft suspension setup means that you're always comfortable, although it does lead to inevitable body lean in bends.
Also, when the IX20 picks up speed on the motorway, its steering becomes weightier.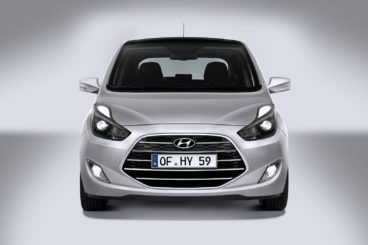 In terms of its engines, there are only four to choose from, starting with a 1.4-litre petrol. It's performative enough, but takes 12.9 seconds to do 0-62. However, that's a lot faster than the diesel of the same size, which does 0-62 in 14.5 seconds.
A 1.6-litre petrol engine is a bit quicker, and can do 0-62 in 12.2 seconds. But a 1.6-litre diesel engine is the quickest of the bunch. It delivers 115bhp, and covers the 0-62 sprint in 11.5 seconds.
Whichever engine you go for, running costs are good. The 1.6-litre diesel is not only the quickest engine, but it's also the most affordable. It returns 64mpg, and costs £30 per year to tax.
The 1.4-litre petrol engine returns a reasonable 50mpg, and it's also a lot quieter. A £100 yearly tax bill, meanwhile, isn't so bad.
The noise of both types of diesel may grate once you're up and running, as the cabin isn't fantastically insulated from their humming. However, it does do a good job of keeping out road and wind noises.
The dash is simply designed, with all the controls easy to spot and use. We like how clearly marked everything is. The plastics are a tad hard, but they are at least robust and should last.
Somehow, despite being such a fairly small car, Kia has got a lot of interior space out of it. Access is easy, and once inside you'll all be treated to good head and legroom. Taller adults shouldn't have a problem either, and we reckon five people will be comfortable enough on short journeys.
Storage spaces are here and there, but there could be more. The glovebox is decently sized, but probably not big enough for most buyers.
The boot, on the other hand, is impressively sized. It measures 440-litres which makes it over 200-litres bigger than the Kia Picanto. Fold the rear seats, and you can increase its size to 1,486-litres.
Price:
Kia – £9,500 – £14,000
Hyundai – £14,900 – £18,500
Kia Picanto Hatchback vs SEAT Ibiza
The new SEAT Ibiza is one sexy-looking thing. But it's more than that – it's spacious, refined, and handles like a dream. The perfect small car?
It's certainly a well-rounded proposition. As well as providing a genuinely exciting driving experience, it always feels safe and secure, and it's also quiet.
It's a tad wider than last time, which is why it feels so well planted on the road. This gives you the confidence to drive with a bit of freedom, something it's precise steering further enhances. There's bags of grip, too.
However, the steering does lack feel, which is why we can't crown it the King of the Superminis. Oh well!
In terms of the engines, we'd overlook the slow 74bhp MPI petrol. A 0-62 time of 14.7 seconds doesn't unleash this car's potential. A three-pot TSI turbo petrol engine is a much more interesting proposition. It does 0-62 in 9.3 seconds if you opt for the 113bhp version.
There are as yet no diesel engines available, though this will change later in the year. Until then, you'd have to be satisfied with the economy managed by the petrol engines. It's not bad, with the entry-level 1.0-litre 74bhp model returning 57.6mpg.
However, the three-pot TSI turbo petrol engine betters it, with returns of 60.1mpg.
Once the diesel engines arrive, we reckon their economy returns will be nudging into the 70's.
Whichever model you opt for, you'll get the comfiest Ibiza interior yet. SEAT have tweaked the suspension setup so that the car now glides over rougher surfaces in what is a welcome improvement. Indeed, a real lack of comfort was one of the reasons the SEAT Ibiza Hatchback has never sold quite as well as some rivals.
Fit and finish have also been improved, with less cheap materials in the cabin than ever. Overall, the interior is robust and looks smart.
But is it practical? Outstandingly so! The increase in size means the Ibiza can now boast more interior space. And although five adults might still feel squeezed, four will be super comfortable.
Moreover, three kids can easily fit into the rear seats.
Storage spaces are good, and include a reasonable central cubbyhole, as well as a large glove box.
The boot measures 355-litres. That's bigger than the Kia, but smaller than the Hyundai. It is, however, one of the biggest in this class. For an extra £160, you can add more space underneath the boot floor, as well as some cargo nets for more storage and convenience.
Price:
SEAT – £13,000 – £17,800
Verdict Of Our 2017 Kia Picanto Hatchback Review 

If you want an easy-going, spacious family hatchback, you don't need to look much further than this one. Its evolution from humble, drab origins to this, a slick-looking, well equipped and stylishly designed car is amazing.
It faces tough competition. But its affordable price tag, its understated but smart interior, and its likeable nature should put the Kia Picanto Hatchback at the front of your mind.
Request a call back from one of our Vehicle Experts
When you lease a car with OSV there are no hidden costs, request a call back and we'll find you a finance, lease or purchasing deal designed just for you.