Review Of The Kia Pro Cee'd Hatchback
How sexy are Kia's these days?! The Kia Pro Cee'd Hatchback is the hottest yet. A slick-looking three-door hot hatch, it's the Korean brand's sportiest model and can do 0-62 in 9.4 seconds. It's a racier version of the standard Cee'd, but can still boast decent practicality. More importantly, perhaps, it's as stylish as a Coupe, comfortable, and quick.
It's also efficient, and comes with Kia's amazing seven-year warranty.
OSV takes a closer look at what it's all about with our 2017 Kia Pro Cee'd Hatchback review.
Disappointingly, the Pro Cee'd's racy image isn't complimented by a racy driving experience. Instead, Kia has aimed to make the car as comfortable as possible – much like the standard Cee'd.
The suspension will cushion you over broken surfaces, but it means there will be excess body lean if you swoop into corners at speed. On the whole, it's a relaxing drive. But is that what you really want from a hot hatch? The weight of the steering can be adjusted via the FlexSteer system.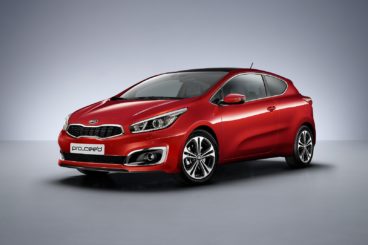 However, switching it to its heaviest setting is like switching the volume to its loudest on a cheap CD player – underwhelming. It's a shame, because Kia could have created an awesome driving experience with this one.
There's a clutch of engines to choose from. A 1.4-litre petrol engine kicks things off, delivering a reasonable 98bhp. Reasonable – but for most buyers, underpowered. It's also only available with the entry-level model.
A pair of three-pot petrol's are up next, and are available with either 98 or 118bhp.
Then there's a bigger 1.6-litre petrol engine that delivers 133bhp, and which does 0-62 in around 9.4 seconds.
A 1.6-litre diesel engine is cheaper to run, but near enough matches that 0-62 time. It can also be specified with a dual-clutch transmission, which is worth adding. Otherwise, you have to make do with a manual gearbox that isn't the smoothest.
Kia Pro Cee'd Hatchback Interior, Design & Build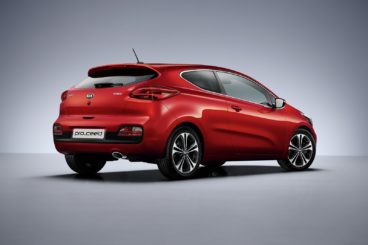 You'll have already noticed how eye-catching the Pro Cee'd is from the outside. Inside, it's much the same story. Compared to Kia's from just a few years back, this is a huge step up.
The dashboard is smartly conceived, designed and executed. It's really easy to use and feels sturdy enough to last the test of time. The driver's seat and steering wheel are super adjustable, which means it shouldn't take you too long to get comfortable.
We love how supportive and comfortable the seats are. They make longer journeys a lot more bearable. Combined with the soft suspension, they provide an awesomely cosseted ride.
The sound-deadening material further contributes to a relaxed environment, canceling out exterior noises even when you shoot up the motorway at pace.
This is a three-door hatchback, so it's not going to be massively practical. That said, it's more useful than most rivals. The doors it has have been lengthened to make access easier, though the same issues remain when it comes to getting in and out of tight parking spots.
The boot measure 380-litres, which is very good for this class. It can be extended to 1,225-litres by folding down the rear seats. It doesn't come with a wide opening, though. As such, loading bigger items will be tricky for you.
Head and legroom is a strong suit of the car. Up front, you and your passenger won't be complaining one iota, while anyone in the rear should be just fine. However, small rear windows could create a feeling of claustrophobia.
Equipment & Safety Of The Kia Pro Cee'd Hatchback
Standard kit across the range is pretty good. The SR7 model kicks things off with its small 1.4-litre petrol engine. It gets alloys, Bluetooth, DAB radio, air conditioning and rear parking sensors.
The 2 model costs around £2,000 extra. It adds cruise controls, a wider choice of engines, LED running lights, and the brand's adjustable FlexSteer system.
The GT Line sits at the top of the range, and demands a premium of £4,500 over the entry-level model. It's standard kit includes bigger alloys, a reversing camera, sat nav, as well as keyless entry.
In terms of safety, the Pro Cee'd scored 5/5 from its Euro NCAP crash test. That's pleasing, and its standard safety kit includes six airbags and electronic stability control. It also includes the brands Emergency Stop Signalling system.
Costs Of The Kia Pro Cee'd Hatchback
Prices for the new car start out from £18,150 and rise to £24,400. For more information on our lease deals, check out our page here.
In terms of its running costs, the 1.6-litre diesel engine is both the cheapest to run and the fastest to drive. It's win/win. It does 0-62 in 9.4 seconds, yet also returns 74.3mpg. It's also free to tax! Total babe.
However, if you add the bigger alloys available with the GT-Line model, you will be penalised with bigger costs.
The 1.4-litre engine is the cheapest of the petrols to buy outright. It's a bit slow, taking 12.3 seconds to do 0-62, but returns 47.1mpg. That still seems like too much to pay for a fairly sluggish "hot hatch", but the choice is yours. The 1.6-litre petrol engine costs less to run, returning 52.3mpg.
Pros and Cons Of The Kia Pro Cee'd Hatchback
It's A Head-Turner
It's not something we'd ever say about a Kia, but the Pro Cee'd is capable of attracting the stares from the street.
Great Ride
It's supple, fluid, composed and comfortable.
Practical
Its 380-litre boot is one of the biggest in this class. Supportive seats and lots of head and legroom are other positives.
Underwhelming Interior
Maybe Kia ran out of ideas by the time they got inside. The interior just can't match the style of the exterior.
Heavy Doors
The bulky doors are a remnant from Kia's bad old days, and they make access tough.
Kia Pro Cee'd Hatchback vs Vauxhall GTC Coupe vs Volkswagen Scirocco
Let's see how it fares against its rivals in the comparison section of our 2017 Kia Pro Cee'd Hatchback review.
Kia Pro Cee'd Hatchback vs Vauxhall GTC Coupe
The new Vauxhall GTC Coupe looks almost like an out-and-out sports car. But it's still practical and offers a good amount of interior space.
Expectations are high for its driving experience. Fortunately, it drives like its looks would suggest. It's not the most entertaining car in its class, but its smart front suspension ensures good driving dynamics.
The engines are punchy and powerful, and the steering is precise.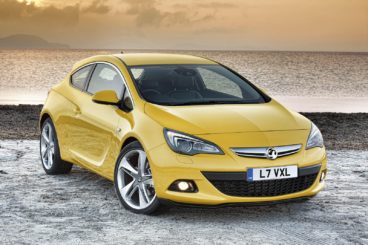 Performance is zingy too, especially if you opt for one of the petrol engines. The 1.4-litre engine kicks things off, but it's probably the one we'd suggest overlooking. Available in either 116 or 136bhp guise, it requires you to change gear frequently.
The bigger 1.6-litre 194bhp is a more rewarding choice. It dusts off 0-62 in less than 8.0 seconds, and feels smooth and refined.
The diesel engines aren't quite as sporty, but they're still solid choices. Well, with the exception of the sluggish 1.6-litre CDTi unit, that is. It takes 11.9 seconds to do 0-62, which is less than thrilling.
The 2.0-litre 161bhp CDTi powerplant is where we'd put our money. It does 0-62 in 8.4 seconds, which means it's an economical but still performative choice.
Speaking of fuel economy, it's unusual to buy a sports coupe for its running costs. But Vauxhall has made a good go at keeping costs down, with the 2.0-litre CDTi returning 65.7mpg.
That's impressive, but even the mega powerful 1.6-litre BiTurbo 189bhp diesel returns 57.7mpg economy. It also costs just £129 in tax each year.
The cheapest diesel is the 1.6-litre 107bhp DCTi, which returns 72.4mpg and costs £20 a year to tax. The petrols are obviously more expensive, with the 1.6-litre 194bhp variant returning 42.8mpg and costing £180 a year in tax.
Inside, the GTC Coupe feels a bit underwhelming until you add the VXR styling pack. It really upgrades the cabin, though it is pricey.
The ride is remarkably comfortable in spite of the firm suspension. We'd suggest sticking to the smaller 18" alloys if you want to keep it that way.
The dashboard is similar to the standard Astra Hatchback, which means button clutter is a bit of a problem. At least the controls work well, and everything looks built to last.
Interior highlights include a leather steering wheel that features stereo controls. But what we really like about the cabin is how spacious it is. Headroom is good, in spite of the swooping roofline, and four people can sit in comfort. Shoulder room will only become a problem if you squeeze three adults into the rear.
Legroom is helped by a lengthy wheelbase, while the boot measures 380-litres. That's competitive in this class, and matches the Kia Pro Cee'd. Fold the rear seats and you can increase it to 1,165-litres.
Price:
Kia – £17,240 – £22,755
Vauxhall – £21,600 – £27,300
Kia Pro Cee'd Hatchback vs Volkswagen Scirocco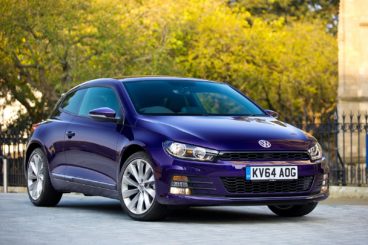 The new Volkswagen Scirocco looks fantastic, is well kitted-out, and is remarkably reliable for a Coupe. It's also one of the most popular Coupes of this type.
In terms of its driving experience, the Scirocco isn't the most polished, and nor is it the most thrilling. It tackles bends well, and always feels composed. But to get a true Coupe experience out of it, you'd have to add the £180 Dynamic Chassis Control system.
With this system, you can flick between three different driving modes. Sport mode takes things up a notch, tightening the suspension, and making the steering heavier.
A 6-speed manual 'box is standard on all models. You can add a £1,500 DSG dual-clutch automatic transmission on specific models.
In terms of the engines, a 1.4-litre TSI petrol engine kicks things off. It does 0-62 in 9.3 seconds, which is okay but not exactly becoming of a sports Coupe.
We think the 2.0-litre TSI petrol engine will be more of a head-turner. It delivers 178bp, and gets you from rest to 62mph in 7.4 seconds. A bigger 217bhp GT variant does it in just 6.5 seconds.
However, these engines are hard to recommend except to buyers with money to burn. Most Scirocco drivers opt for a diesel engine, both of which are strong. The 148bhp variant can do 0-62 in 8.6 seconds, while the 182bhp variant does it in 7.5 seconds.
These diesels are cheap to run, too, with the less powerful variant good for returns of 67.3mpg. The more powerful version returns 60.1mpg, while the petrols range from returns of around 53mpg to 45mpg.
Inside, it's hard to argue with the high-quality cabin. Build quality is something VW do really well, and they've excelled themselves again here. The Scirocco largely builds on the classy interior of a standard VW Golf Hatchback, but adds a sportier dimension.
It's comfortable too, and largely remains hushed even at speed.
All cars come with a multifunction steering wheel. It's super useful, as it brings together so many functions within simple reach. The dashboard comes with a few sporty touches, such as fresh dials that will probably be too gimmicky for some of you.
The dark colours seem like an odd choice, though, especially when combined with such small windows. Passengers in the rear may find themselves getting a tad claustrophobic back there.
That said, the Scirocco is roomy. Two people can easily sit in comfort in the rear, and the low roof doesn't impinge on headroom too much. Storage spaces are everywhere, and include big door bins and a decent glovebox.
Visibility is a bit contentious, thanks to how low the driver sits and the thick front windscreen pillars. Meanwhile, the 312-litre boot is much smaller than the Kia and the Vauxhall.
Price:
Volkswagen – £21,700 – £31,400
Verdict Of Our 2017 Kia Pro Cee'd Hatchback Review
The new Pro Cee'd is ready to be a major player in the three-door hot hatch market. It sports a neat coupe design, a supple ride, and is a great choice for young people who need a bit of practicality.
It's reassuringly safe and reliable too, and offers comfort and refinement. If you want style, pace and good handling, the Kia Pro Cee'd is an excellent choice.
Request a call back from one of our Vehicle Experts
Get in touch to have a chat about your new car
Give one of our helpful team a call to find your perfect vehicle.
ARE YOU INTERESTED IN GETTING A
Coupe
?
Get in touch with us on 01903 538835 or request a call back. We look forward to hearing from you.