Review Of The Kia Soul Hatchback
Remember the old Kia Soul Hatchback? Didn't look so great, did it? The new model looks a bit like a Jeep with its muscular stance. And like a Jeep, it's got plenty of interior space and comes well-equipped.
Last time around, the Soul put buyers off with its boxy image. While it's largely held onto its quirky cube shape, it looks a lot better. It's now much more competitive too, and would represent a great addition to any family in 2017 who wants a sturdy on-the-road companion.
OSV takes a closer look at what it's all about with our 2017 Kia Soul Hatchback review.
Despite being so tall, the Kia Soul has managed to keep body lean to a minimum, even in bends. It offers lots of grip too, which is good for your confidence.
The steering will be too inert for many buyers' liking, even with its three settings. You can switch from light to heavy, but neither offers much feedback.
Still, we're glad to report that Kia has mended the stiff suspension setup that troubled the car last time around. The ride is now much smoother, and suits the UK's broken roads better.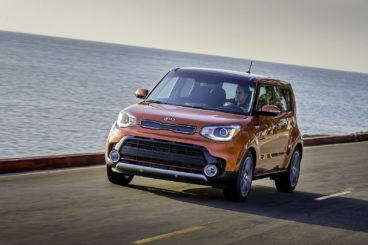 However, if you opt for the Soul Sport model, you'll be beset with an uncomfortable ride because of its 18" alloys and stiffer suspension.
In terms of the engines, there is only one diesel on offer. It's a 134bhp CRDi model that can do 0-62 in 10.8 seconds. That's pretty quick, but it's such a shame that the engine is so noisy when you put your foot down. It's still our top pick, though.
A brand new 1.6-litre T-GDI petrol engine will probably look tastier, however. It develops up to 201bhp, and blasts its way from rest to 62mph in just 7.5 seconds. That's probably unnecessarily fast for most of you, but it's a great engine.
It also comes paired up with a slick 7-speed twin-clutch automatic transmission. Bigger brakes are added, too, which really beef this model up.
There is the option of a 1.6-litre GDi petrol engine, too. It produces 130bhp, and does 0-62 in 10.6 seconds. It's difficult to recommend. Not only is it more costly to run than the diesel, but it's also just as noisy. Moreover, it's only fractionally quicker.
Rounding off the range is an EV model. Its 109bhp electric motor delivers its entire power in one go, and can do 0-62 in 11.2 seconds. It actually feels even quicker than that, and maxes out at 90mph.
Kia Soul Hatchback Interior, Design & Build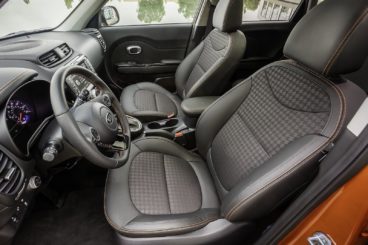 Inside is where the Kia Soul Hatch really excels. It boasts an upmarket cabin that's stuffed with a good amount of standard equipment. The seats are comfy, and it's easy for the driver to get into their preferred position thanks to an adjustable seat and steering wheel.
The dashboard looks a lot better than before, and benefits from a few revisions since 2008. Metallica and gloss-black highlights enliven proceedings, boosting aesthetics.
The materials used are also much better, and everything feels like it's built to last. The buttons and switches are tidily arranged and look classy, while, the '3' model gets a neat 8" touchscreen.
The interior is as practical as you'd assume from looking at the car. The car is taller, wider and longer, which means there is more room. There is lots of leg and headroom throughout, while the driver gets to sit pretty high up. This boosts visibility, which a reversing camera also boosts (though the '1' model misses out on the reversing camera).
So while that boxy shape (which isn't as bad as last time) isn't the best aesthetically, it does mean four adults get to travel in comfort.
The boot, meanwhile, measures 354-litres, which is competitive. The rear seats can be folded down, but they don't lie totally flat. Fold them and you can increase luggage capacity to 1,367-litres. The Soul also lets you load stuff right up to its rather high roof.
Equipment & Safety Of The Kia Soul Hatchback
Standard kit is good across the range. The entry-level '1' model gets Bluetooth, a DAB radio, an MP3 player and USB connection. The '2' model throws in bigger 17" alloys, a 7" sat nav that comes with Apple CarPlay, and cruise control.
The '3' model, meanwhile, adds a bigger, 8" screen, leather seats, 18" alloys, keyless entry and front parking sensors.
The Soul Sport gets a different exterior styling, with different front bumpers and twin exhaust pipes. It also gets unique 18" alloys, and part leather seats inside. Orange trim and a different steering wheel are also added to make the Soul feel extra special.
The EV model rounds things off with an 8" touchscreen, a reversing camera, 16" alloys and cruise control.
In terms of safety, Kia will be disappointed that the Soul was only awarded four stars by Euro NCAP. Especially when a lot of its rivals bagged all five for their crash test.
However, Kia reacted well to the four stars and have since added additional safety kit. It now includes anti-lock brakes, ISOFIX child-seat mounts and electronic stability control. An anti-theft immobiliser is also standard, as is hill-start assistance. Blind-spot detection is an optional extra.
Costs Of The Kia Soul Hatchback
Prices for the new car start out from £14,300 and rise to £30,000. For more information on our lease deals, check out our page here.
In terms of its running costs, the Soul actually doesn't fare too well. Indeed, returns of just 43.5mpg from the 1.6-litre petrol engine might be enough for some of you to look away now. It's not exactly good for the environment either, and emits as much as 156g/km of CO2.
This means it's more expensive to run than even a Ford Focus ST that develops 247bhp.
The 1.6-litre diesel engine is a bit more modest, and can return 58.8mpg – but that's not exactly great.
Pros And Cons Of The Of Kia Soul Hatchback
Good Shape
It's tall and chunky shape guarantee good practicality.
7-Year Warranty
Let's be honest, that seven-year warranty is outstanding and a major attraction.
Looks Great
It looks a tad like a Jeep. Apart from those vague comparisons, there's no other car that looks like the Kia Soul.
Just Two Engines
Not much to choose from, and neither are economical.
Bumpy Ride
Go for the bigger wheels and you can expect a juddering experience.
Kia Soul Hatchback vs Fiat 500L vs Citroen C4 Cactus
Let's see how the car fares against its rivals in the comparison section of our 2017 Kia Soul Hatchback review.
Kia Soul Hatchback vs Fiat 500L
The new Fiat 500L is a derivative of the hugely popular Fiat 500. It's just as cute-looking as its dad, but attempts to strike out on its own in the compact MPV class.
Unfortunately, as well as being a derivative of the fun-loving 500, the 500L is also based on the Punto – a car that is much less cherished. Indeed, the Punto has long had its day. Sadly, the 500L drives just like it.
This means that its steering lacks feel and is too light, which means you just don't know how much grip you have as you enter bends.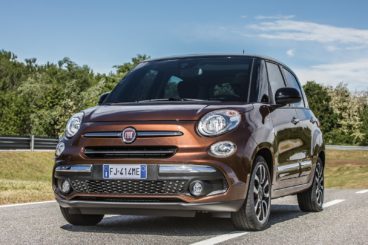 Body lean is excessive, while the high seating position is more akin to an SUV than a mini MPV.Ultimately, it's a driving experience that won't be putting a smile on your face.
For the purpose of this comparison, we're just focusing on the 500L's petrol engines. There are two – a standard 1.4-litre engine, and 1.4-litre turbocharged T-Jet engine. The former takes 12.8 seconds to complete the 0-62 dash, while the latter does it in a more encouraging 10.0 seconds.
Neither are what you'd call performative, while running costs are okay at best. The standard 1.4-litre petrol returns 46.3mpg, while the turbocharged T-Jet unit returns 40.9mpg.
Those returns are decent if not spectacular, but depreciation is the real elephant in the room. While the 500's resale values are good, the 500L will struggle to retain over 30% of its original price after 3 years.
That's nothing to do with the interior, which is generally good. The seats are comfy, and it's a wholesome, cosy family car. The suspension cushions you from potential blows meted out by broken roads, while the power steering rewards you with even more comfort.
However, road noise is an issue, especially on the motorway.
The dashboard looks good, and sports the same retro design as the 500. The quality of the plastics used is not as good as rivals, and that does take something away from the vintage feel of the car.
It's practical, though. Five adults will be able to sit in relative comfort, while the 400-litre boot is a very good size. Its boot floor can be lowered or raised, too. The rear seats are easy to slide back and forth, and the front passenger seat can be folded for more space.
Price:
Kia – £14,300 – £30,000
Fiat – £16,000 – £21,300
Kia Soul Hatchback vs Citroen C4 Cactus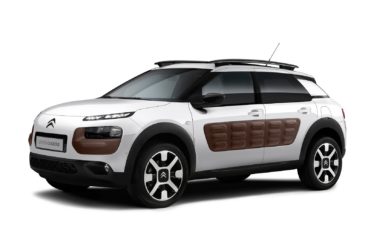 The new Citroen C4 Cactus sports distinctive chunky looks that ensure it stands out from the crowd.
Citroen has made no secret of the fact that the C4 Cactus has been designed for maximum comfort. They've put all their eggs in one basket – and it's worked out for them. The C4 Cactus is the comfiest car on this list, with its lightweight design contributing to this end.
Citroen has also used softer springs so that the car glides over poorer surfaces.
Overall, it's a very relaxing way to get about in a solidly-built car that looks like it'll protect your family on the road.
It's also entertaining when you want it to be, although we're not too impressed with the gearbox. Its gears are just too far apart.
Like the 500L, we're focusing on just the petrol engines. In fact, there is only one to choose from – a PureTech 110 unit that does 0-62 in a nippy 9.3 seconds. That makes it feel urgent, and the performance further enhances the car's relaxing nature.
It's super cheap to run too, and averages 65.7mpg economy. It's also free to tax.
Inside, the C4 Cactus is as stylish as the Fiat. It suffers from the same overuse of cheap plastics, too. However, we doubt that will ruin your experience, as this is a seriously neat-looking cabin. It's colourful, cheery and user-friendly.
Citroen has gone for simple designs, and it's worked. It means the sweet-looking dash is easy to use, with the buttons well laid out. A 7" colour display is standard.
The interior is noticeably larger too, which means interior space is excellent. The front seats are practically like armchairs. It's disappointing that the steering wheel doesn't move for reach, but you shouldn't have too much trouble getting into the right position.
However, it's a sign of cost-cutting from Citroen to keep the price down. Another sign of cost-cutting soon becomes apparent with the seats as they are too spongy to keep you comfortable on longer journeys.
Two adults can sit in comfort in the back, but three would be pushing it. Headroom is good unless you add the optional panoramic sunroof. A big top-loading glovebox and door pockets in each door make up fab storage, while the boot measures 358-litres. That's decent, and is just four litres bigger than the Kia. Drop the rear seats and you can extend it to 1,170-litres.
Price:
Citroen – £13,400 – £20,900
Verdict Of Our 2017 Kia Soul Hatchback Review
The 2008 Soul was massively unpopular, although it sold decently thanks to its low-end price. In 2017, a revision means it looks better, is more practical, is more robust, and has a bit more desirability to it.
However, you'll need to factor in the poor economy, scant engine choice, and a noisy diesel before you're bowled over by the new Kia Soul Hatchback.
Request a call back from one of our Vehicle Experts
When you lease a car with OSV there are no hidden costs, request a call back and we'll find you a finance, lease or purchasing deal designed just for you.