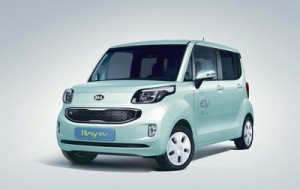 Kia is creating history by launching Korea's very first mass produced electric vehicle.
The Kia Ray EV will only be sold in Korea, and is the first step in Kia's plans to make and sell electric cars globally.
The Kia Ray's release is helped by Korean government's plans to increase the number of electric charging stations from 500 to 3,100 by the end of 2012.
The first run of 2,500 Kia Ray's will be provided entirely to the Korean government and public offices. This will enable Kia to conduct extensive, in-depth real-world testing of their electric car before they start supplying the general public.
The Kia Ray
Powered by a high-capacity 16.4 kWh lithium ion polymer battery and a 50 kWh electric motor, the Kia Ray can do 86 miles on a single charge and hit a top speed of 81 mph.
It can be recharged in just 25 minutes using a fast charge outlet, or in 6 hours using 220V household electricity supply.
Its design is closely based on the Kia Ray CUV, a petrol powered car only available in Korea. This gives Kia the advantage of being able to produce both cars on the same production line, a world first for electric car manufacturing.
Faster than a petrol car?
The biggest surprise about the Kia Ray is that it actually has faster acceleration than its petrol sibling, going from 0 to 100 mph in 15.9 seconds.
The Kia Ray also boasts 77% more torque than the CUV, enabling much more responsive handling.

Drive modes
The Kia's automatic transmission offers the driver two different modes: 'E' (Eco), and 'B' (Brake).
'E' mode maximises driving range and minimises battery power consumption by optimising the motor's torque.
'B' mode is suitable for when driving downhill, as it gives the Kia Ray greater braking power.
The braking system itself helps power the car, using a regenerative braking system.
Pioneering safety feature
One of the biggest safety drawbacks to electric cars is how incredibly quiet they are, meaning that pedestrians cannot hear them approach.
As a result, the Kia Ray is fitted with a VESS, a Virtual Engine Sound System. When driving at speeds of less than 12mph or when reversing, the car emits a recording of petrol engines to warn pedestrians.
Both Japan and the USA are considering making VESS systems mandatory on electric vehicles, so Kia has decided to take the first steps to making this system commercially viable.
Keep yourself updated with the latest motoring news by liking us on facebook, following us on twitter or connecting with us on LinkedIn.
If you're interested in buying or leasing a new vehicle contact our sales team. Alternatively, visit our website where you will find new and used Kia's available for sale or on finance.
Thanks for visiting us today.

Latest posts by Andrew Kirkley
(see all)