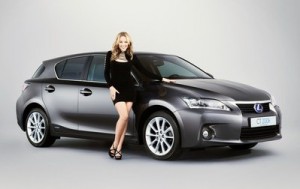 Kylie Mingogue and Lexus raised £29,000 for the NSPCC by auctioning the singer's unique Lexus CT 200h.
As the face of Lexus's Quiet Revolution marketing campaign, Kylie received a personalised Lexus CT 200h, which she has driven throughout the year.
The Lexus was auctioned at the City of London Christmas Dinner, which took place at the Savoy last week. The generosity of the winning bidder made a significant contribution to the £177,000 raised by the event, all of which goes to the NSPCC's Helpline.
So what does the lucky winner get for their money?
As Kylie's Lexus CT 200h was made with customised headsets that have her signature picked-out in stitching, their fellow fans will be able to tell that this really is an exclusive piece of Kylie memorabilia.
And just like every other Lexus CT 200h driver, they will enjoy the luxury hybrid's combination of low-emission, high-economy driving and the performance expected of a Lexus.
The Lexus CT 200h is praised by reviewers for offering exceptional handling, its luxurious feel and user interface.
Like Kylie, the Lexus CT 200h has arresting looks, featuring a determined, powerful front and a sporty rear with a discreet spoiler and muscular bumper.
This sophisticated styling is built over a remarkably strong and lightweight body. Using aluminium components makes this the lightest Lexus, and the passenger cell is reinforced with high tensile steel.
Lexus' engineers have succeeded in creating an exceptionally aerodynamic car, jam-packed with specially streamlined design elements, including the rear spoiler, wraparound rear window, door handles and wing mirrors.
Top speed is billed at 112mph, enough to satisfy the demands of enthusiastic sports drivers and it goes from 0 to 62mph in 10.3 seconds.
All this is possible in a car that offers a very competitive fuel efficiency of 68.9 mpg and CO2 emissions of just 94 grams per kilometre.
Keep yourself updated with the latest motoring news by liking us on facebook, following us on twitter or connecting with us on LinkedIn.
If you're interested in buying or leasing a new vehicle contact our sales team. Alternatively, visit our website where you will find new and used Lexus available for sale or on finance.
Thanks for visiting us today.

Latest posts by Andrew Kirkley
(see all)