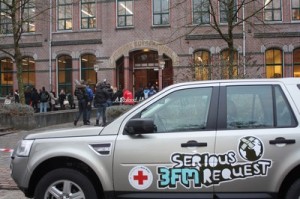 For many orphans and vulnerable children at the Red Cross Kids Club in South Africa, the meal they are provided with is their only one of the day. This life-saving initiative is just part of the work undertaken by the Land Rover supported International Federation of Red Cross and Red Crescent Societies (IFRC) programme.
Land Rover is working together with the IFRC to support World AIDS Day on Thursday 1st December as part of its ongoing partnership with the charity.
The IFRC is one of Land Rover's six Global Humanitarian & Conservation Partners. Since 2007, Land Rover has given over £4 million of support to the IFRC.
Red Cross HIV programmes in South Africa, China and the Netherlands are supported as part of Land Rover and the IFRC's partnership.
"Land Rover is delighted that our all-terrain vehicles are able to reach and help those most vulnerable from around the world," says Mark Cameron, Global Brand Extension Director for Land Rover.
"We recognise that health and community care in some parts of the world require additional support and we hope to match our vehicles' 'Go Anywhere' capabilities in the provision of aid to those that require it most," he adds.
With 5.6 million people suffering from HIV, South Africa is one of the countries worst hit by the HIV virus. In rural areas, like KwaZulu-Natal, people are often hours from the nearest clinic, let alone the nearest hospital. As the illness progress, people find themselves too sick to work.
Together the IFRC and Land Rover have helped hundreds of the most vulnerable people in the last year. 271 people living with HIV have been provided with home-based care, and over 240 orphans and vulnerable children have received practical and emotional support. HIV prevention messages have been shared with over 7,675 people.
In China, more than 39,109 people affected by HIV and AIDS received help in the last year. This includes more than 354 households that were assisted by home visits from a Red Cross Volunteer. These visits enable people who are HIV positive to  manage their condition and stay healthy, by monitoring blood counts and helping with anti-retro viral drug treatments.
Land Rover loaned 10 vehicles to the 3FM fundraising event in the Netherlands, which raised 7.1 million Euro for children with HIV.
In addition the Red Cross HIV programmes, Land Rover's assistance supports initiatives in Sierra Leone, the United Kingdom, Brazil and continental Europe, amongst others.
The current three-year partnership between the IFRC and Land Rover, 'Reaching Vulnerable People Around the World', is the latest development of a collaboration that was established in 1954. Land Rover's first donation was a long-wheelbase Series 1 for the British Red Cross to use as a mobile dispensary in Dubai.
Current new Land Rover vehicles available to buy or lease in the UK include the Defender, Freelander 2 and Discovery 4.  If you are looking for a new vehicle, whether its a Landrover or otherwise, please contact our sales team who will be happy to help you.  Alternatively, visit our website for new and used vehicles for sale or on finance.
You can keep up to date with motoring news by liking us on facebook or following us on twitter.
Thanks for visiting us today.

Latest posts by Andrew Kirkley
(see all)