Review of the Land Rover Discovery
The last Land Rover Discovery is a bit of a hero. It has served emergency services, adventurers, and plain old normal people like you and me who like to get a little bit dirty now and then. Despite ageing well, the Discovery needed an update and Land Rover has done just that, bringing the Discovery right up to date with new technology and a smart, desirable design.
How does the Land Rover Discovery perform?
Perhaps we should have changed the name of this segment to 'Off the road' as it's simply impossible to talk about the Land Rover Discovery without discussing what it can do when you leave the tarmac behind. Historically this machine is one of the most capable off-road cars ever produced, and the new 'Disco' is no different. Thanks to Land Rover's fancy terrain response system, the 2017 Discovery can get going on practically any surface – and even under it – as it can wade through water up to 90cm deep. If you ever want to launch an expedition, we can't think of many cars better than this to do it in.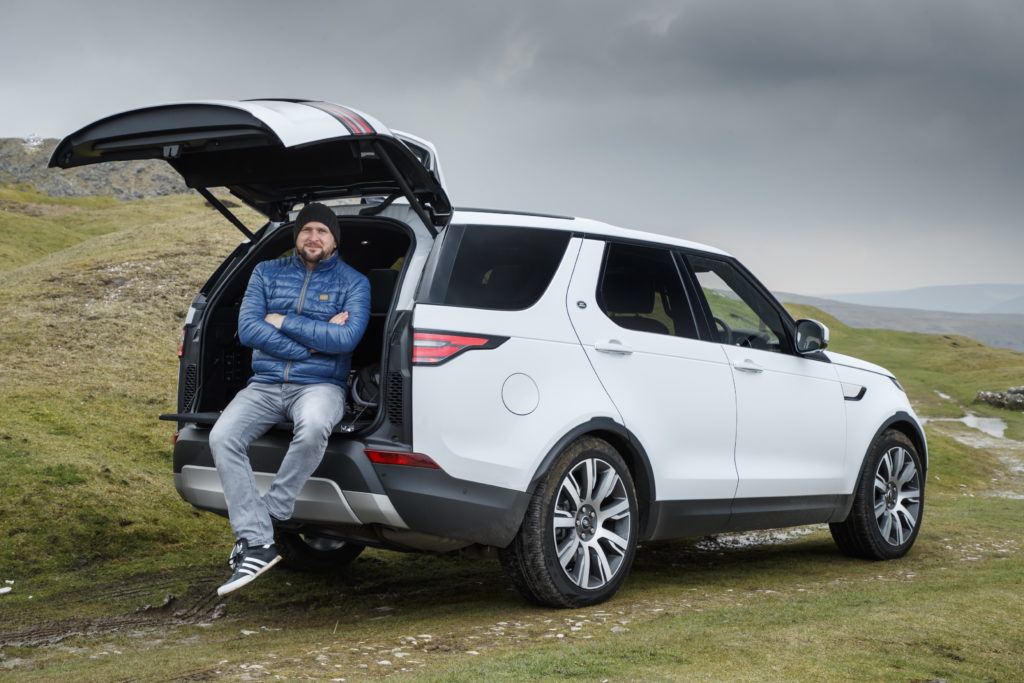 Back on the black stuff, the all-new 2017 Land Rover Discovery feels very good. You can tell that Land Rover has got its SUV refinement nailed down, and with the standard eight-speed automatic gearbox swapping cogs for you, it feels ever so relaxing to drive. The way it handles is no surprise, the new Discovery weighs in at over two tonnes, but in some cases, it's up to 480kg lighter than the last generation – a phenomenal amount of weight loss. Despite that it's still a heavy old thing and is best driven at a laid back, slower pace – anything quicker just feels wrong when you get to corners.
The engine line-up consists of a 2.0-litre, four-cylinder 240PS diesel, a 258PS 3.0-litre, six-cylinder diesel engine, and a slightly mad 3.0-litre supercharged six-cylinder petrol engine that puts out 340PS. Why is that petrol engine bonkers? Well, we think you'd be lucky to get 20mpg in it, and the low-down shove that the diesel engines provide is much better suited to the car. Pick the 3.0-litre oil burner, and you might even get 40mpg.
Land Rover Discovery interior, design & build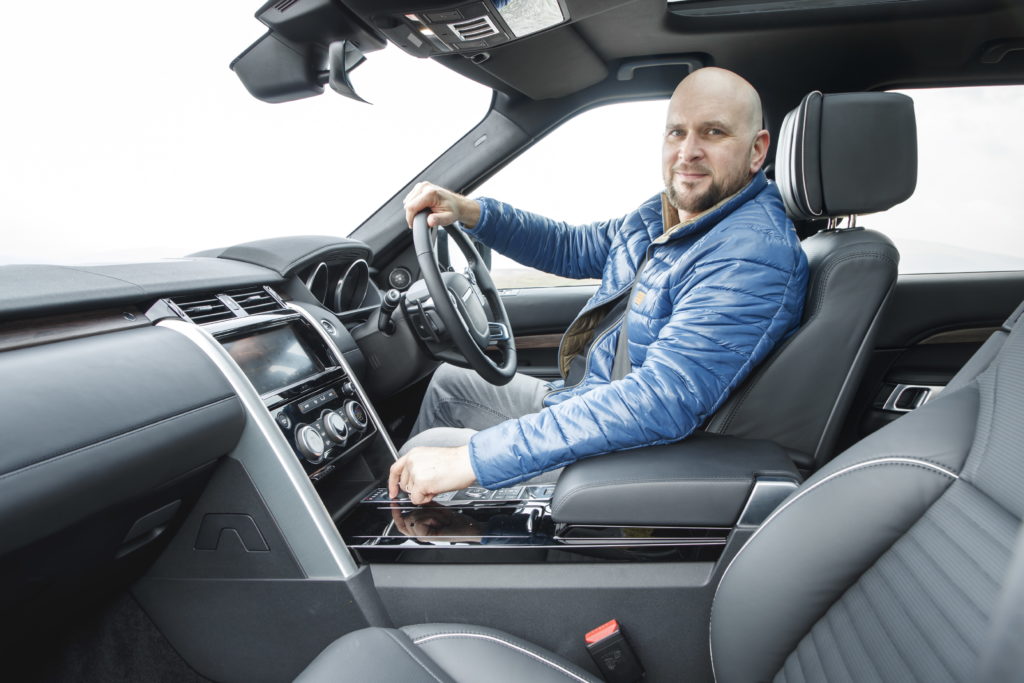 The 2017 Land Rover Discovery has inherited the family face of the Land Rover range which clearly took a lot of inspiration from the Range Rover. In profile, it's hard to tell the Discovery apart from the Discovery Sport – it's smaller sibling – but it's a good looking modern design, and the off-centred registration plate on the back makes it rather distinctive. We can't say it's prettier than a Volvo XC90, but it's not exactly unattractive.
Inside the cabin, there is an abundance of space, and the overall quality is superb – exactly what you'd expect of a modern Land Rover and its luxurious demeanour. With all three rows of seats up, you've got a decent amount of room for all occupants. The second row is adjustable to help anybody too tightly enclosed in row three, and even with that third row occupied there's still 258-litres of load space in the boot. Fold the two seat rows down and you've got 2,406-litres of load space, and if you need any more room than that you may want to give Eddie Stobart a ring.
There are no doubts to be had over the build quality of the 2017 Land Rover Discovery. Given what Land Rover build it for, and the challenges some models will face in their lifetimes, it feels like it's made from granite – albeit a very luxuriously finished piece of granite.
The Land Rover Discovery specification
There's never any danger of there being a shortage of technology in the all-new 2017 Land Rover Discovery. No matter which trim level you choose, (there's S, SE, HSE, HSE Luxury, and a limited run of 'First Edition' cars) you're not going to be short on equipment, though we'd give 'S' a miss and start at SE at the least.
'SE' trim level gets you navigation, leather seats, LED headlights, parking sensors, Land Rover's 'InControl' touchscreen system and a stereo upgrade. It's a good level of trim that with the 2.0-litre diesel engine keeps the list price at under £50,000. From there you can dip into the options list from this level for extras if you wanted to. The jump to the next level up – 'HSE' trim – will set you back a huge £7,500 and it's hard to justify that, though HSE offers a panoramic sunroof which adds a lot of light into the interior space.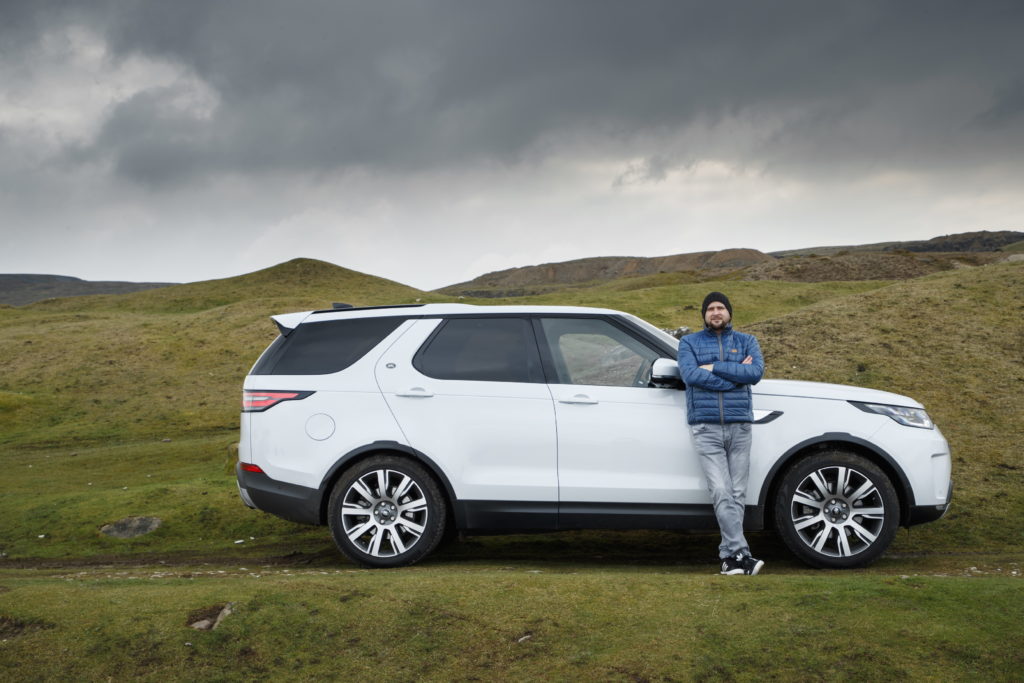 Land Rover Discovery: Cost, Pricing, and Leasing Rates
We'll start by saying that the Land Rover Discovery is not a cheap car. It starts at £43,495 but this is for the 'S' trim level which residually speaking is a bit of a risk. We'd look to start at the SE trim which begins at £49,495 and tick any additional options boxes from there. HSE level plus costs considerably more and it is hard to justify stepping up to those levels above SE unless you really feel like treating yourself. The 'First Edition' limited edition model costs a staggering £68,295.
It's not cheap to lease either. If you're seeking a 2.0-litre diesel in SE trim, be prepared to fork out around £520 a month and put at least six months down initially. That's if you're a business buyer, too. Customers buying on personal lease contracts should expect to pay around £650 a month.
Pros and Cons Of The Land Rover Discovery
Space
It might be a large SUV, but even so, we're still impressed by the sheer amount of space that you get in the 2017 Land Rover Discovery. There are decent levels of room for passengers even in the normally cramped third row, and passengers in the front and the second row will feel really relaxed. It's good to see Land Rover knows just how important space is in overall comfort.
Unrivalled Off-Road Capability, Smooth On-Road Ride.
You'd be forgiven for thinking that unbeatable off-road capability means on-road performance suffers, but it doesn't with the 2017 Land Rover Discovery. While it's never going to set pulses racing with performance, on the road it is supremely comfortable and relaxing to be in. Off-road, well, you know what it's like off-road.
The New Look
The last generation Land Rover Discovery had virtually the same face as the generation before that, meaning the style hadn't really changed since around 2004. That's an awfully long time in the car world, so it's great to see the 2017 Land Rover Discovery get the stylistic refresh it deserves – and it looks the business.
Expensive Trim Level Jumps
To get from the base 'S' spec to the next level 'SE' will cost you £6,000. To get from 'SE' to 'HSE' spec will cost you another £7.500 on top of that. This is before you've looked at any options too. Bring a wallet if you want a higher spec 2017 Land Rover Discovery. Better still, bring a small treasury.
'S' Trim Level
We're wondering if Land Rover just made this trim level so it can say that the new Discovery starts from £43k. It doesn't even have navigation or all-around parking sensors for that £43k. Start from the 'SE' level, as the 'S' is likely to be a residual value nightmare.
Petrol Engine
The petrol engine on offer is completely impractical and you'll need pockets you can abseil into to afford the fuel bills. If you can get 20mpg from the 3.0-litre supercharged petrol, you'll be doing very well indeed. For the UK market, this lump just doesn't make sense.
Volvo XC90 vs Audi Q7 vs Land Rover Discovery
The battle between these three luxurious extra-large SUVs is a showdown between what are dream family cars for many people. They're meant to have it all, so if you've got £50k-£70k of money to spend on a large SUV this is likely where your hard-earned cash will be destined to go. Who deserves it the most, though?
Volvo XC90 vs Land Rover Discovery
We hear so much about Swedish design, don't we? Swedish design with its emphasis on light and simple elegance just gets us going, and Volvo has produced possibly the best-looking SUV in automotive history with its stunning XC90.
The Volvo XC90 isn't just about good looks, though, it is a brilliantly comfortable and accomplished vehicle that just ticks all the boxes as a luxury SUV.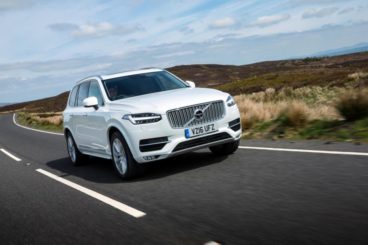 If you take some time to look inside the XC90, you'll find not only further beautiful design but a wealth of quality materials and an excellent touchscreen infotainment system that's one of the best on the market. It lives inside a portrait screen in the centre of the dash that's roughly the size of an I-pad and we love it.
Space inside isn't bad, either; the middle row of seats is adjustable like on our Discovery – though the new Land Rover allows you to use a smartphone app to do that if you wish – and the third-row seating is roomy and not that bad for adult passengers. Load space isn't at the same level as the Discovery, though, with the seats folded down, there are 1,868-litres available, getting on for 600-litres less than the Land Rover. Now, that isn't to say the Volvo doesn't have much room, it's just that the 2017 Land Rover Discovery is simply massive.
There isn't much to say about how these cars drive on the road. Being big and heavy, they never want to be pushed too hard and so comparing speed and cornering ability is rather pointless. What you do need to know is that the XC90 is as comfortable as the all-new 2017 Discovery, but only if the optional air suspension system is fitted – a gadget that's standard in the Land Rover. What about off-road? Well, the Volvo just isn't designed to venture off-piste. The Land Rover Discovery is unbeatable off-road, and if you need anything more adventurous than that, you might have to nick something from a military installation.
Prices:
Land Rover Discovery – £43,495 to £68,295
Volvo XC9 – £47,350 to £68,615
Audi Q7 vs Land Rover Discovery
Land Rover shouldn't be worried about anything off-road, we know. The Audi Q7 is no different, it's a little better than the Volvo XC90 when it comes to exploring the tarmac-free areas of our land, but it's on the road where it really shines.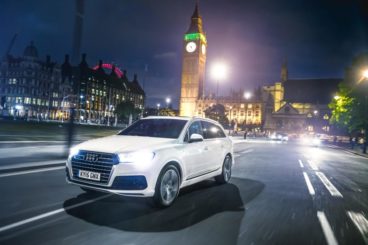 Spend a little bit of time with these cars and you'll see quickly that the Audi Q7 is the best car to drive on the road, and that gives it an enormous advantage over its rivals here. In its most potent form – the SQ7 – the big German is quite good fun to drive at some pace, more so than the other cars here, and it's also seriously quick. The more mainstream models aren't as exciting but they still feel the most engaging to drive, which admittedly is an odd thing to say about a seven-seat SUV.
One thing to point out with the Q7 is that there are no four-cylinder engines on offer. You've got a choice of two 'strengths' of 3.0-litre six-cylinder diesel engines at 218 and 272PS, or a hybrid 'e-tron' model. Truthfully, a six-cylinder unit feels suitable in such a luxury vehicle, though – and if you're fussy about economy, that hybrid may be worth considering.
In the battle of boot space, the Audi Q7 also comes up short compared with the Land Rover Discovery, with only 1,955-litres of available space with the seats folded down.
Prices
Land Rover Discovery – £43,495 to £68,295
Audi Q7 – £49,505 to £66,010 (SQ7 – £72,320)
Verdict of the Land Rover Discovery
If you're an adventurous sort, there's only one option – the 2017 Land Rover Discovery. Nothing can match it when the road surfaces end; it's as capable off-road as practically anything else without tank tracks. However, who really goes hardcore off-roading that often?
The new Discovery is very accomplished on the road but the design and sophistication of the Volvo XC90 – as well as its phenomenal safety record – may be able to tempt, and so for that matter might the Audi Q7, which is the best car to drive on the road.
Let's put the verdict like this – if you need space and off-road capability, go for the 2017 Land Rover Discovery. If you appreciate design and technology – go for the Volvo XC90, and if you enjoy driving long distances on the road – take the Audi Q7.
Interested?
You could be driving away with your new car in no time. Fill in your details below and one of our vehicle experts will be in touch within 48 hours to talk you through the leasing process.
[contact-form-7 id="32685″]
When you lease a car with OSV there are no hidden costs, request a call back and we'll find you a finance, lease or purchasing deal designed just for you.