Clean energy fans rejoice! London Taxi Company have announced that they will be opening a new factory in Coventry to produce new electric black cabs. The new taxis, the TX5, will replace older diesel versions and have even had a bit of a design update. It is expected that the new greener taxis will go on sale in 2018.
The creation of this new £300 million factory will create 1,000 jobs (with 200 of these in engineering) with 5,000 new black cabs rolling off production lines each year by 2019. Geely, now the owner of London Taxi Company, announced a huge expansion that could see London black cabs in other European cities such as Oslo and Berlin.
Last year, Geely also raised $400m through a "green bond" which helped finance the development of the electric TX5 taxi and the model uses aluminium to reduce its weight and increase efficiency. It is using Volvo's electric powertrain system but still, overall, keeps its classic design. It has also been reported by cityam.com that the vehicles will go through the most rigorous testing in the firm's history and will cover nearly 500,000km and extreme conditions.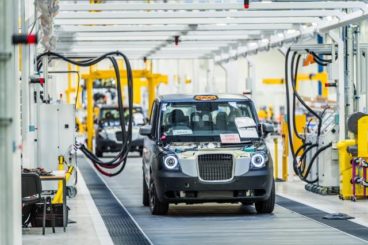 This is a huge turnaround for London Taxi Company after being plunged into administration in October 2012. It was save by Geely six months later when they bought the company for £11 million.
London Taxi Company chairman Carl-Peter Forster told The Independent; "The opening of our new plant sets a number of records: it's the first brand new automotive manufacturing facility in Britain for over a decade, the first dedicated electric vehicle factory in the UK, and the first major Chinese investment in UK automotive." Unite union regional officer Peter Coulson told Associated Press: "This is a fantastic story of a company that was on its knees in 2013. Now, thanks to the commitment of Geely's top management and accompanying large-scale investment, the iconic London taxi is set for its continued renaissance."
The diesel cars will be run down in the factory this year and these electric black cabs will be the first purpose-built, mass-market electric taxi. Click here to read our top electric city cars. 

Latest posts by Rachel Richardson
(see all)